Meet the Makeup Artist Behind Doja Cat's Viral Fashion Month Makeup
For many celebrities, Paris Fashion Week is a whirlwind that lets the clothes do the talking. The beauty is mostly kept minimal for fear of overshadowing the garments, save for a bleached brow or a "statement lip" that get sent down the runway here and there. So when Doja Cat came to Paris in white face paint with blue contour, intricate eyebrow designs, and all-over gold skin, the internet needed a minute to catch its breath. But Laurel Charleston, the artist behind Doja's viral Paris Fashion Week makeup, has been waiting for this moment for a long time, and they're showing the world that makeup really can be an extension of fashion (if you're willing to have a little bit of fun).
"I started makeup when I was studying to be an orchestra and opera conductor in college, and I was terrified of my professor finding out I was doing makeup," Charleston tells POPSUGAR. "As someone who was publicly identifying as a man, that scared the sh*t out of me. I would lock myself in my dorm and play with makeup."
It was through this private experimentation that Charleston eventually discovered and began to explore their trans identity. Her story seems fitting for a celebrity like Doja Cat, who has faced public criticism for her "unconventional" beauty decisions (most notably, shaving her head and eyebrows). Although Doja has defended herself for choices that feel most comfortable and authentic to her, the pressure to conform to traditional beauty standards persists, even for a highly successful woman musician.
This is a burden Charleston is highly aware of and hoping to change through her work. "Once people take the goal of makeup art away from achieving a beauty standard, [they can] begin to explore the countless possibilities that lie inside you in terms of using makeup as a tool for expression," they say. "[Just] as an oil painter sees paint and a whiteboard as tools, I see a human face, head, and body as my canvas. There are some messages you can express and get across on the human face and body that you can't get across anywhere else."
On an artistic level, Charleston was responsible for many of Doja's viral makeup looks, but they say that when it comes to Paris Fashion Week, Doja's full gold body paint was one of their favorite looks to create. "It was like turning her into her own gold medal. As an outsider looking in, this was a person who [was] doing several shows a day and turning iconic looks. That just felt like the perfect way to end an incredible week filled with so much collaboration, creativity, and expression."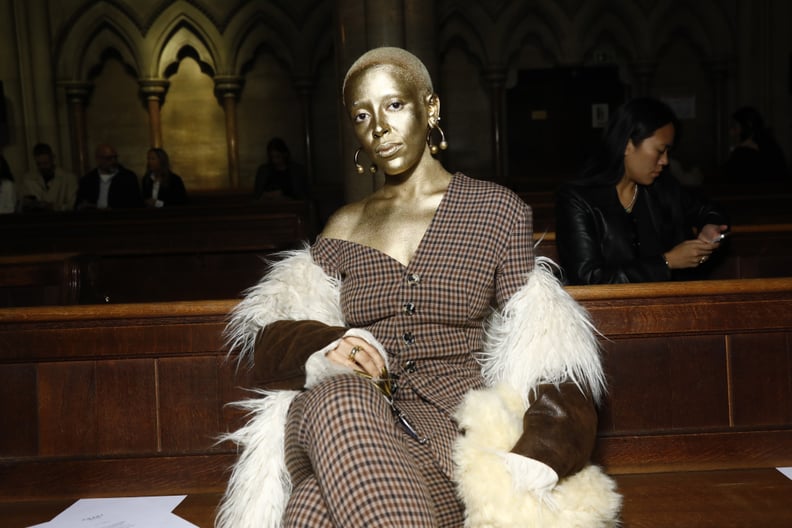 Charleston adds that the real challenge with creating such striking makeup is making sure that it can withstand an entire day of wear — particularly through the hustle and bustle of Fashion Week. "When you're doing makeup on an individual who has to go outside, you don't know what the weather is going to be; they [might] have to interact with people, they could be in a hot venue, they could be in a lot clothing," she says. "It's about creating really bold looks but always making sure that it is durable."
To accomplish this, Charleston is very particular about the materials they use on Doja, and it's not the kind of makeup you would ordinarily carry around in your makeup bag. "I do something that is fantastical, bold, and from my imagination; however, it still has to hold up. So I use a lot of very specialty makeup products in my work. I use a lot of theater and theatrical makeup, because nothing lasts longer than [products meant for] someone who is belting their face off on a hot Broadway stage under intense lighting," Charleston says. "It's quite literally theater makeup that I finesse and I use artistically in different ways and mediums."
"I am tired of seeing naturally beautiful, extremely skinny models on runways with Vaseline on their face."
It's through this artistry that Charleston was able to create such a wide range of designs for Doja, but this is only a taste of what she hopes to bring to the beauty industry — not just with retweetable beauty looks but with real, tangible change. "I am tired of seeing naturally beautiful, extremely skinny models on runways with Vaseline on their face," Charleston says. "I want to see makeup be part of the creative vision, and I want to show the world that makeup can be an extension of fashion."
For those who are inspired by their work, Charleston encourages young artists to be inquisitive, use social media as a resource, and see what their own inspirations are doing to stay motivated. The possibilities are endless, and they themselves are only just getting started.
"Being able to just dip my toes into this vast world of possibility and creativity is such a pleasure," Charleston says. "When I think of my career long term, I honestly think I can work my entire life and create thousands of looks and still just scratch the surface of what's possible."
Keep scrolling for some of Charleston's best Doja Cat makeup looks from Fashion Week.