Pamela Anderson and More Celebrities Embracing the Makeup-Free Aesthetic
Pamela Anderson has experienced a bit of a resurgence ever since the release of Hulu's "Pam & Tommy" in 2022. She's since released a memoir, "Love, Pamela," giving fans a behind-the-scenes look at her iconic career. And she recently made a splash by attending Paris Fashion Week wearing absolutely no makeup.
The move's been lauded by celebrities like Jamie Lee Curtis, who called it a "natural beauty revolution" and an "act of courage and rebellion" on Instagram. Still, there's a heartbreaking reason behind Anderson's decision to ditch makeup, and it has to do with her love for her longtime makeup artist Alexis Vogel, who died of breast cancer in 2019. "She was the best," Anderson told Elle. "And since then, I just felt, without Alexis, it's just better for me not to wear makeup." At fashion week, Anderson further explained that she's currently in an era of dressing for herself and no one else, and part of that is not wearing makeup.
Over the last few years, it has become more common for celebrities to show off their makeup-free faces, especially on social media. It's been refreshing to see stars celebrate their natural beauty. To see for yourself, we rounded up a few ahead, from Chrissy Teigen to Katy Perry, Gabrielle Union, and more.
— Additional reporting by Ariel Baker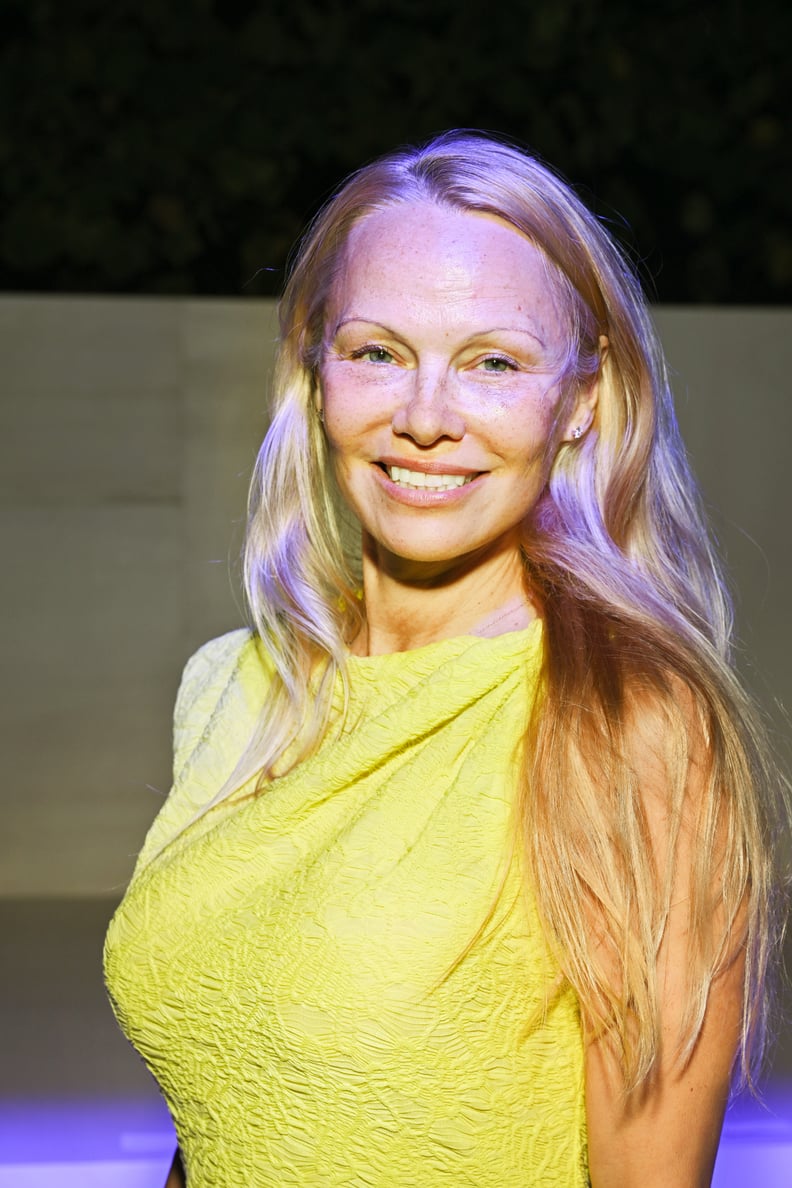 Pamela Anderson With No Makeup
Anderson went to Isabel Marant's Paris Fashion Week show completely fresh-faced and looking beautiful.
Gabrielle Union With No Makeup
During the pandemic, Union was all natural in every sense of the word. The only thing sweeter than a no-makeup selfie, though, is her caption: "mama's got hair like yours!! When I took my braids out she was like 👀🤔 now mom & baby both rocking their natural curls."
Katy Perry With No Makeup
Katy Perry snuggled up with a comfy robe and bare face for the second picture of this post.
Lindsay Lohan With No Makeup
Lohan shared a makeup-free selfie, and her caption said it best: "LL Self Love Home Spa 💕Stay safe, stay home, take care of yourself & others."
Jennifer Lopez With No Makeup
Lopez wasn't kidding when she said, "I'm real," and frequently posts no-makeup selfies. It may be hard to look away from her incredible abs, but check out her radiant, makeup-free complexion.
Chrissy Teigen With No Makeup
John Legend captioned this photo of his wife, "no filter necessary." We have to agree!
Ashley Graham With No Makeup
Graham posts makeup-free selfies and photos of her with no-makeup makeup, and she looks radiant in every one of them.
Cameron Diaz With No Makeup
Diaz showed off her ageless complexion in a quick picture.
Tyra Banks With No Makeup
Banks took to Instagram to show off a no-makeup selfie. She captioned the photo with an inspirational message: "You deserve to see the REAL me. The REALLY real me."
Jennifer Aniston With No Makeup
Aniston became an advocate for going makeup-free while filming the movie "Cake." The star, who only sat in the makeup chair to get fake scars applied, described going bare-faced as "so fabulous — so dreamy and empowering and liberating" in an interview with Us Weekly.
Cindy Crawford With No Makeup
The legendary supermodel shared a makeup-free selfie in honor of her 50th birthday. How luminous is her skin?
Bar Refaeli With No Makeup
The model posed for this selfie — with spots and freckles on full display — as she debated what food to order.
Bella Thorne With No Makeup
Thorne explained that she struggled with acne for many years. "I used to cry every night because I thought I looked so ugly," she shared. The actor posted this picture to inspire her fans to embrace their natural beauty.
Salma Hayek With No Makeup
"Wet hair, no makeup, no filter, no retouch, but very good light," Hayek wrote with this picture. She forgot to mention exceptional genes!
Christie Brinkley With No Makeup
Before doing some on-camera work, Brinkley shared this impeccable bare-faced selfie.
Ashley Benson With No Makeup
"It's the new trend," declared the "Pretty Little Liars" star. Yup, that's blemish cream dotted all over her face.
Nicole Scherzinger With No Makeup
The singer showed off poreless skin and enviable brows in a makeup-free selfie.
Whitney Port With No Makeup
Port laid it all out in the caption of this bare-faced photo: "Goodbye haters! I'm gonna embrace my bare, colorless, pale and ghostly skin because I don't need to hide behind anything."
Jenna Dewan With No Makeup
Dewan's skin looked dewy and radiant after a tough workout.
Adriana Lima With No Makeup
Lima shared her luminous skin secret — boxing! — in this selfie.
Whitney Port With No Makeup
"So fresh and so clean!" declared the fresh-faced star.
Carrie Underwood With No Makeup
Underwood took a break from her grueling workout to share her glowing skin with Instagram. "Fortunately I have sweet Penny to help get me cleaned up! Ew," she said of her canine companion.
Lady Gaga With No Makeup
The musician shared a selfie as she relaxed with a good book and bare skin.
Kelly Osbourne With No Makeup
Osbourne showed off her glowing skin with a just-rolled-out-of-bed selfie.
Doutzen Kroes With No Makeup
The model's blue eyes popped against her dewy complexion.
Sofia Vergara With No Makeup
Vergara posted this poolside vacation photo without a stitch of makeup on.
Laverne Cox With No Makeup
The actor posted a makeup-free photo with the caption: "Always good to have days with no makeup to let my skin breath. #washfacenobase #TransIsBeautiful."
Diane Kruger With No Makeup
Kruger shared this photo and wrote: "I don't know why I still look like a teenager sometimes."
Gwyneth Paltrow With No Makeup
Paltrow took this selfie out in "Big Sky country," flaunting her makeup-free freckles.
Ashley Greene With No Makeup
The Twilight actor posed for this picture sans makeup. Yeah, she really woke up like this.
Zooey Deschanel With No Makeup
Deschanel captioned this picture: "Good morning! #nomakeup #nofilter."
Beyoncé Knowles Carter With No Makeup
The gorgeous singer was snuggled up in bed sans makeup.
Miranda Kerr With No Makeup
Kerr posed while letting her bare skin shine at the beach.
Drew Barrymore With No Makeup
Barrymore's skin glowed while she took a snack break.
Rosie Huntington-Whiteley With No Makeup
Huntington-Whiteley and her snuggle buddy were all-natural beauties in a plush bed.
Bar Refaeli With No Makeup
Refaeli posted a makeup-free snap of her on what looks to be a scenic drive.
Jessica Alba With No Makeup
Post-facial, Alba's skin was clean and clear — no need for makeup here!