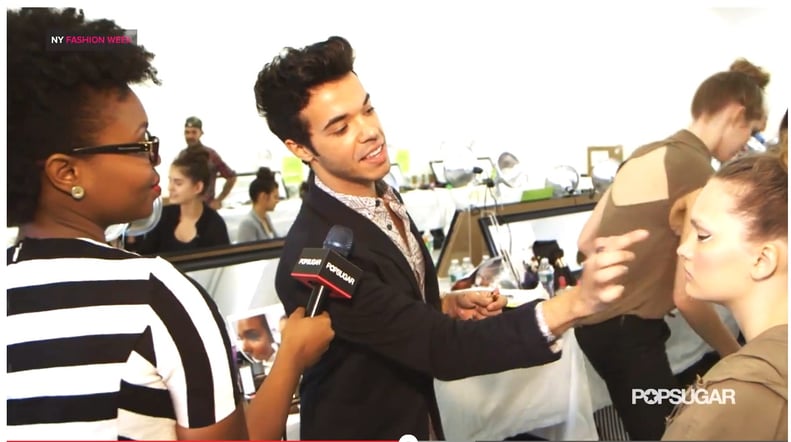 As POPSUGAR editors, we independently select and write about stuff we love and think you'll like too. If you buy a product we have recommended, we may receive affiliate commission, which in turn supports our work.
I remember being 21 years old, doing makeup backstage for my first-ever Fashion Week show — and I was so nervous (while keeping it super calm on the outside)! Since then, for the past nine years I've gone on to work countless catwalks with leading designers and beauty brands. In the process, I've been interviewed by many editors (including POPSUGAR, as you can see!).
This year for New York Fashion Week Fall 2017, I decided to try something different and be the reporter. I thought it would be fun to take on a different role backstage and interview other lead makeup artists about their processes of creating these beautiful makeup looks. My goal: learn new tricks and tips. Here's what I discovered.
Use White Eye Shadow in the Center of the Eyelid
I kicked off my backstage beauty coverage at Michael Costello, where I met with lead makeup artist Edward Cruz, who was there on behalf of Inglot Cosmetics. Cruz used a matte white eye shadow (specifically, Inglot Freedom System Eye Shadow Matte Snowy White #373) in the middle of the metallic eye look to create the illusion of light in the center.
"It's like when you're looking at the sea, and the sun is shining down, there's this trail of light," he described. "It's more of an artistic take on a smoky eye."
I personally love working with lighter colors in the center of the eye, because it really helps to create a more three-dimensional illusion to the eyelid.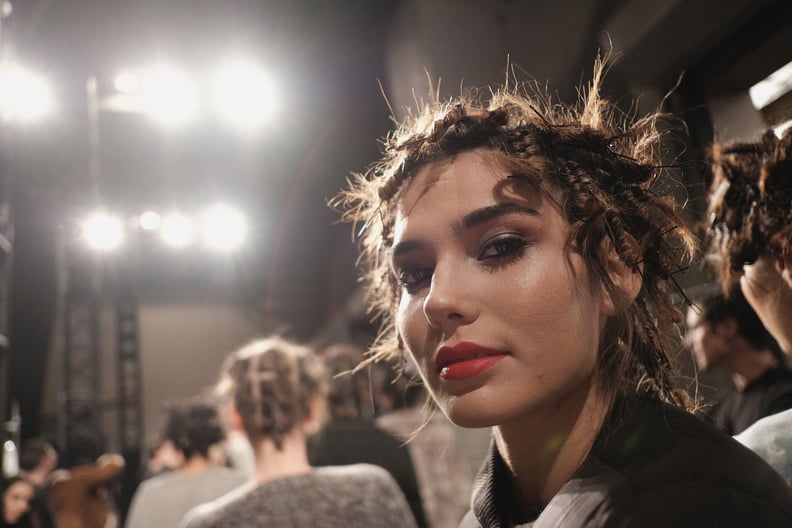 Mix Oil in With Your Foundation
In order to create that runway-ready, flawless skin, Cruz mixed Inglot's AMC foundation in with Caudalie Premier Cru The Elixir.
"Something that I'm loving right now is oil in foundation," he explained. "I mixed a few drops of Caudalie's face oil into the AMC foundation to sheer it out for a glow." This is a great application tip, especially if your skin is on the dry side, because an oil will help to bind the foundation product to the skin. Plus, who doesn't love a dewy glow?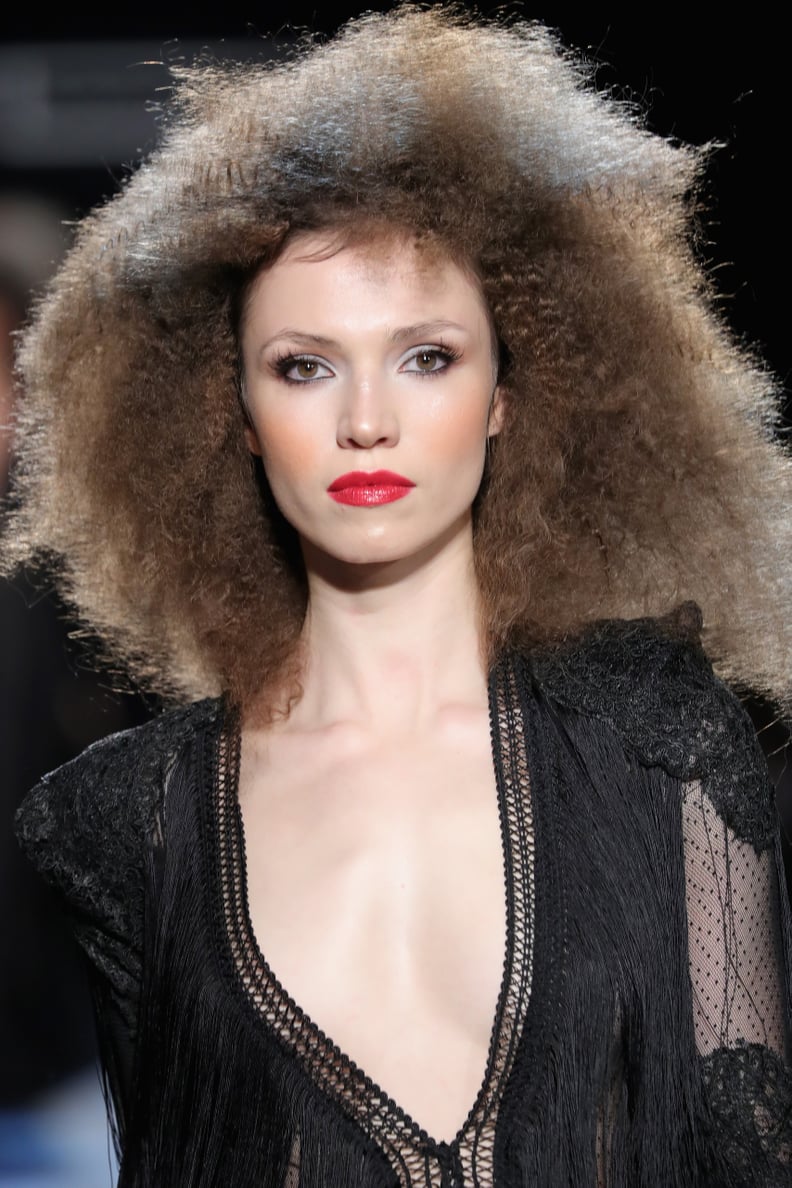 Use Peach Eye Shadow on Your Cheeks
Cruz informed me that it's all about the peach tones for Fall 2017; they were key for the skin and eyes at the show. He actually used a dermic peach matte eye shadow on the cheeks as a blush. Since the skin was primed with moisturizer and then hydrated with the face oil, I'm sure that helped to adhere to eye shadow pigment the cheeks. So hey, if you've got a warm eye shadow on hand and you need a quick pop of color on the cheeks, then you may just be covered!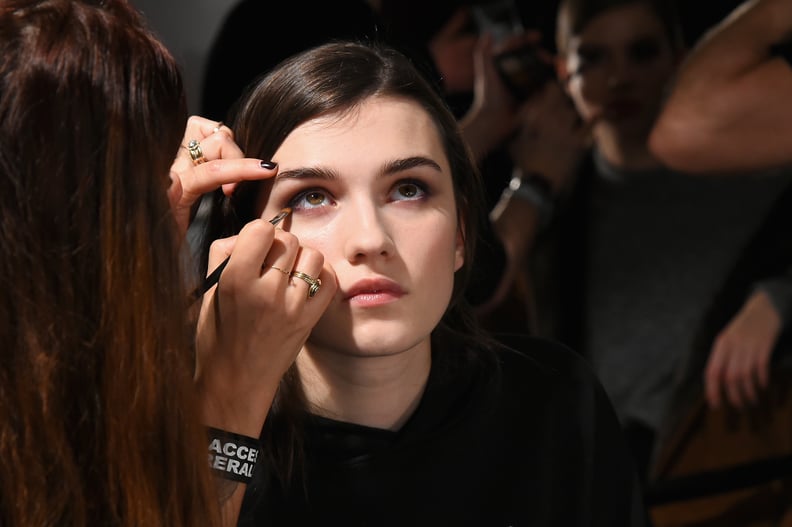 Apply Eyeliner Pencil With a Brush
My next stop backstage was to meet with Diane Kendal for MAC Cosmetics at Carolina Herrera. There were no harsh lines or heavy contours on Herrera's models, as Kendal enforced the importance of a "diffused look for simple beauty."
A pencil eyeliner can be a one-stop product for creating a smoldering, smoky liner look. What made this interesting is that Kendal didn't apply the liner directly to the eyes. Instead, she used MAC's #231 brush to pick up the Kajal Flourish Me Deep formula from the pencil first, and then applied it from the brush to the eyes.
When I asked Kendal about her reasoning behind using the brush instead of the pencil directly, she said, "I used the kajal pencil with a brush because I wanted more control. This look was more diffused."
This technique gave a soft, smoky finish to the model's eyes, which also blended easily into the previous shadow colors that were on the lid. This is also a great way to build up your eyeliner if you don't want a harsh line.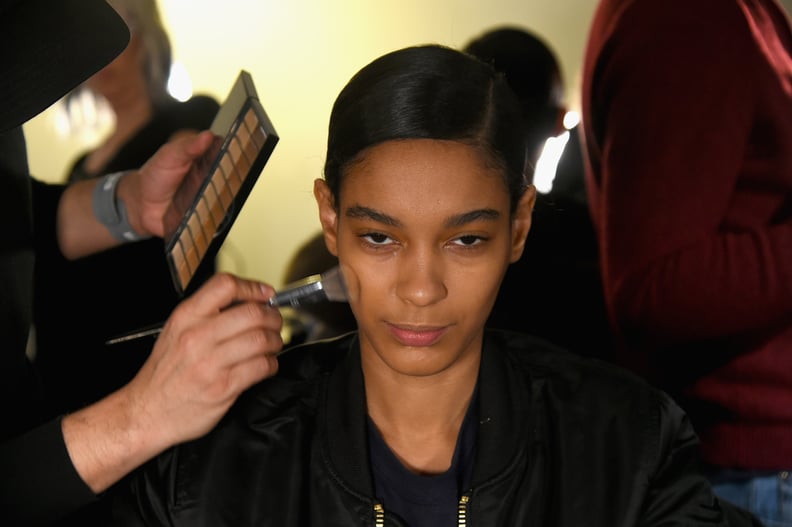 Foundation Does Not Have to Be Used All Over
According to Kendal, using foundation only where needed on the skin will create more subtle and believable look (re: people may actually think it's your skin). There really is no rule that says you have to cover your entire face with foundation, so try just focusing the product on where you may have some redness or blemishes.
Kendal said, "The look is just to make the girls look beautiful."
There was no cakey skin at Herrera, that's for sure! I love the idea of seeing someone's natural skin peeking through their foundation. So, sometimes less really is more.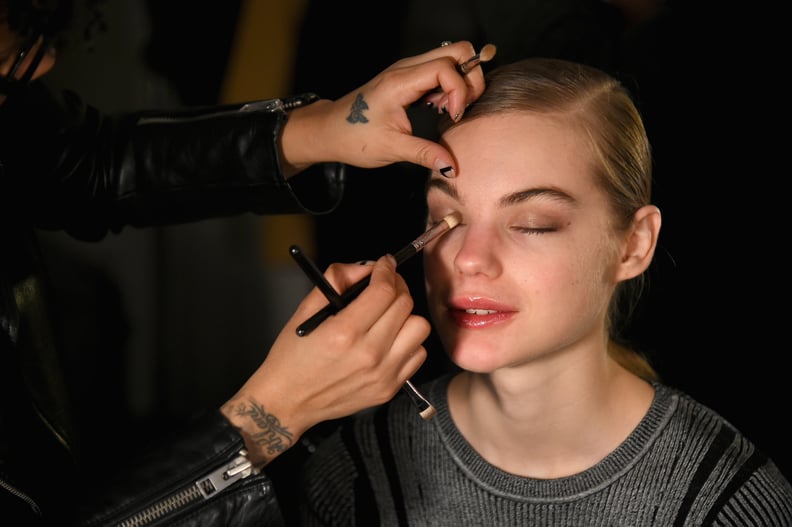 Diffuse Your Eye Shadow With a Clean Brush
It can often seem like the only way to blend a smoky eye is with the brush you used your dark shadow with. But the truth is actually the opposite. Kendal relied on MAC's #221 brush brush without any product on it to go back in and diffuse the entire look.
"I used a clean brush to soften the edges and make it look more like a shadow," she explained. This is a great tip for diffusing a shadow color that you may have layered too much of and also an easy way to blend your eye shadow colors together.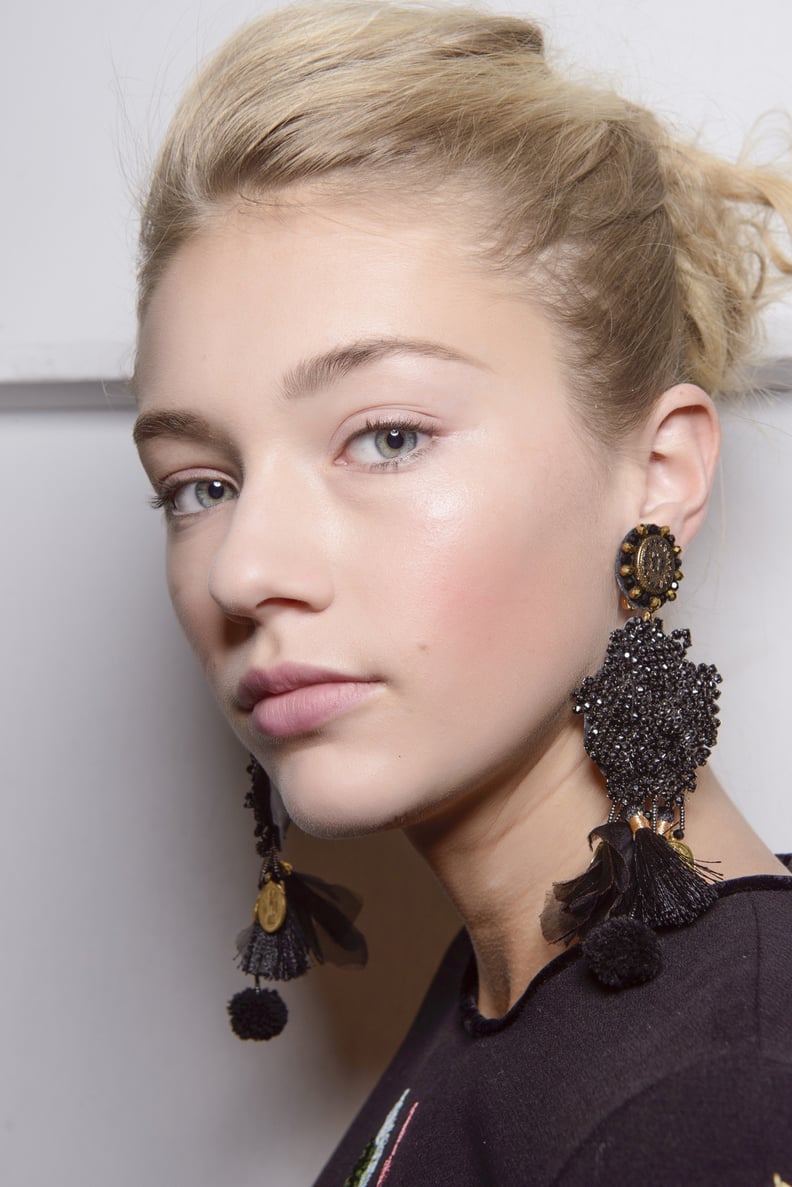 Apply Metallic Lipsticks on the Cheeks
It was time for my last stop at NYFW, and I landed backstage at Naeem Kahn with lead makeup artist Gato for Maybelline. I was able to snag an exclusive chat with Gato for some tips about his "teenage-inspired" makeup look for Kahn's show:
Gato used Maybelline's Color Sensational Matte Metallics lipsticks in Copper Rose and Hot Lava (which both launch July 2017) in order to create a natural flush. "Metallics are very good to create a realistic blush color," Gato explained. "I applied the lipsticks with a fluffy brush to the center of the cheeks and down to the neck to make this 18th-century-like, painting-inspired flush."
I'm a fan of working with cream blushes, so why not start experimenting with lipstick formulas?! Besides, women were known to use lipsticks as blush centuries ago, so maybe we're seeing a trend coming back.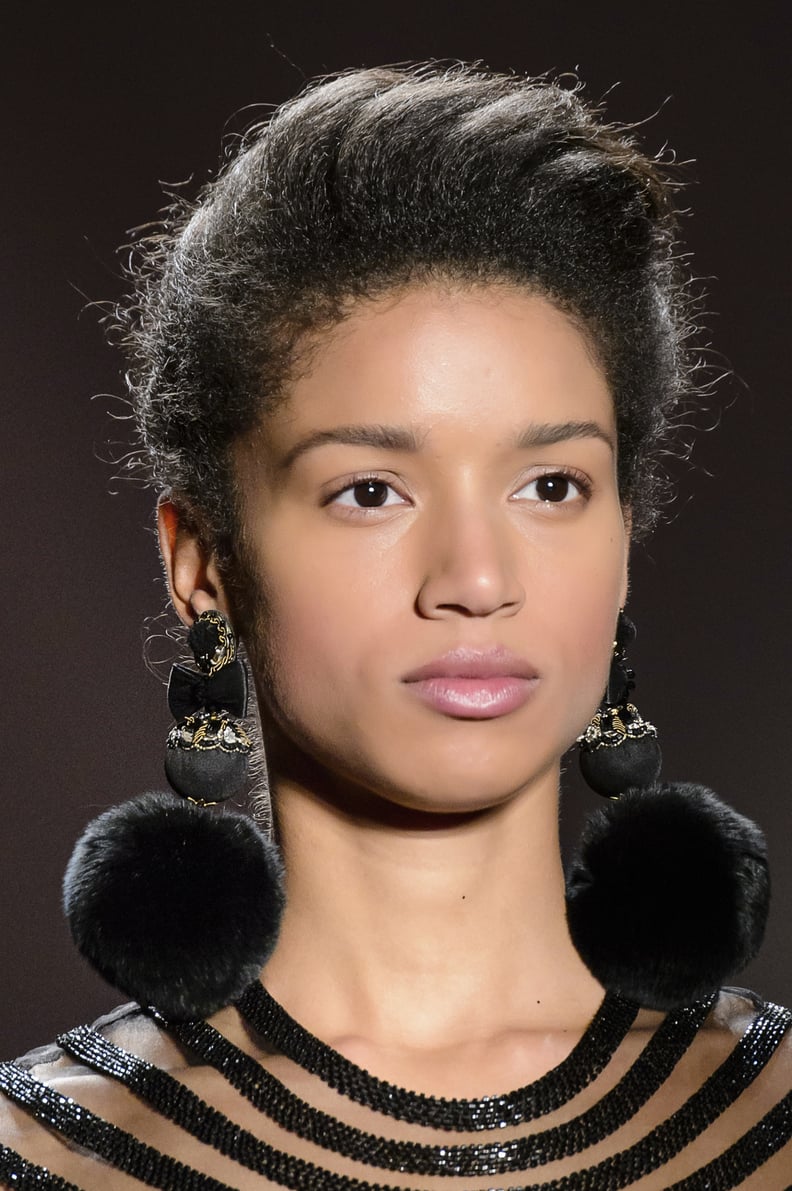 Skip Highlighting and Contouring For a Youthful Look
In the era of over-contoured, over-highlighted makeup looks, I really liked Gato's take on creating this youthful look. He says ditch the contour and the highlighter — which can sometimes complicate things. It's all about the skin here, so Gato kept that front and center.
"I didn't do any contouring, no highlighting. Just Maybelline Dream Cushion Foundation all over the skin, especially where needed, to keep the skin transparent — like teenagers' skin."
He also explained how the combination of the wash of lipsticks on the cheeks and the sheer foundation together created the illusion of "breathing skin."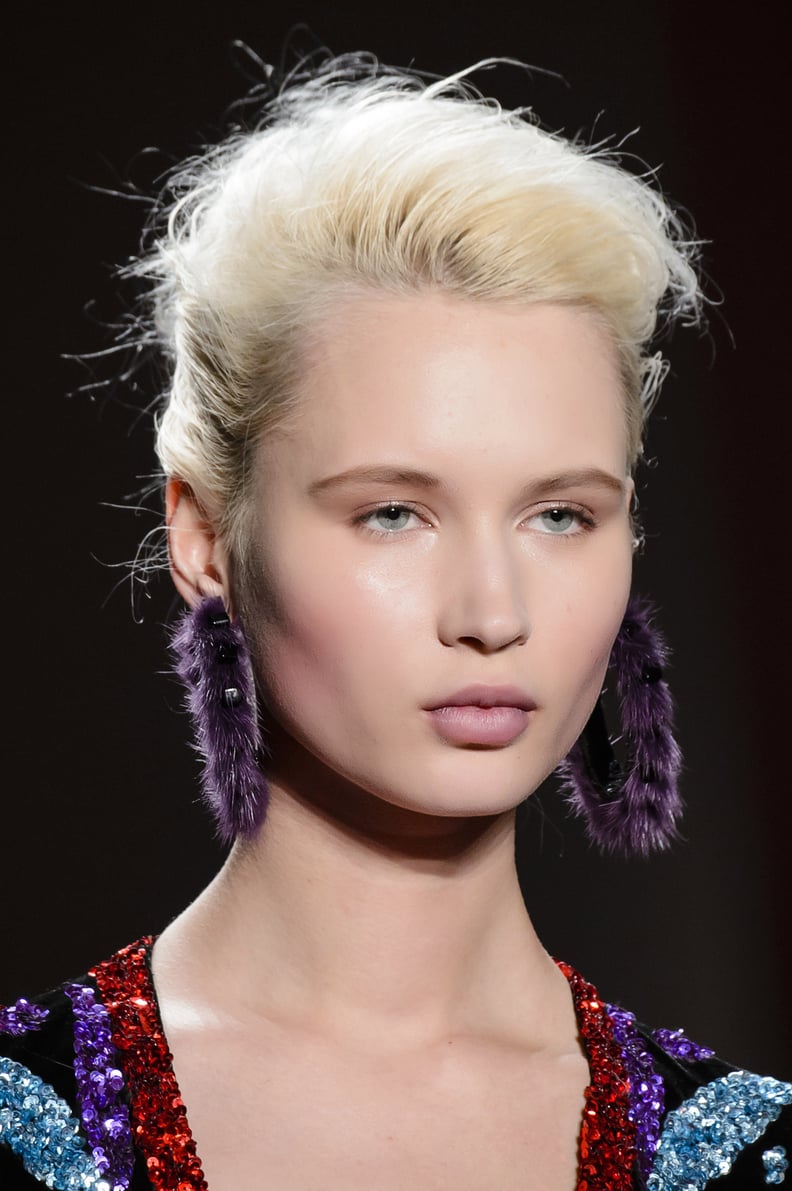 Try Lipstick on Your Eyes
It's no surprise that we're seeing lipsticks used in various ways on the runway. Gato used the same lipsticks that were used on the cheeks on the center of the eyelids as well. He primed the eyes with Maybelline's soft pink shade from the Blushed Nudes Eye Shadow Palette, and then lightly tapped both lipstick colors on the center of the lid for a light stain.
Funny enough, I actually have a celebrity client who loves a pinkish blush color in the center of her eyelids, so this isn't so far-fetched! I could also see how a lipstick would adhere easily to the eyelid and offer some texture to an eye look.
And just like that, this season of New York Fashion Week came to an end! It always feels like whirlwind. I have to say, this was one of the most interesting experiences for me, as I've never been backstage not doing makeup! This project also reinforced my admiration for all of the talented, hard-working teams that continue to keep fashion alive and continue make these stellar presentations happen season after season. Hopefully these innovative and exclusive makeup tips and techniques will inspire you create your own runway looks at home!