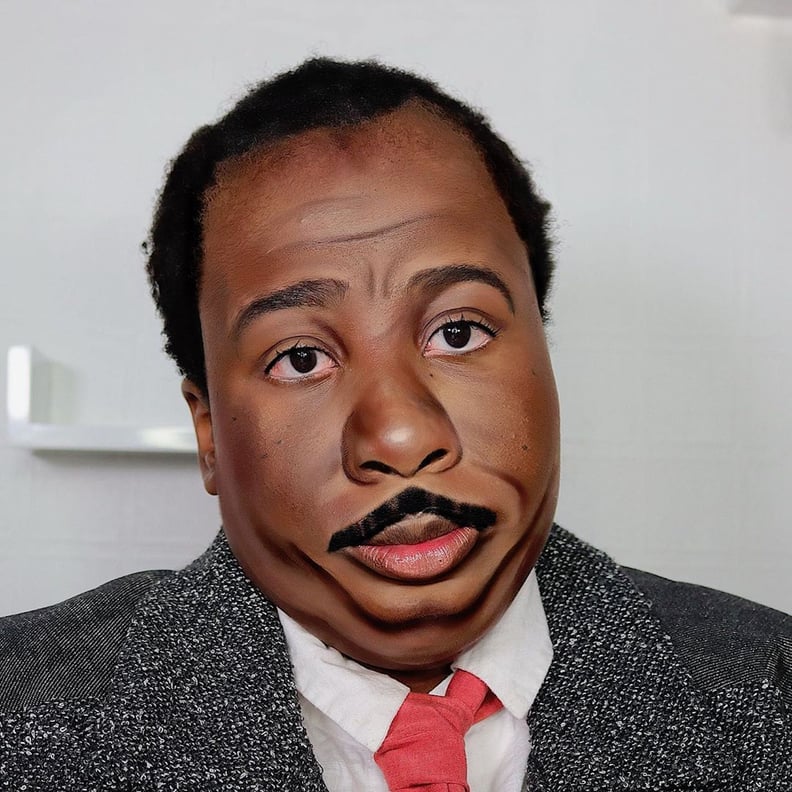 Oh, you think you're The Office's No. 1 fan? You may want to get in line after RJ Tulloch, aka CakeFaceRJ. A makeup artist based in the UK, RJ has recently garnered Pretzel Day levels of excitement over her incredible transformation into Dunder Mifflin's very own Stanley Hudson — mustache and all. Over the span of seven hours, she used a handful of makeup products (no face paint here!) to make herself look exactly like the crossword-puzzle-loving paper salesman. Now that, my friends, is dedication.
RJ, who admitted to rewatching The Office "too many times," told POPSUGAR that she wanted to morph into Stanley because she knew it'd be a challenge. "It was my second transformation, so I wanted to see if I could do it," she told us. And boy, did she do the damn thing.
While posting a video documenting her entire transformation on Instagram, the self-taught makeup guru shared the exact products she used to get the job done: NYX Cosmetics' Can't Stop Won't Stop Foundation, P.Louise Makeup Academy Base Pro, Benefit Cosmetics concealer, and Lime Crime's Bush Brow Pen. Check out the time lapse below to watch the sped-up tutorial from start to finish — and to witness her really get into character with a spot-on rendition of Stanley's iconic "Did I stutter?" scene.
This isn't RJ's first display of impressive talent. She's been crushing the makeup game since January 2018, beginning with creative eye looks and slowly expanding to more artistic masterpieces that cover her entire face, garnering more than 470,000 Instagram followers along the way. Lately she's been focusing on trippy, optical illusion-esque looks that can take anywhere from four to 10 (!) hours to complete. Some incorporate additional props that require her to sketch things out beforehand (like this cool Polaroid camera look, for example), while others feature an array of traditional makeup flawlessly applied without a set plan (like this colorful safari-inspired look).
"My pores are literally crying after a creative look, so it's really important I keep them as clear as possible."
To date, RJ has accumulated well over 1,000 makeup products, but she does have a few favorites that stand out. "I'm currently obsessed with Juvia's Place products; the eyeshadows are so pigmented and work really well for my illusions, as I don't use face paint," she told POPSUGAR. She's also a fan of Sigma Beauty's brushes and even has her own four-brush set with the brand. Plus, pretty much every look she creates features the aforementioned P.Louise Makeup Academy Base Pro. As for skin care, she relies on mud masks and face scrubs. "My pores are literally crying after a creative look, so it's really important I keep them as clear as possible," RJ said, adding that she prefers e.l.f. Cosmetics and Pixi Beauty for all her skin care needs.
If you'd like to keep up with RJ's wildly cool makeup looks, be sure to hit that "follow" button her on Instagram (@cakefacerj) and TikTok (@cakefacerj). And if you happen to need additional inspiration to do so, you can admire more of her talent ahead.
Her Take on the Bratz Doll Challenge Is Insanely Cool
This Floral Look Is Inspired by Inner Growth
If You're a Fan of Memes, This One's For You
She Created This Detailed Look to Promote Unity and Racial Equality
Can You Spot Her *Actual* Eyes? They All Look So Real!
Impressive Doesn't Even Begin to Describe This Met Gala Look
Watch RJ Draw the Cast of Friends on Her Face, and Prepare to Be Amazed
Will the Real Will Smith Please Stand Up?
This Artsy Black-and-White Makeup Look Is Too Darn Cool
Anyone Up For a Game of Mario Kart?
I Don't Know About You, but Now I'm Craving Stir Fried Noodles
This Goes Out to Anyone With Designer Bags Under Their Eyes . . . Hah, Get It?
This Look Is an Ode to the Most Important Meal of the Day
Star Wars Fans, Where Ya At?
Wow, This Trippy Illusion Took RJ a Whopping 7 Hours to Complete
Aaaand Now I'm Craving Cookies
Last but Certainly Not Least, Here's Her Stanley Hudson Transformation One Last Time