5 DIY Skincare Recipes That Include Matcha as an Ingredient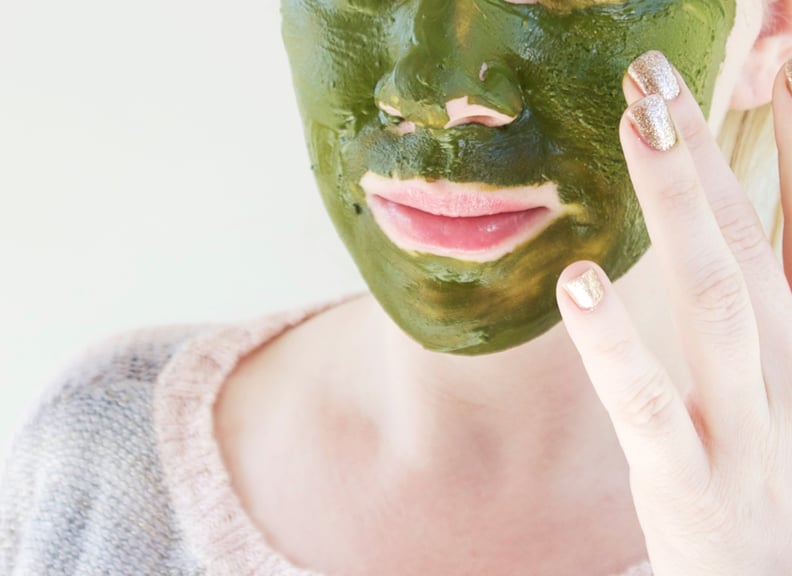 POPSUGAR Photography | Wendy Gould
POPSUGAR Photography | Wendy Gould
Matcha may be a buzzy food ingredient as of late, but the green tea powder is also a superstar when it comes to skin care. For starters, it contains chlorophyll, which is both an antioxidant and detoxifier. That means it doubles down by ridding the skin of impurities while also warding off free radicals that can damage cells.
"It is antiaging due to the antioxidants, is brightening, and is good for circulation and oxygenation of the skin cells," explains celebrity esthetician Joanna Vargas. She says matcha is also recommended for those with oily or acne-prone skin since it fights infection by killing bacteria.
Vargas and fellow celebrity esthetician Christine Chin shared their favorite DIY skin care recipes that utilize matcha as the star ingredient. (And we tested them so you can see exactly how they're made!)
01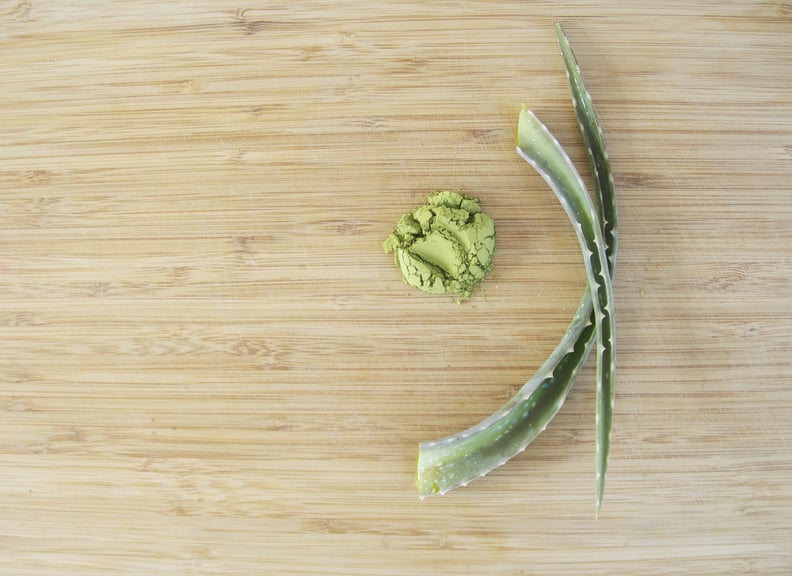 Soothing Aloe and Matcha Mask For Oily Skin
Why: This recipe from Chin is perfect for skin types that are oily, normal, or combination, and it has the added benefit of soothing skin because it contains aloe vera. We're using freshly squeeze aloe vera, but you can also use the bottled version.
What You Need:
1 teaspoon matcha
2 teaspoons aloe vera
Directions: Combine your matcha with aloe vera in a small bowl. You can add more or less aloe vera depending on what consistency you prefer, but we found a 1:2 ratio was perfect. Apply to your face, let it set for 15 minutes, then rinse with warm water.
02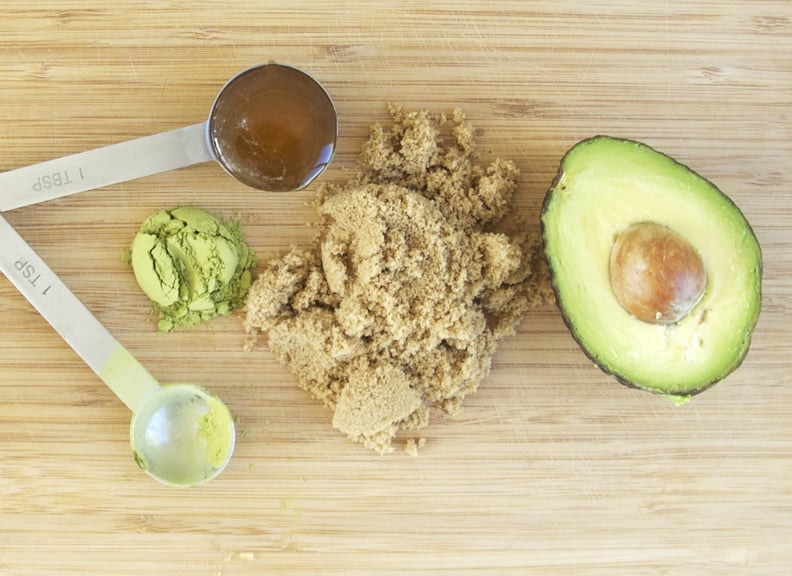 Brightening Avocado and Matcha Mask
Why: Vargas says this mask is good for both your face and body, and it boasts many benefits. "Matcha is an extremely powerful antioxidant, while the honey and avocado deliver hydration and the brown sugar exfoliates gently," she notes.
What You Need:
1 teaspoon matcha
1/4 of an avocado, mashed
3 tablespoons brown sugar
1 tablespoon honey
Directions: Combine all the ingredients in a bowl and mix well. Apply a thin layer to either your face or body, and gently scrub in a circular motion with your fingertips, making sure to avoid your eyes. Leave for 10 minutes and rinse with a warm cloth.
03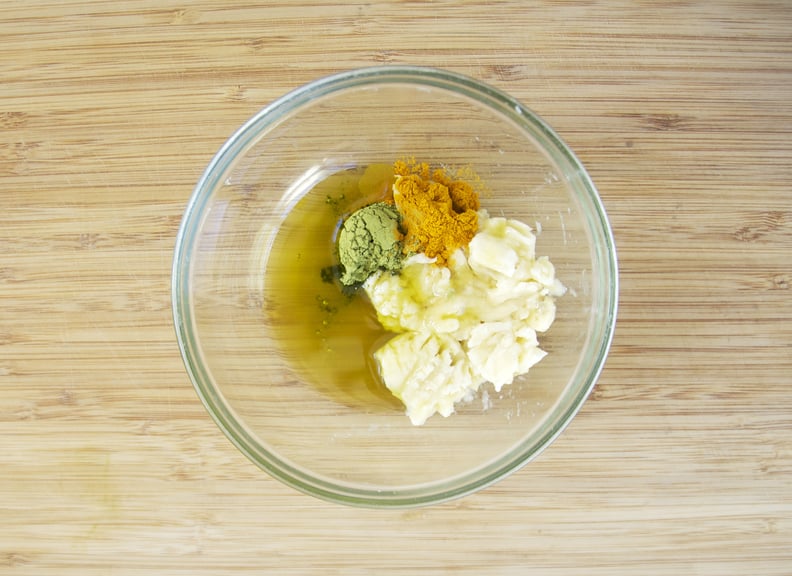 Antiaging Matcha, Banana, and Turmeric Mask
Why: "Both matcha and turmeric have these amazing antiaging and anti-inflammatory properties," says Vargas. "Olive oil boosts your skin's elasticity and is another powerful antioxidant, and banana will leave your skin feeling firmer and with a radiant glow because of its high content of minerals and vitamins."
What You Need:
1/2 a banana, mashed
1/2 teaspoon turmeric
1/2 teaspoon matcha
1 tablespoon olive oil
Directions: Mash your banana in a small bowl, then add your turmeric, matcha, and olive oil. Mix well and then spread onto your face to set for 10 minutes. Rinse with warm water and pat dry.
After using this one, my skin felt impossibly soft and hydrated and was noticeably brighter.
04
Hydrating Matcha, Rose Water, and Coconut Oil Mask
Why: Not only is coconut super moisturizing, but it's also a natural anti-inflammatory and antibacterial. Paired with matcha, which boasts more of the same, and hydrating rose water, this mask is a real pick-me-up for tired, dry skin.
What You Need:
2 teaspoons matcha
1/2 teaspoon coconut oil
Rose water, to preferred consistency
Directions: Combine melted coconut oil with matcha in a small bowl. Add drops of rose water until you have a medium-thick paste that's easy to spread onto your skin. Let it set for 20 minutes and then wipe off with a warm, wet towel. Your skin will look exfoliated, bright, and moisturized.
05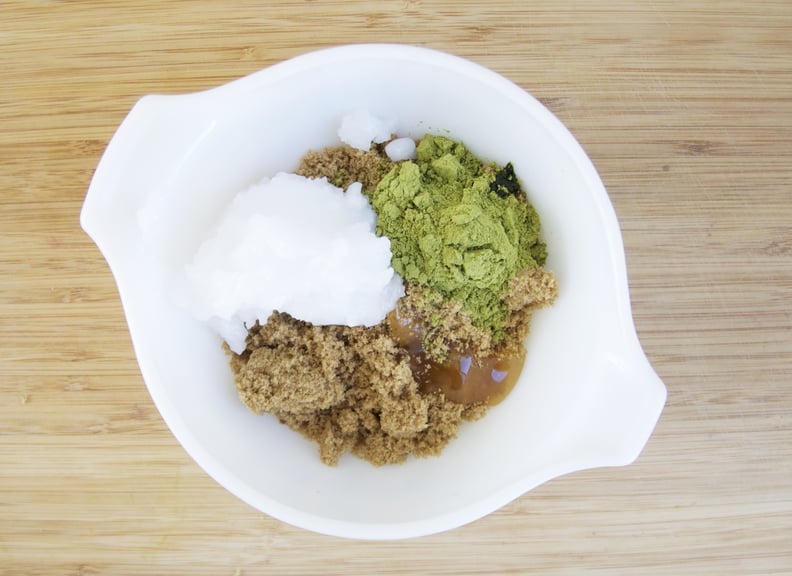 Anti-Inflammatory, Exfoliating Matcha Scrub
Why: Vargas explains that the coconut oil in this body scrub soothes and hydrates while also getting rid of inflammation. The sugar, unlike salt, hydrates skin while exfoliating. "High levels of polyphenols in matcha help to increase skin cell growth, and the more collagen production your skin has, the more firm and healthy it will be,"she explains. "Adding a tiny bit of honey helps to make this scrub exfoliate and deeply moisturize at the same time."
What You Need:
1/3 cup coconut oil
1 cup of brown or white sugar
1 tablespoon of organic matcha powder
1 teaspoon organic honey
Directions: Combine sugar with matcha, then add honey and melted coconut oil and stir until everything is mixed well. Store in a sealed mason jar and place in your shower for up to two weeks. After cleansing your skin, gently exfoliate with the scrub and then rinse. Vargas recommends using this every other day to reveal healthy, soft skin.