Lip Filler Migration: What Is It? How to Get Rid of It?
No, Your Lip Filler Hasn't Migrated — It Was Injected Incorrectly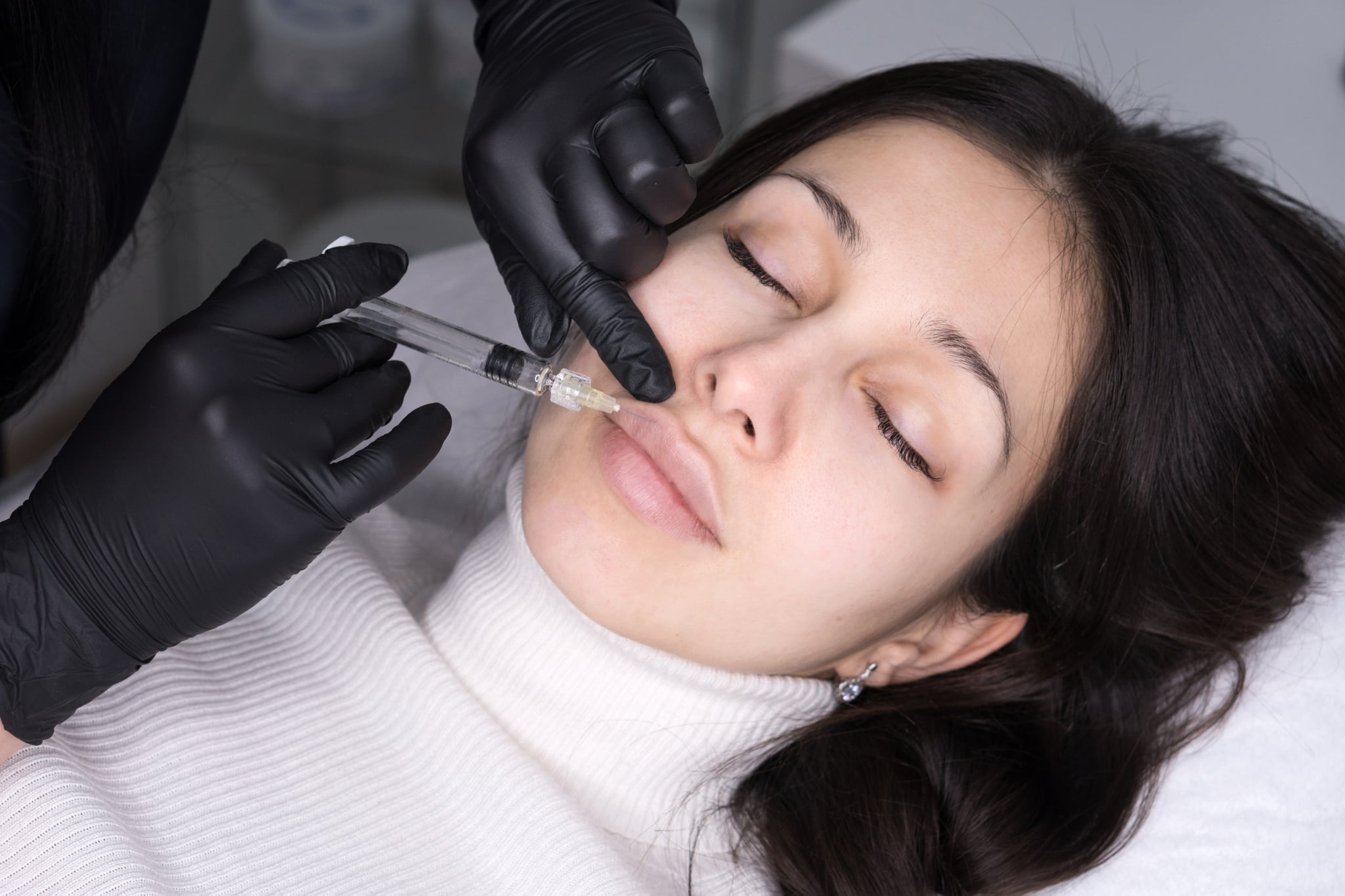 We're sorry to break it to you, but if your lip filler migrated, it probably wasn't administered properly in the first place — especially if your practitioner refuses to help rectify the situation.
Migrated lip filler can present as lumps, noticeable volume above the top lip, lack of a defined lip edge all over, and sometimes can cause discomfort. Of course, a level of risk comes with any aesthetic treatment, but in the case of migrated filler, incorrect placement is the number-one reason it presents.
We spoke to three top doctors to find out everything you need to know about migrated lip filler and how you can avoid it altogether.
What Is Migrated Lip Filler and What Does Migrated Lip Filler Look Like?
Migrated lip filler refers to the process by which filler that has been injected into one area of the lips moves to another part, often looking lumpy in appearance, swollen, and in some cases noticeably unnatural. In some cases, migrated lip filler can also cause pain and discomfort. However, filler doesn't always "migrate" in the way we've been led to think it does.
What Causes Lip Filler to Migrate?
Why Lip Filler Migrates: Poor Technique
Now for a bit of myth-busting. "Migrated lip filler is essentially a technique issue," Ashwin Soni, MD, plastic surgeon and owner of The Soni Clinic, tells POPSUGAR. All three of the experts I spoke to echoed this sentiment. "It's not necessarily what it says on the tin," says Nestor Demosthenous, MD, owner of Dr. Nestor's Medical Cosmetic Centre. "It's more of a poor cosmetic outcome rather than true filler migration." Bob Khanna, MD, aesthetics expert and owner of DrBK Clinic, adds: "filler does not migrate very easily." None of them have seen migration in any of their patients following lip injections — and there's a clear reason for that. "Migrated lip filler really shouldn't happen if you do lip filler in the correct way," says Dr. Soni.
"It would be very difficult for filler to move so easily in the skin — thank heavens for that," Dr. Khanna says. "Think about it logically: if it was that easy, every time anyone had their lips filled properly, they would migrate. There is a lot of dynamic movement of your lips — you're talking, you're kissing, you're drinking, so it'd be an absolute disaster that your filler would migrate so easily."
Why Lip Filler Migrates: Too Much Filler
Another reason migration may occur is due to injecting too much filler. "Essentially, you've got to look at every part of the face as a different anatomical compartment and how much can actually be accommodated," Dr. Soni says. "Our anatomy can only accommodate so much of the filler or product into a certain area. This is when you start seeing unnatural results." Dr. Khanna adds when it comes to placement: "If you don't know your anatomy, you will end up in areas that you shouldn't be venturing into; hence why the fillers are incorrectly positioned."
Why Lip Filler Migrates: The Type of Filler Used
One more factor to take into account is the product used. There are various types of filler a practitioner uses for different treatments. "There are different techniques of injecting lips, and the best results are the ones where we inject the right product into the right place, and that's down to how thick a product is," says Dr. Nestor. "If I want to hydrate lips, I'm going to use a very thin type of filler. If I want to start to build and augment lips that are very thin, I'm going to reach for a thicker product. But I wouldn't inject this thicker product in the same places I would the thinner product." Again, this comes down to having an experienced injector who can tailor treatment for an individual based on anatomical knowledge.
How to Prevent Lip Filler Migration
Like many aesthetic treatments, there are things you can do to reduce various risks. A general rule of thumb that Dr. Soni — who describes himself as being on the more conservative side when it comes to aftercare (which, in our eyes, can only be a good thing) — recommends that his patients do is "no intense exercise for five days, and don't lift anything too heavy." Dr. Khanna adds that you shouldn't take a "really hot shower, go into a sauna, or go under the sun immediately after treatment."
What to Do If Your Lip Filler Has Migrated
If you suspect your lip filler has migrated or been administered incorrectly, you should visit a highly trained professional. this is especially important if you are experiencing pain, discoloration, blisters, or significant swelling. In the first instance, contact your practitioner and ask for an urgent appointment.
If the person who did your filler isn't responding or doesn't have sufficient qualifications, get an emergency appointment with a reputable practitioner who has proof of qualifications and has treated a number of complications from other providers before. Many good aesthetic practitioners will be in touch with their patients right after treatments and in the months following. Not being able to get in touch with your injector following treatment is a huge red flag. When it comes to aesthetic treatments, discounts and cheap appointments come at a big risk, which can, in some cases, have life-changing consequences.
The bottom line is, if you're going to see a reputable, extensively trained practitioner, migrated filler shouldn't really happen. And if it does, it's something that the clinic should fix for you immediately and advise on next steps. In Dr. Khanna's words: "I do believe that this terminology of migrated filler is just an excuse for filler that's incorrectly placed. Simple."