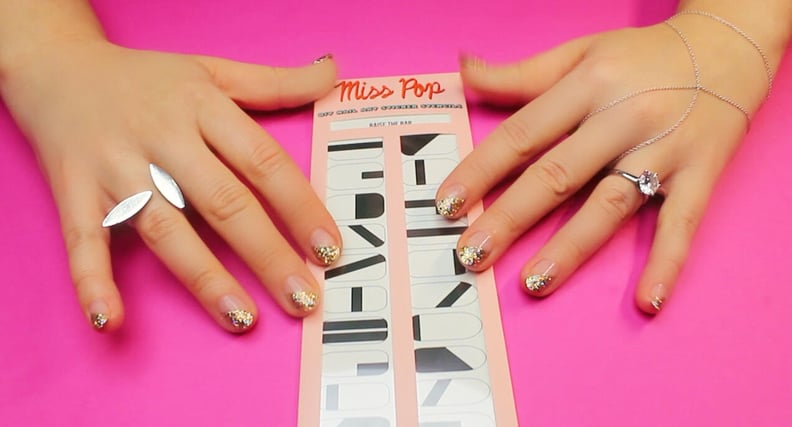 Miss Pop
Miss Pop
Nail artist Simcha Whitehill, aka Miss Pop, is no stranger to working under pressure. She has designed the manicures for top New York Fashion Week shows like Rodarte, Jeremy Scott, and Alice + Olivia. And she's also done the digits of such celebrities as Gwen Stefani, Ariana Grande, Amy Schumer, and Janelle Monae. Though she is pretty much a genius when it comes to nail art (see her gorgeous work here), something was holding her back: not having the proper tools.
To create today's top nail art fads like negative space and geometric shapes, you need a stencil. Many turn to household items such as tape for this. But according to Simcha, painter's tape doesn't produce a crisp line and Scotch tape leaves a residue.
So, she took matters into her own hands and spent a year formulating her own line of stencils and decals that launch on Friday, Nov. 27, on tattify.com.
"Backstage, you have to make these looks happen in 15 minutes," she told us. "So I created products so people can make these just as fast. They actually help you get a foolproof designer, because they're very grippy." The bottom line: anyone can DIY crazy-cool nail art without having skills.
The offering includes two main iterations: sticker stencils and metallic nail art foils. The stencils, which are black, can be placed over lacquer or on a bare nail to create a negative-space nail art look. Shapes include a half moon (great for curved french tips or moon manis), an elongated triangle (to create chevron styles), and a bar (for stripes). Or, you can rock them on top of a color for a black-designed look.
Then, there are the metallics, which are basically like Flash Tattoos for your fingertips. Choose from silver, gold, black, and a standout holographic finish (which Simcha joked "will make a unicorn jealous because they shoot rainbows!"). Simply adhere these durable foiled pieces atop bare or lacquered nails, and then finish with topcoat. You'll get flawless designs such as dots and half rectangles without having to paint a single line.
Since these sets are priced at $8 to $16 per pack (including 50 decals), they won't cost you anywhere near what a manicurist would charge. Plus, you can cut them up to customize bespoke versions.
"I wanted to help people to create their own nail art looks without needing to go to a salon or even having to practice," she explained. "I wanted to make custom nail art even more accessible — and sparkly! All you have to do is peel, stick, seal with topcoat, then sit back and enjoy the compliments."
We're already obsessed and dreaming about way to deck out our digits for holiday parties and New Year's Eve. Keep reading to see more images of this hot new launch, plus get quick tutorials from Miss Pop on how to use them.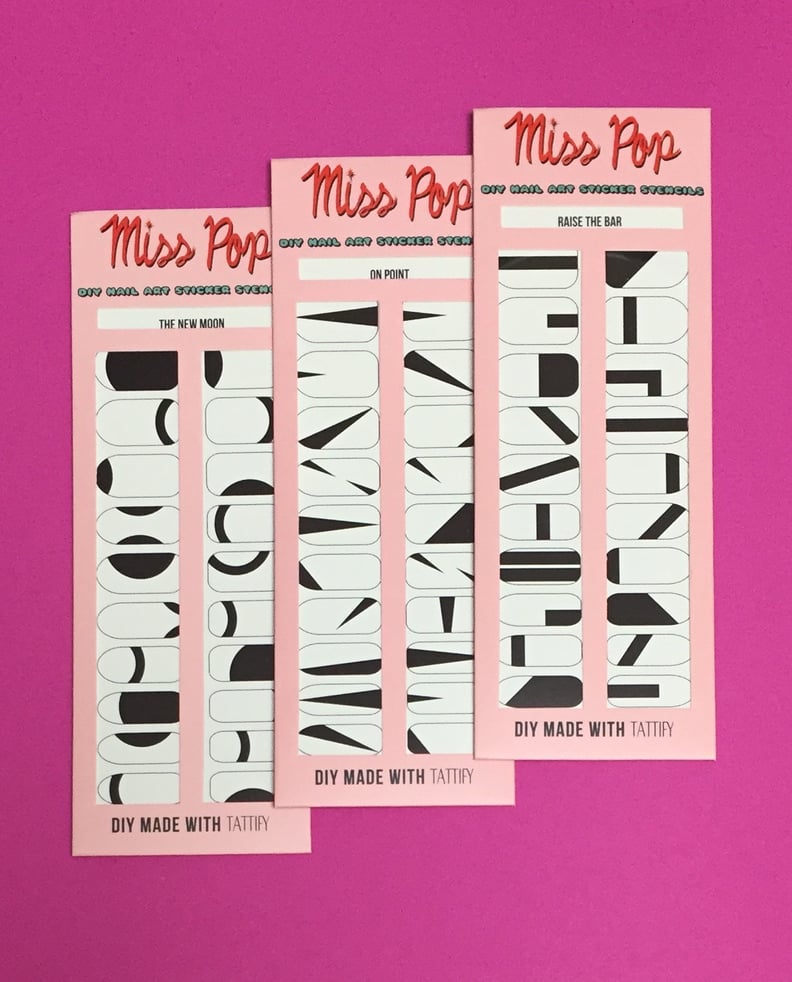 Miss Pop Nail Stencils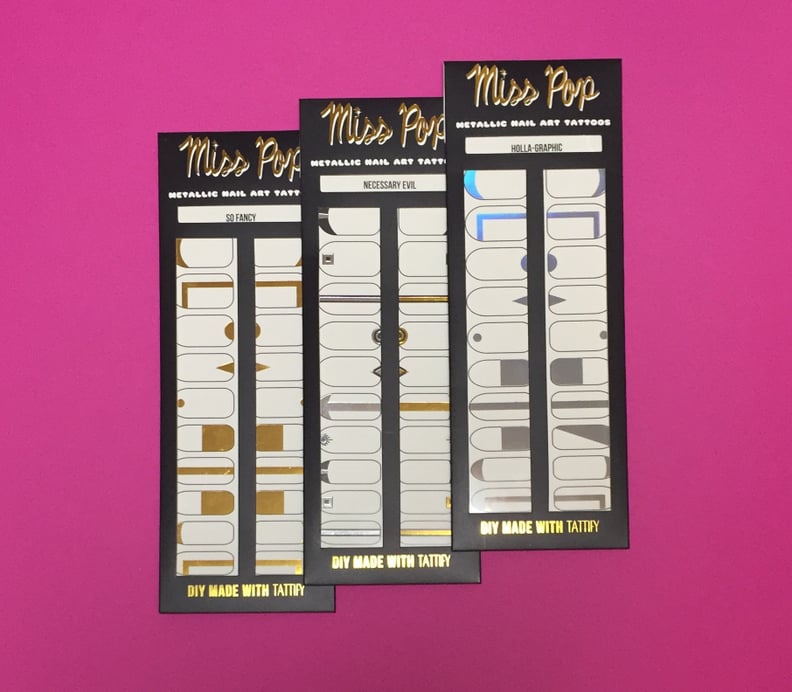 Miss Pop Foil Tattoos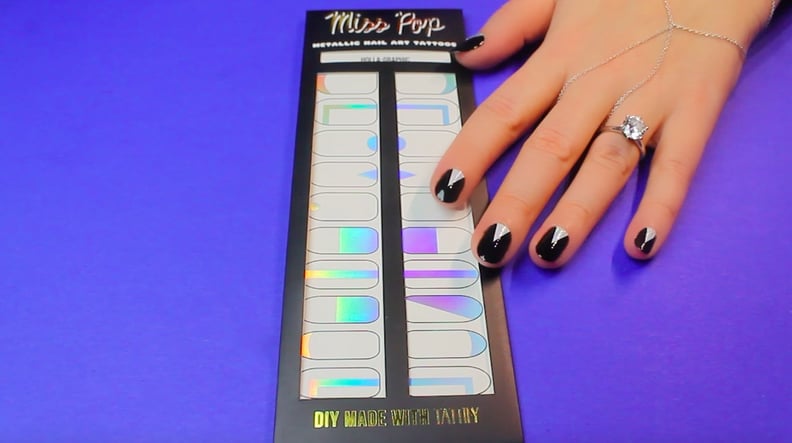 Miss Pop Holographic Tattoos
Negative-Space Manicure by Miss Pop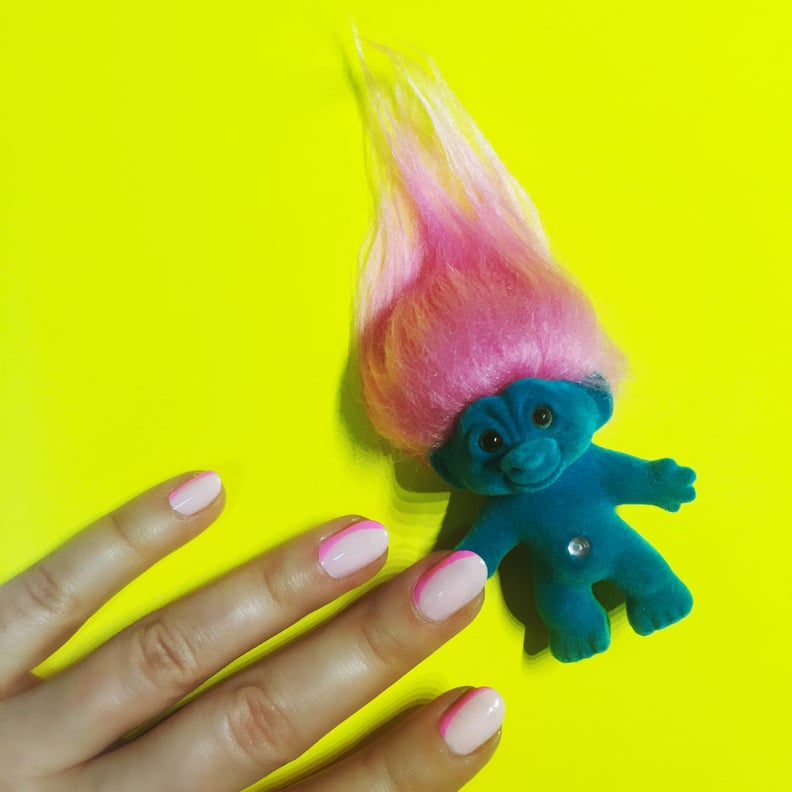 Side-Striped Manicure by Miss Pop
DIY a Striped Look Featuring the So Fancy Foil Decal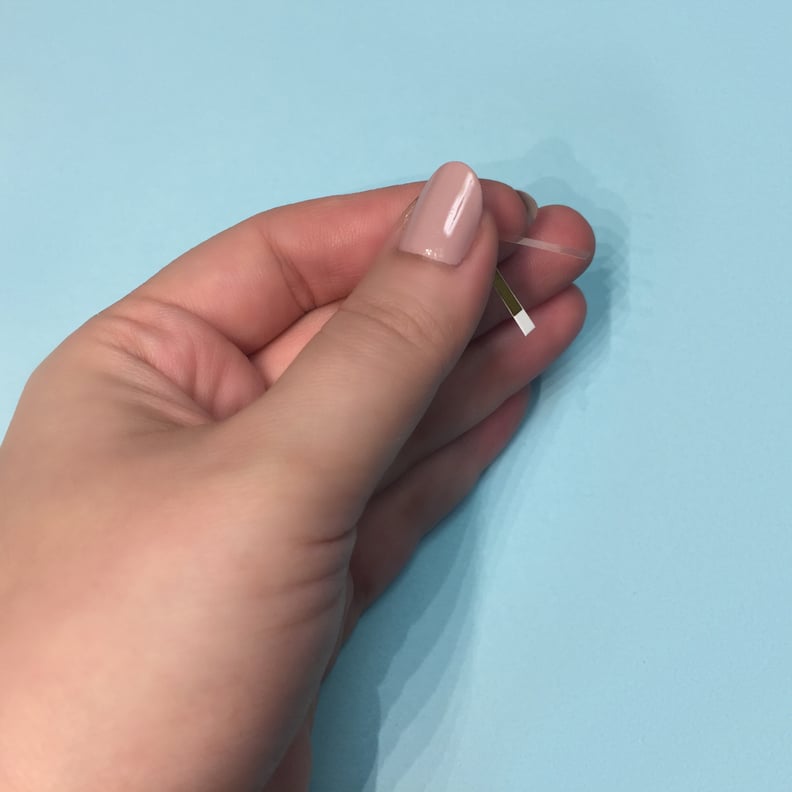 Step One
Apply base coat and two coats of your chosen nail polish, as per usual. Or don't. The metallic nail art tattoo will adhere to your bare nail or lacquer. Once your polish is dry, cut out your desired nail tattoo.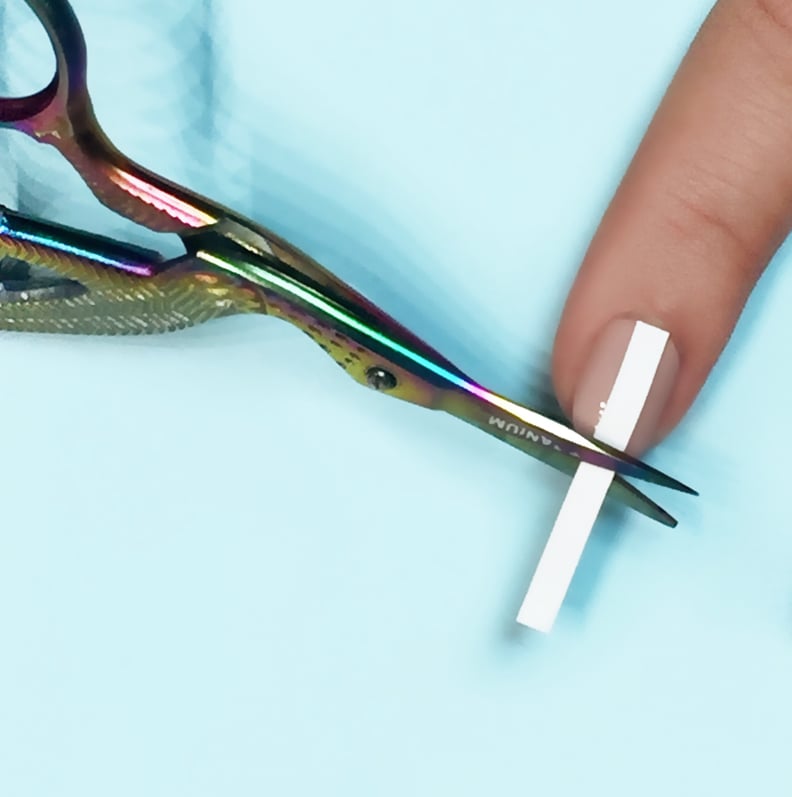 Step Two
Remove the clear film on the back of your desired nail tattoo. Place the design face down on your nail and press it into place. Do not attempt to move or adjust it. Once it's down, it's down. Cut off excess, if need be.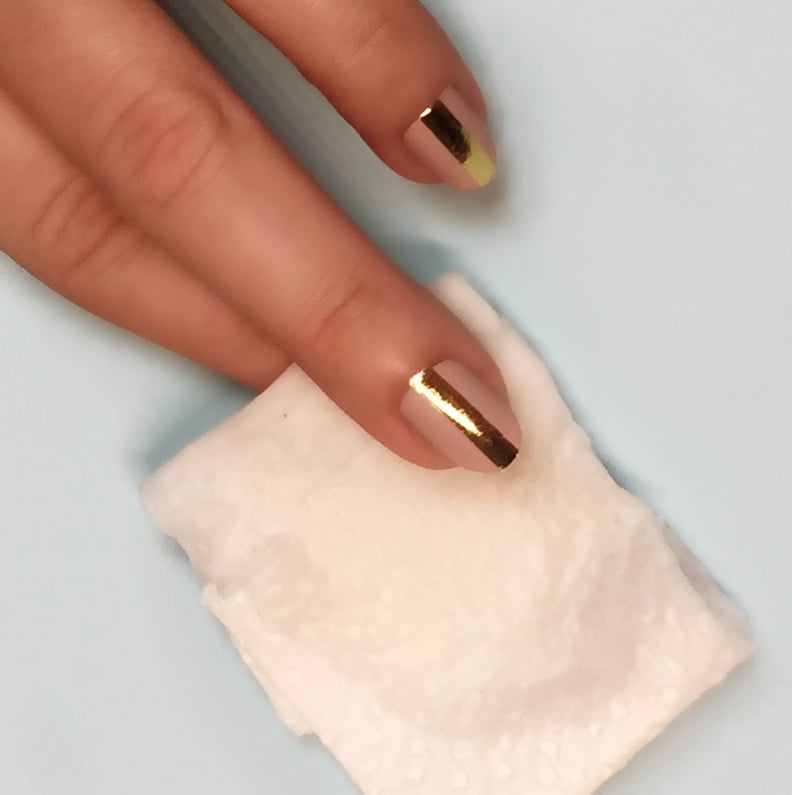 Step Three
Using a damp paper towel, get that slice wet. Wait 15 seconds and then peel the paper off. With a dry paper towel, wipe off any excess water from your nail.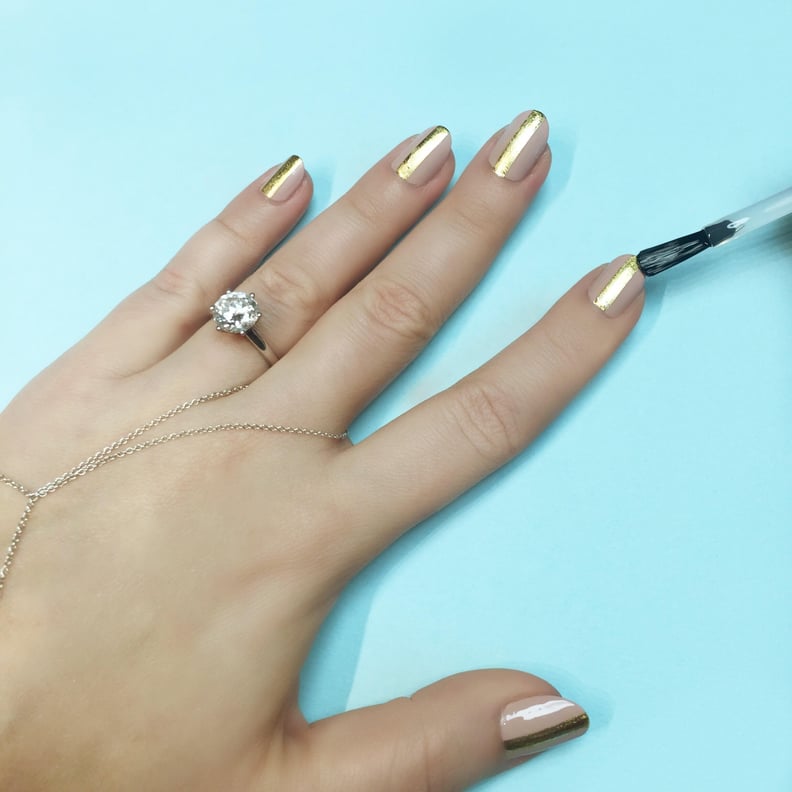 Step Four
Seal your sparkly new nail art with topcoat and take your festive mani out on the town!