Sarah Mousseau is Miss New Hampshire and a contestant in the upcoming Miss USA competition. Here, she bravely shares her struggle with alopecia and vitiligo exclusively with POPSUGAR. Tune in to FOX on Sunday, May 14, at 8 p.m. ET to watch the Miss USA competition live.
People can struggle with confidence at any age, and building it in your early years is essential as you get older. I was 8 years old when my mom noticed I had patches where my hair had fallen out on the back of my head. A doctor's visit a few weeks later confirmed that I was losing my hair due to the autoimmune disease alopecia.
Alopecia areata causes hair loss in some or all areas of the body, usually from the scalp, because the immune system mistakenly attacks hair follicles. You can imagine how hard this was for me to understand as a young child. (Doctors still aren't even sure why this happens, and there is no cure for the disease.)
I tried to not allow the hair loss to bother me and even refused the painful treatments that could potentially prevent the hair loss. When my parents expressed concern with my well-being and how I was handling it emotionally, I would nonchalantly tell them, "I'm not dying — if I lose all of my hair, you can just put a wig on me!"
I learned that my self-worth was determined not by my outward appearance, but by life experiences and opportunities.
However, as I entered my teenage years, I began to experience the insecurities that so many young girls do when we enter middle school and high school. I was embarrassed by how I looked and was filled with self-doubt. I wouldn't acknowledge the cause of it and tried hard to cover up new bald spots as they appeared. Later, I was also diagnosed with vitiligo, another autoimmune disease which caused large patches of my skin to lose pigmentation.
It took a long time, but as I grew older, these diseases bothered me less and less. I learned that my self-worth was determined not by my outward appearance, but by life experiences and opportunities. I found myself through singing and songwriting and through academics, excelling in school and eventually earning my Master of Science degree in Speech Language Pathology. I began to see these "flaws" as just another part of me. I grew into the confident woman I am today by not only accepting my differences, but embracing them as a part of who I am.
Several weeks ago, I noticed new bald spots on my scalp. Instantly my confidence was shaken, as I knew I was leaving for the Miss USA competition in just a few weeks. I felt as if I was back in high school all over again. I was anxious, self-conscious, and worried about how this would impact my time at Miss USA. In the weeks that have followed, I keep thinking back to my childhood, asking myself, "What would 8-year-old Sarah do?" I repeat my mantra to myself: you are enough. I am confident and comfortable enough in myself to know that these "imperfections" are what shaped me into the woman I am today.
I'll get to walk across the Miss USA stage this Sunday along with 50 other women, all of whom have insecurities of their own just like me. It is your imperfections that make you beautiful, and I am proud to stand on a national stage with mine.
Here, Sarah shows her natural hairline (without makeup added, like in the image above).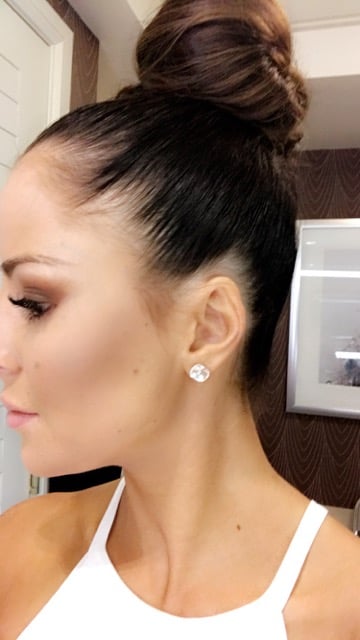 Here's Sarah's hairline after she touches it up with makeup.