5 Neutral Nail Art Ideas That Are Anything but Boring
As POPSUGAR editors, we independently select and write about stuff we love and think you'll like too. If you buy a product we have recommended, we may receive affiliate commission, which in turn supports our work.
For most people, excitement is not the first reaction to neutral nail polish (a yawn seems more likely). That's why we were completely thrilled when Sarah Tuttle, the founder of Olive & June nail salon in Beverly Hills, collaborated with Estée Lauder to create five new takes on the shade. We got an exclusive sneak peek at each look before their launch on The Estée Edit.
You may have noticed that tans have been hot since last Fall. According to Tuttle, the trend lives on because it's clean and flattering. "These shades are an understated but totally chic alternative to superclassics like Essie's Ballet Slippers," she explained. This is also why greige, lavender, and other muted neutrals have been so popular. Read on to read Tuttle's tips for each look, and then head to The Estée Edit for more.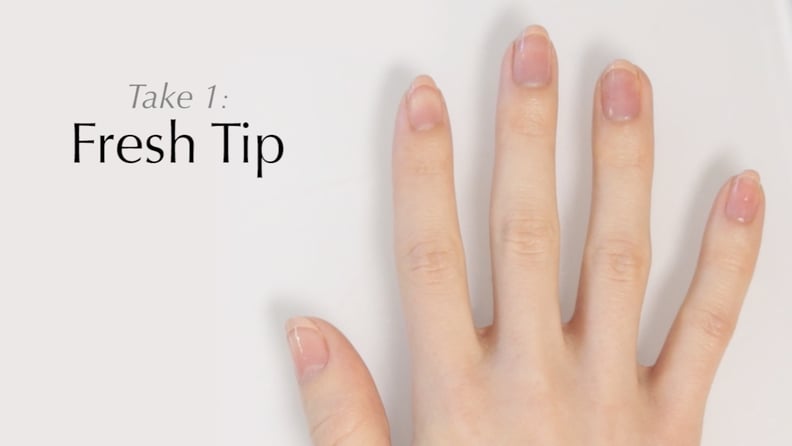 Fresh Tip
Fans of the french manicure, we've found your new lewk. Instead of a white tip (which can look dated), this refreshed iteration of the style features a neutral edge on an ultrasheer base. If you're feeling self-conscious over those polish-stained fingers, we feel you. Turns out, you can get them clean with items you already own. Tuttle suggests combining water with Arm and Hammer Baking Soda ($2), then scrubbing the mixture onto stains for 60 seconds using a nail brush. "That should do the trick, but if you need a little extra clean, try adding lemon juice," recommends Tuttle.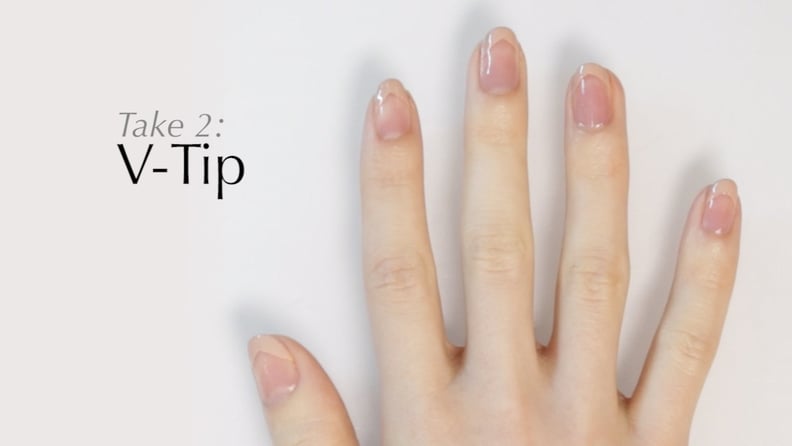 V-Tip
This remixed take on the french manicure uses a subtle, sexy v-shape instead of the classic tip. If you have shaky hands, don't worry — you can still re-create this at home. After letting your base color dry completely, apply tape to your nail to make a sharp, clean line. Once your edge color has fully dried, remove the tape. "It's just like when you paint a wall and tape around the edges," explains Tuttle.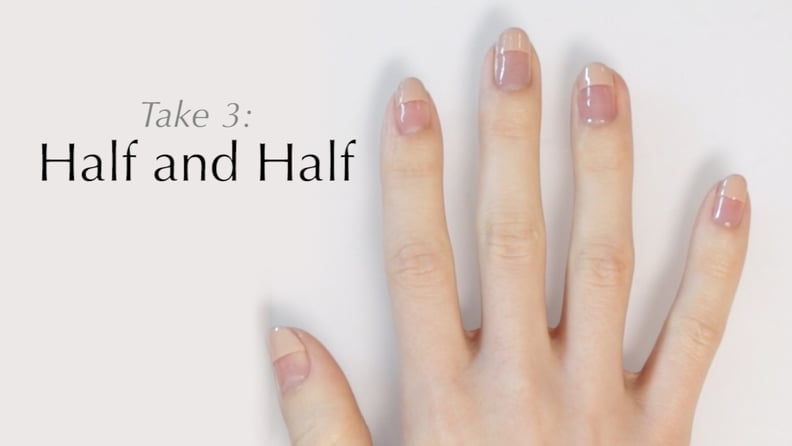 Half and Half
While it may seem that the key to this look is finding a shade that coordinates with your skin tone, Tuttle insists otherwise. "The best polish color for any skin tone is the color that you love the most! Clients love to see what feels good to them versus being prescribed a color," she says. "There are days when a light nude feels like an amazing pop of color and days when a dark nude feels like a nice extension [of your natural look]."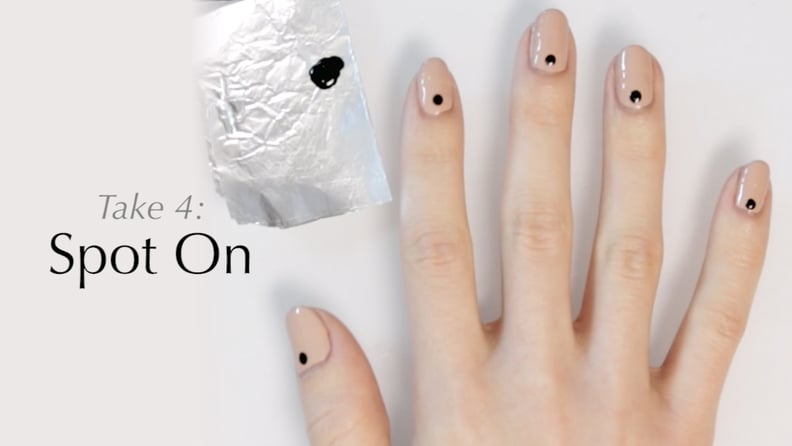 Spot-On
The glossy black dots on this clean manicure look like edgy studs. If you don't have a dotting tool in your nail art arsenal, Tuttle recommends subbing in the end of a Q-tip. "Just remember to take off most of the cotton so it's a clean, small dot," she warns.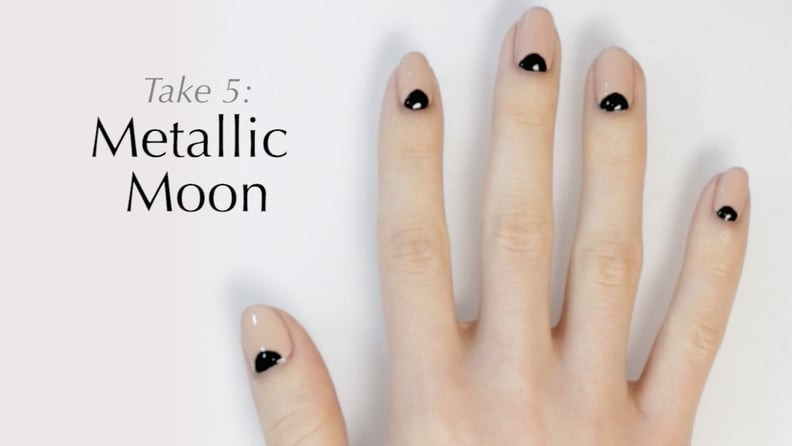 Metallic Moon
This retro look gets a gritty yet classy update with the use of black on opaque polish. To get a perfectly smooth half-moon, you can use tape like you did for the V-Tip nail. But above all, Tuttle advises you go to your local beauty supply store for the right tools. "Nail art gets so much easier with time and practice," she says. "Don't get discouraged!"