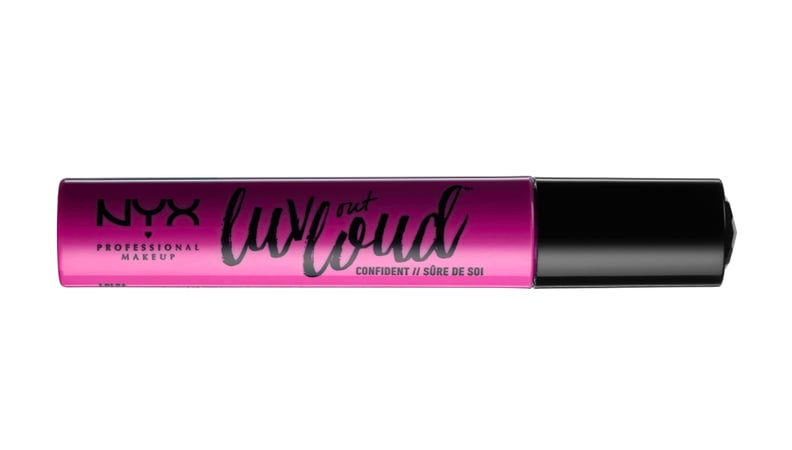 Fact: there is no such thing as having too many matte lipsticks. So make room in your beauty bags for even more, because NYX Professional Makeup just launched Luv Out Loud, a new collection of six Fall-ready shades.
POPSUGAR has the exclusive first look at the dreamy range, all inspired by different personality qualities. There's Fearless, a dusty lavender; Passionate, a red violet; Extraordinary, a magenta; Brave, a plum; Brilliant, a pink nude; and Confident, a pale nude. Each of the supercreamy lipsticks leaves a velvety, long-lasting finish. Buy the shade name you resonate with most to remind you of your best asset while getting ready in the morning. Or you can even gift one to a friend to let them know what you admire most about them — at $7 each, you might as well get every single color.
Beyond the amazing hues, the Luv Out Loud collection is also a campaign to spread goodwill. NYX partnered with beauty influencer Angel Merino aka @mac_daddyy to donate $6,000 to The Trevor Project. On top of that, the brand is also giving you a chance to win $10,000 to donate to a cause you believe in.
All you have to do to enter is post a one-minute video with the hashtag #luvoutloud, showing how you embody one of the shade names with your own charitable work. Whether you work at a soup kitchen, donate canned goods, help build homes with Habitat For Humanity, or volunteer elsewhere, NYX wants to hear about it.
Take a look at the new shades ahead, and hear more from Merino about why this is not your average beauty influencer collaboration.
Why This Matters
POPSUGAR: Why is this contest so important?
Angel Merino: I would encourage everyone to take part in this contest, not only because it's contributing to charity, but because it acts as a vessel to empower people to create change! This is the perfect opportunity to stand up for something you're passionate about and believe in, and I truly believe it can create a ripple of change amongst our community.

NYX Luv Out Loud Lipstick in Fearless
PS: What was your reaction when NYX first approached you about this project?
AM: I was beyond excited when NYX Cosmetics reached out to involve me in this project! NYX was one of the first brands that I ever collaborated with as an influencer, so to see the evolution of our relationship over the years means a lot to me. I am beyond honored to take part in a campaign that contributes to my direct community and that sets the tone of diversity and inclusion. It's so refreshing to see such a major brand in the beauty industry create initiatives that give people hope and spread love during a time when we need it the most.

NYX Luv Out Loud Lipstick in Passionate
PS: What does partnering with The Trevor Project mean to you? Why is it important to you?
AM: Partnering with The Trevor Project means so much to me because it is a way for me to give back to the youth in the LGBTQ community. I myself have experienced some very low points in my life, specifically growing up and coming to terms with my sexuality. Growing up, I didn't really have anyone to talk to about the way that I was feeling and the fact that I was different. It's so important to give back to organizations that essentially save lives. The Trevor Project does just that and essentially gives people hope! I couldn't think of a better charity to partner with for this project!

NYX Luv Out Loud Lipstick in Extraordinary
PS: Which of the Luv Out Loud shades do you like most — and why?
AM: I have to say I love all of the Luv Out Loud lipstick shades so much! I especially love the formula because it's so comfortable and wearable on the lips. It's not too dry but has great wear and staying power. My favorite ones would have to be the lighter more everyday shades like Confident. There's definitely something for everybody!
NYX Luv Out Loud Lipstick in Brave
PS: Your lips always look amazing on Instagram — what are some tips and tricks you have for applying lipstick?
AM: One of my biggest tips for prepping my lips for the perfect pout is exfoliating. Our lips can get so dry, especially if you're someone that wears lipstick daily. It's important to get rid of any dead skin on the lips! I always follow up with an intense hydrating lip conditioner to deposit moisture back to my lips. A combination of these two things will give you a baby soft, plump, and juicy lips, and will make your lipstick application so much better and smoother!

NYX Luv Out Loud Lipstick in Brilliant
PS: What is your advice to aspiring makeup artists and bloggers for getting their work seen on Instagram and gaining followers?
AM: You have to authentically be yourself. I know that that's something that we hear all the time but it literally has to radiate and translate. Find what you're passionate about and find what works for you. Develop a specific aesthetic and stick to it! Also, don't get too caught up and focused on the number but focus on the quality of work you are producing.

NYX Luv Out Loud Lipstick in Confident