Exclusive! Your Favorite Olay Face Cream Has an Amazing New Texture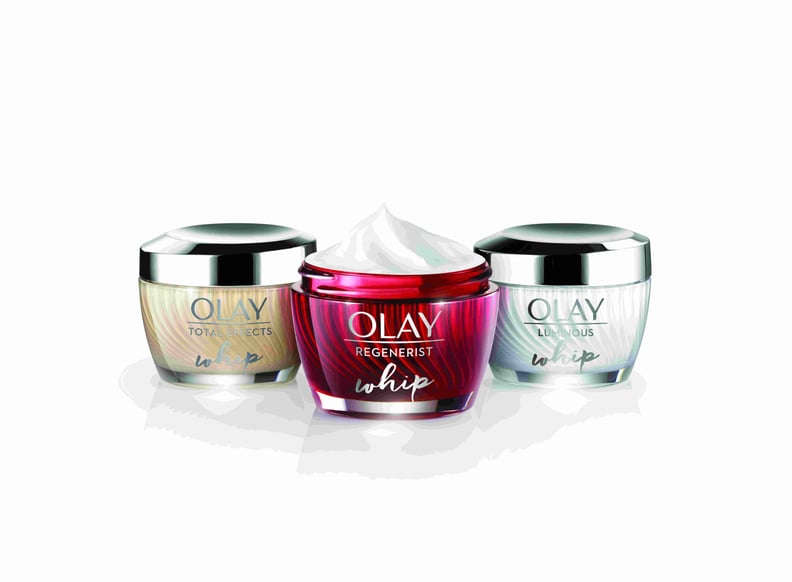 As you're planning your "new year, new you" makeover — haircut, wardrobe, outlook on life — add skin care to the checklist. In 2018, Olay is going to make that goal extra affordable. The drugstore brand has created new versions of three of its most popular face creams with a heavenly new whipped formula.
The Olay Whips ($29) offering includes Regenerist (the antiaging one), Total Effects (the all-in-one), and Luminous (the dewy one). It's basically the results you've come to expect with a fluffy new texture. Each of these creams also comes in a regular and SPF version, so you've got options for day or night.
I was an early tester, and what I noticed is that you may only need one. The creams are that perfect, watery texture we have come to expect from high-end versions (Tatcha Water Cream, La Mer Gel Cream) or from the Korean-beauty roster. Olay Whips are the ideal one-stop-shop cream I toss in my gym bag, bring on a long flight, use before a day in the sun, and apply in the evenings for more hydration. The texture doesn't pill, so you can layer makeup over it. And while it absorbs quickly, it left my skin feeling velvety. (Luminous is my jam, in case you were wondering.)
"Olay Whips feel unlike any other moisturizers I've used before," Dr. Frauke Neuser, Olay principal scientist, told me via email. "As soon as you open the jar, you notice the difference in the product texture! Olay Whips look matte, not shiny and you can see a three-dimensional structure within the moisturizer with your bare eyes. I would describe this as micro-capsules or micro-sponges myself."
She went on to explain the science behind it for you beauty nerds out there! "That is what we call our new unique Active Rush Technology," she said. "It is essentially a blend of polymers, with the main one being starch-based, that is able to hold 1000 times its weight in hydration and active ingredients while in the jar, and quickly release on contact with skin. The polymers work like micro-sponges and represent a novel delivery system to get hydration and potent skincare actives to absorb quickly into skin, without the sticky, greasy residue that many traditional moisturizers leave behind."
Like I said, these are a makeup artist's dream since foundation layers so easily on top of them. They're also time-saving products. "You know that feeling of having to wait to apply your makeup in the morning, because your moisturizer has to dry?" Dr. Neuser said. "With Olay Whips, there is no wait time. Due to the fast absorbing formula, you can easily apply your makeup directly following — and still have time to grab a coffee and make it to work on time."
Even though you might want to bathe in the pillow-y formula, I got some application tips. "Put on a dime size amount," Dr. Neuser instructed. "Don't be afraid to be generous! So often women don't apply enough moisturizer because they hate the residue, sticky feel and shiny appearance they leave behind. But if you're really concerned, start with a small amount and keep layering on more." According to the doctor, you can layer on a quite a bit and it leaves you with a canvas that feels like bare skin.
Keep reading to see all of the products before they hit shelves and online next year.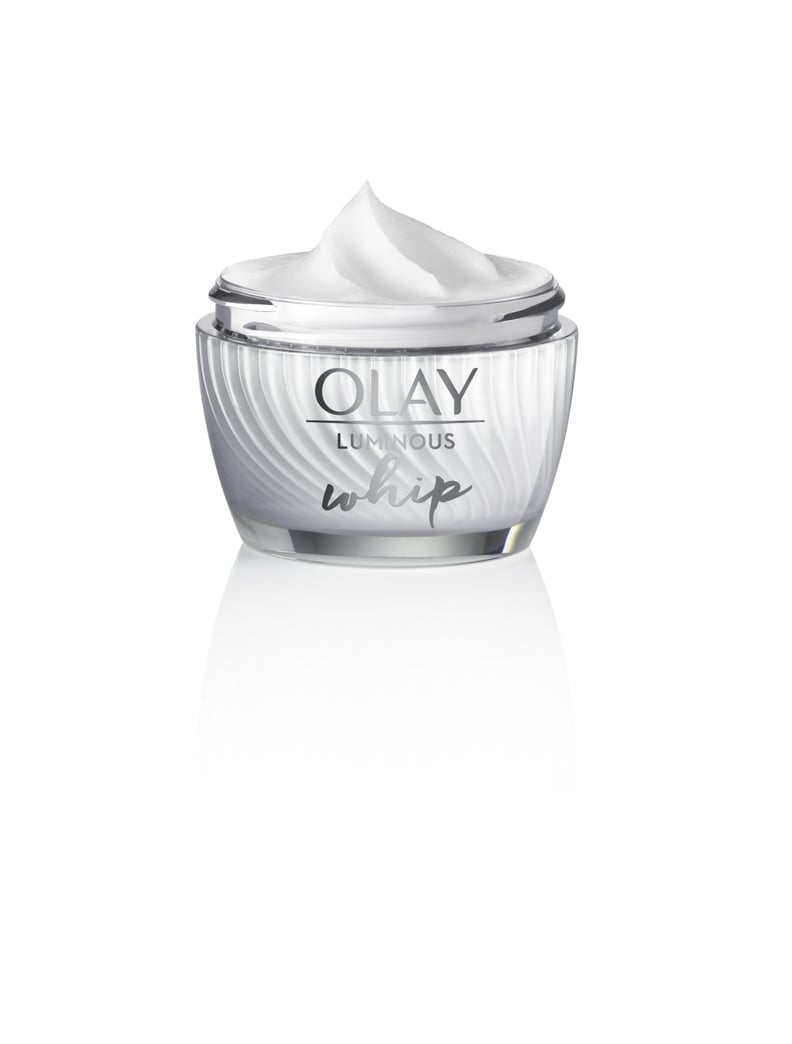 Olay Luminous Whip
For those who want to look dewy, try Luminous (the name says it all, right?). It has that slightly pearly finish that may even make you want to skip foundation.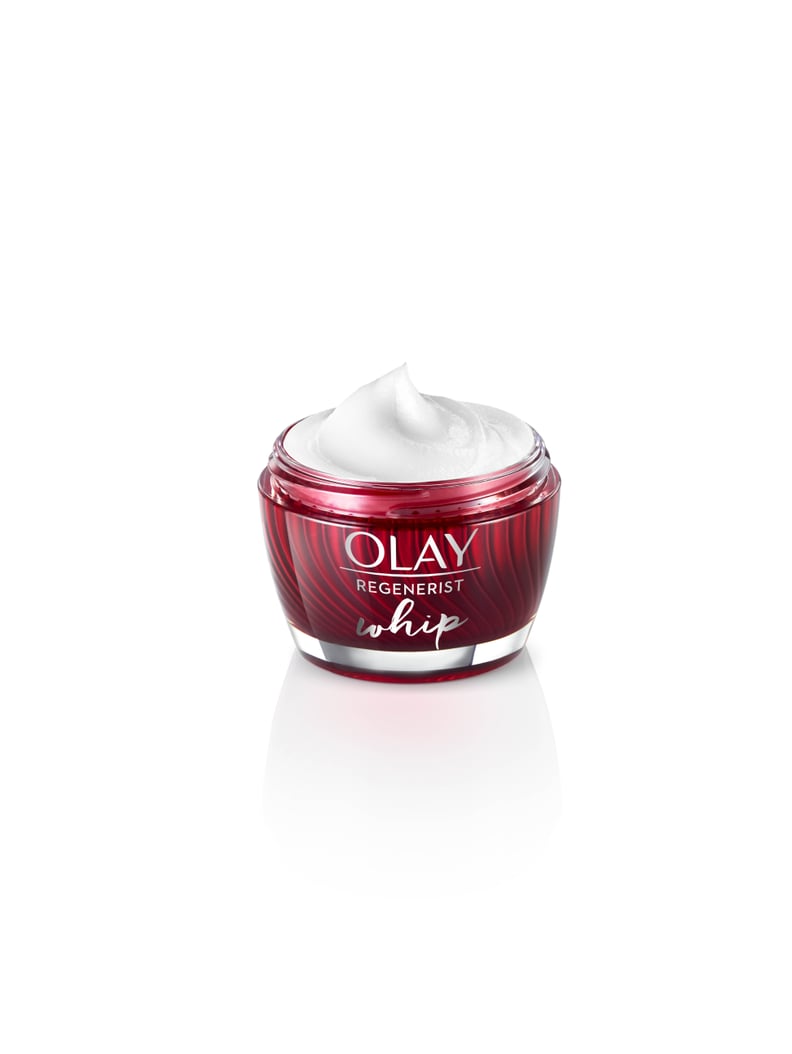 Olay Regenerist Whip
Try this version if your concern is filling in fine lines and smoothing wrinkles.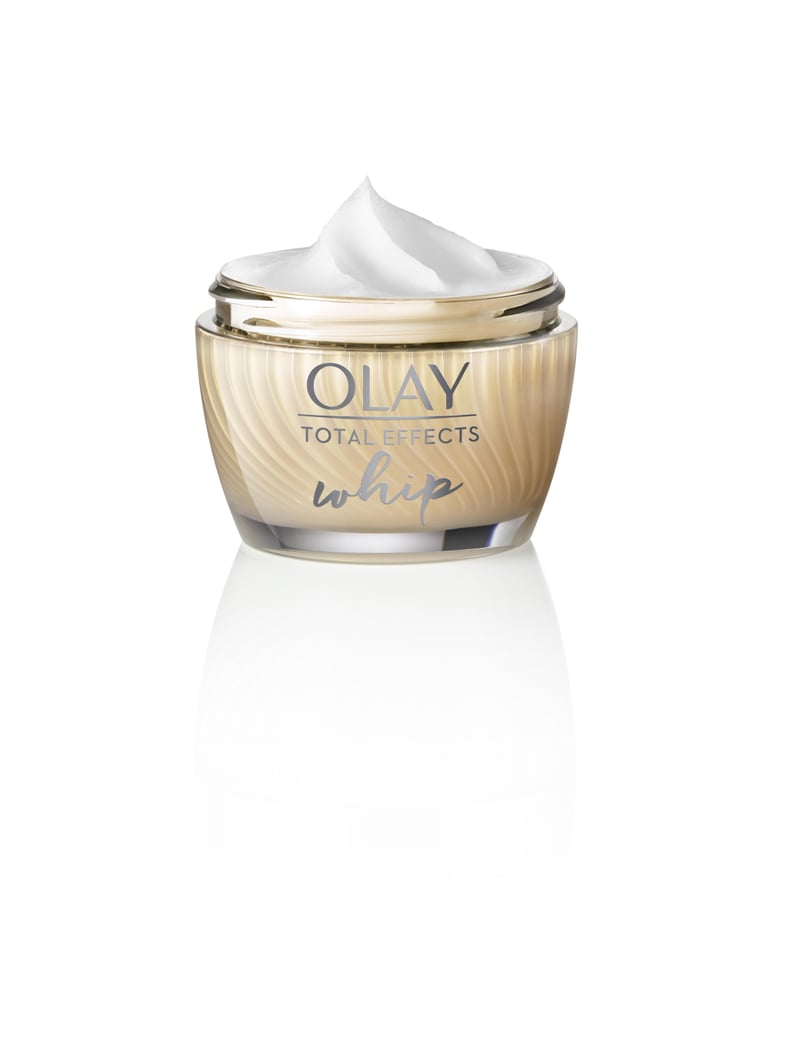 Olay Total Effects Whip
For all the things, snag a bottle of this guy. It claims to have seven skincare benefits: nourishing skin, evening out tone, brightening, smoothing fine lines, minimizing pores, firming, and brightening dark spots. Expect rock-star ingredients like vitamins C and E.