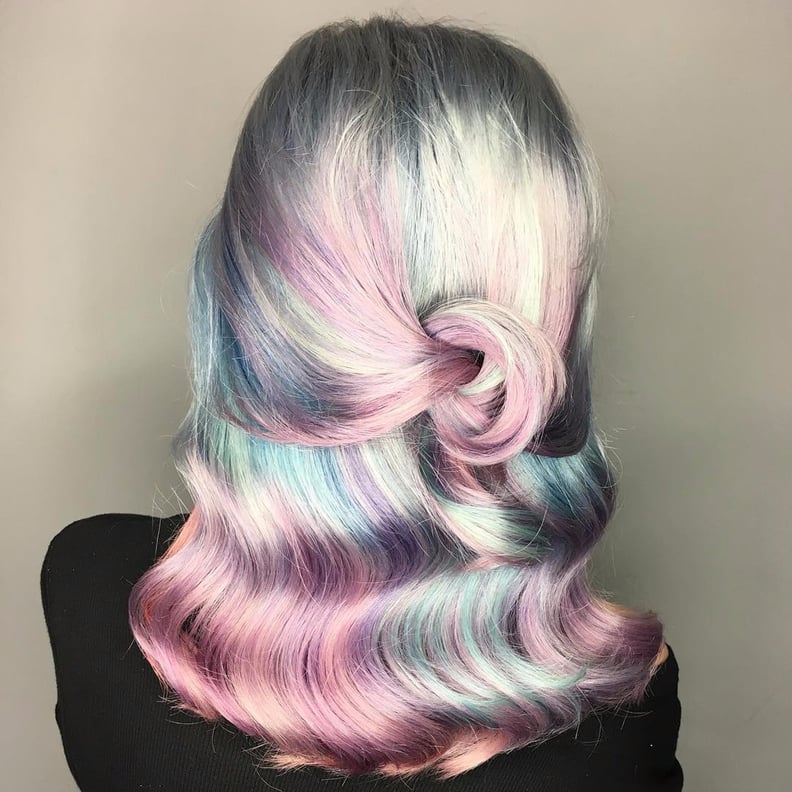 These days, pearls aren't just for engagement rings — they're also for inspiring majorly gorgeous beauty looks! Pearl hair has taken over Instagram and dominated Pinterest hairspiration boards, capturing hearts of beauty babes aiming for an under-the-sea hair hue.
The defining characteristics of this color trend are a supershiny pearlescent effect and cool, multidimensional blond tones, but otherwise the fad is very much up to individual interpretation. Just like pearls themselves range in color, this look ranges from platinum, silvery blonds with a pearly sheen to mother-of-pearl rainbow hues . . . and just like highly prized gems themselves, the color trend is friggin' beautiful.
Kate Reid, renowned colorist and design director for Kevin Murphy's Color.Me, told POPSUGAR that the journey to achieving truly pearlescent hair is not a quick one. "It's a slow process to create pearliest hair well," said Reid. "It's a long-term commitment to have this color, not a quick fix." In order to achieve the trend, Reid suggests bringing your stylist photos of the shades that appeal to you and discussing the process.
"Treat your hair like a silk dress, always handling it delicately."
Because pearl hair requires megalight blond hair without any warmth, walking away from the salon with your ideal pearlescent shade after a single visit isn't likely for most people — but according to Reid, clients should be able to work with colorists to create a maintenance program specifically designed for your hair's needs to maintain and brighten your color. She also says that healthy, well-conditioned hair is a necessity when going pearly. "It reflects light better and creates luminous shine," Reid noted.
And according to Reid, at-home maintenance is just as important as the salon service itself. "Treat your hair like a silk dress, always handling it delicately and following the care steps recommended by the hairdresser," she advised, suggesting a purple color-enhancing shampoo like Kevin Murphy's Blonde Angel to prevent any warmth from appearing in pearl hair. Reid also advised using heat protection when styling, as heat can damage strands and fade color.
So, who can pull off this hair hue? According to the following photos from real Instagram users, just about anybody! Pearl hair especially complements cooler skin tones, observes Reid, but because the hair trend is so varied, it can be executed in a wide range of ways. Read on to see several stunning iterations of pearl hair, then head to your colorist stat to get started on the process.
Pearlescent hair can range from silvery-white tones . . .
. . . to peachy-pink ones.
People with darker hair can even opt for pearlescent lavender or ash colors.
And if you're feeling really wild, go pearl rainbow!