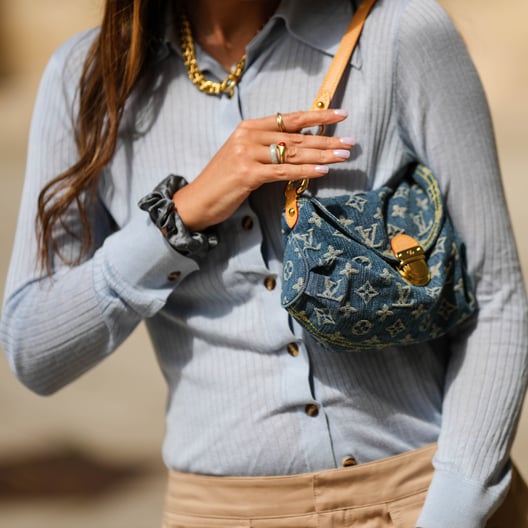 The hottest movies of the summer are leaving quite a mark on the nail world. The highly anticipated upcoming "Barbie" film, out July 21, has already spurred an uptick in pink Barbie nails. But still, we'd be remiss not to mention the effects that "The Little Mermaid" had, solidifying "mermaidcore" as the aesthetic of the season.
"Sea glass" and "water nails" were just two of the trends to pop up after the Halle Bailey film's release, but that's not the full extent of it. Social media is pointing to "pearl nails" as one of the biggest manicure trends of the summer.
Pearl accents, whether they're in your hair with clips and headbands, tied in via your jewelry, or incorporated through 3D makeup embellishments, have been popular for quite some time now, and the live-action Disney movie has only strengthened their standing. Pearl nail designs are just another way to get in on the trend.
There are a myriad of different ways to wear pearl nail art. You can go all out, adhering 3D spheres to your nails in different patterns, or opt for pearl-color nails with an iridescent polish shade. White pearl nails are the classic choice given the natural color of the sea pearls made by oysters, but when it comes to your fingertips, your options are limitless. Pink pearl nails are just as beautiful while being a little more unique.
Pearl Nail-Art Tips
If you want to create nails with pearls at home, nail artist Madeline Poole has a few tips and tricks to share. "Smaller pearls are better for nails, and you should try to find ones with flat backs," she previously told POPSUGAR. "These are best for design as they stay put."
Sticking the pearls to your nails can be tricky and requires a bit of patience, but Poole has an unlikely tool she recommends you grab to make it a little easier. "When placing pearls, crystals, or studs, you can use a white-colored pencil to pick them up," she says. The lead tip is just sticky enough to grab onto the applique, allowing you to place it in your desired location. The color of the pencil matters to avoid leaving any noticeable residue on the face of the pearl.
Ahead, get inspiration for your own pearl nail designs to take with you to the salon or to use as a jumping-off point for a DIY attempt.
— Additional reporting by Sarah Siegel
Pearl Nail Design Ideas
Large Pearl Nail Designs
Using a white pearl nail polish as your base, you can use large pearls to create a textured manicure.
Seashell Pearl Nail Designs
These seashell nails feature 3D pearl accents on each finger.
Coral Pearl Nail Designs
If you want to add some color to your pearl nail art, opt for a bright base, like this coral hue.
Minimal Pearl Nail Designs
Minimalists will love this understated manicure featuring a pearlescent base color and tiny pearl accents.
Chrome Pearl Nail Designs
This manicure also features another popular nail trend for summer: chrome.
3D Pearl Nail Designs
For a modern twist on your pearl nails that feels a little less mermaid-y, opt to organize your accents in a linear pattern. This design can be worn year-round.
Purple Pearl Nail Designs
These purple nails feature an iridescent finish and small pearls at the base of each finger.
White Pearl Nail Designs
For a design that works on all nail lengths, short and long, try adhering pearls of varying sizes to the base of your choice.
Shell Pearl Nail Designs
For an editorial manicure that's unique to you, incorporate different sea-inspired shapes, colors, and designs.