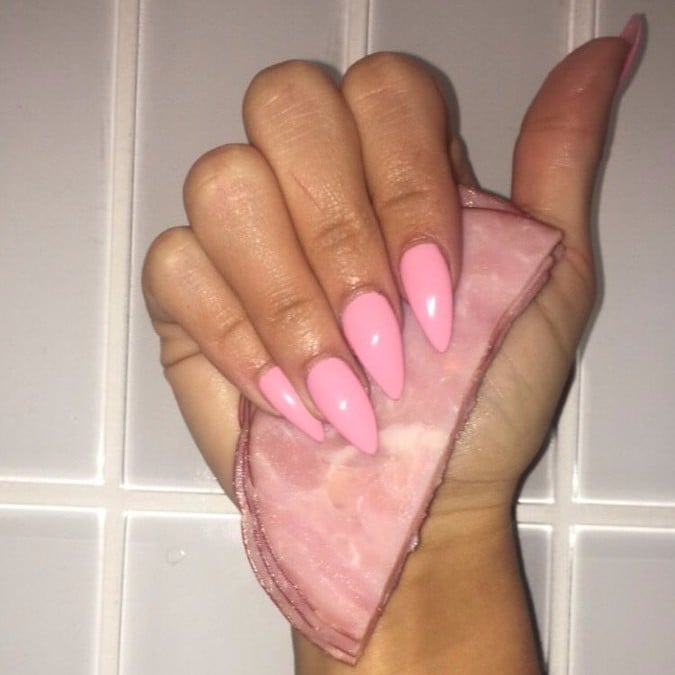 Instagram fame is a tough business, and it can be hard for aspiring influencers to find their niche. Luckily for Alina Marie (Twitter handle: "queen of extra"), her contribution to the beauty-blogging landscape will go down in history. Back in January, Alina posted a picture matching her fresh pale pink manicure to a few slices of deli meat. A legend was born.
Because true art is timeless, months later, people still can't stop showing off their manicures with household items. We've written many times before about "relatable" beauty icons, but we have to admit that we've never seen ourselves more clearly than looking at the woman who matches her soft lavender mani to her purple Lysol bottle. This woman is all of us, postnail appointment, frantically looking around for something cute to 'gram our gels with.
Turns out, you don't need to pose with your polish container (so 2016!) or throw on tons of bling. You can grab the absolute first thing you see — even if that happens to be bacon bits or a literal trash bag. Live your truth! They laughed at Picasso, too.
We feel absolutely liberated by these manicure pairings, so read on for our favorites. It really doesn't get better than the person who placed their tangerine nails under a gushing stream of orange soda. OK, well maybe this trend could improve — but only if dogs were doing it.