Ariana Grande's Ponytail
Exclusive! DIY Ariana Grande's Perfect Ponytail From Her "Bang Bang" Video
As POPSUGAR editors, we independently select and write about stuff we love and think you'll like too. POPSUGAR has affiliate and advertising partnerships so we get revenue from sharing this content and from your purchase.
2
The Breakdown: DIY Ariana Grande's Ponytail at Home
Start by spraying Herbal Essences Tea-Lightfully Clean Blow Dry Prep Mist ($4) on damp hair for lightweight conditioning and heat protection.
Blow-dry with a nylon-bristled brush to smooth out the texture.
Flip head over, and with a boar-bristled brush, brush all hair toward the highest point of the head — spray the Herbal Essences Naked Flexible Hold Spritzer ($7) to get rid of flyaways.
Once hair is smoothed into a ponytail, secure with a strong hair tie.
Take random-sized pieces from the ponytail, and wrap them around a two-inch curling iron to give the ponytail amazing texture.
Take a small section of hair from underneath the ponytail, and wrap it around the hair tie, securing with a bobby pin at the base of the ponytail.
Finish by spraying Herbal Essences Set Me Up Max Hold Hairspray ($6) around the perimeter of the head for a smooth finish.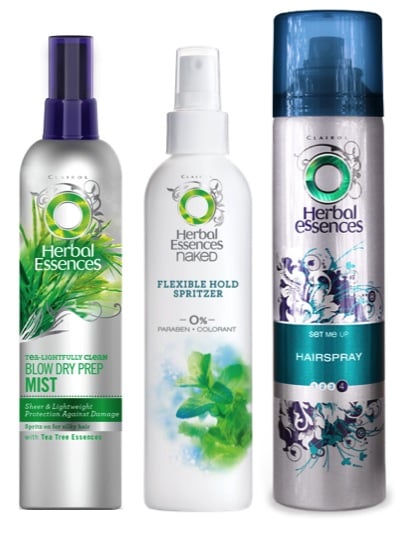 Herbal Essences Naked Flexible Hold Spritzer Hairspray, Grapefruit & Mint
Buy Now