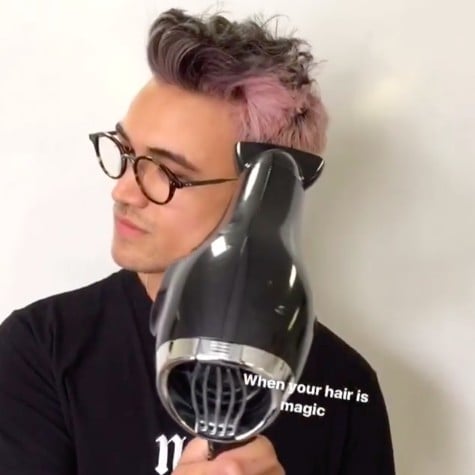 Remember mood rings from the '90s? Looking back, we know they didn't actually work, but we delighted in their color-changing powers anyway. Now that magic is back — this time for your hair.
On Sept. 1, Pravana is launching the first-ever temporary hair color to transform shades in mere seconds. It's heat activated, so it will work whether you use a blow dryer or flat iron or simply stand in the sun. Currently, there are four color combinations: violet to pink, smoky gray to invisible, lime green to yellow, and peach to invisible. Of course, they can all be mixed and matched — just note the effect works best on lightened hair. It washes out after you shampoo, so you could basically change your hair color every single day (talking to you, unicorn-hair-lovers).
At the moment, Pravana Vivids Mood Color is just available at select salons using Pravana products. If you need a little more convincing to make the trek to a professional colorist, check out the mesmerizing videos ahead to see how it works for yourself. You'll be hooked right away.