At CES this year, there were plenty of beauty offerings to get excited about. A smart store executed by SK-II might be the future of shopping for skin care; a new heated razor is on tap from Gillette. But the product that easily garnered the most attention in the beauty space was the Opté Precision Skincare System.
The Opté device is the answer for those who struggle to find their perfect foundation shade, want to look as if they have on no makeup at all, and want to enhance the clarity of their skin at the same time. The device is unique in that it's focused on not only covering but reducing the appearance of hyperpigmentation. It's precise coverage for a flawless "I woke up like this" finish — and there's no shade matching required.
Sound too good to be true? I got to experience the product for myself, and ever the skeptic, I was impressed. Developed over 10 years and with 40 patents, it utilizes a combination of algorithms, optics, and printing technology to provide natural, weightless coverage where you need it. Yes, it's essentially a printer for your skin.
Here's how it works: a blue LED light scans the skin, enhancing melanin so that it can see pigmentation three times better than your eye can. That means it conceals not only the spots you already see but spots you can't detect yet. A digital camera takes 24,000 photos of the skin as you use it — 200 skin images per second. These photos help something called the "minicomputer precise color algorithm." This works to determine the size, shape, and intensity of the spot the device is photographing in contrast to the skin surrounding the spot. Once detected, a microprinter, utilizing 120 thermal inkjet nozzles, deposit 1,000 picoliter — one billionth of a liter — droplets of what they call an "optimizing serum" to the area.
You're probably thinking, "English, please?" Here's what all of that means: it detects your hyperpigmentation — whether it's sun spots, melasma, age spots, acne scars, etc. — and it deposits the exact amount of serum to those areas to conceal them; if you have a darker area of pigmentation, more serum will be deposited for coverage. Because the nozzles depositing the serum are smaller than a human hair, this allows for the final result to be undetectable and feel invisible on the skin.
The optimizing serum includes ingredients like mineral pigments, which helps with coverage, spot lightening skincare ingredients to reduce the appearance of age spots over time, and moisturizers to help your skin stay hydrated. It comes in three "shade" cartridges: light, medium, and dark. If you're rolling your eyes — it is age of 40-shade foundation ranges — stay with me. The creator of the Opté, Thomas Rabe for P&G Ventures, told me that it's not about an exact shade match and that each cartridge category covers a breadth of tones within that category.
Why is this product a game changer? If I had a dime for every email I get sent regarding "no makeup-makeup," "flawless coverage," and "perfect skin," I'd be sittin' on a big as* pile of dimes. (That one was for the Maren Morris fans.) Beauty consumers want perfect skin, and if they can't have it, the next best thing is perfect-looking coverage. The issue is, though, that you typically have to cover your entire face with product because finding the exact shade of your skin tone and then spot covering small areas and expecting it to look natural can be like trying to belt out "Don't Stop Believin'" after four Moscow mules — impossible. There are brands like Fenty Beauty, MAC, Beauty Bakerie, and Make Up for Ever that have a huge range of shades, but oftentimes, we're still relegated to mixing shades or accepting that our foundation may not be an exact match.
Opté can be used all over the face, but the difference is it doesn't cover your entire face with an even, thick layer of product; some areas may require more, some may need less. It looks 100 percent natural — it's truly no-makeup makeup. This is not only huge for consumers but for professionals who work on camera, like makeup artists, actors, models, anchors, and hosts. With high-definition cameras, nothing goes undetected, which leads more people in the entertainment industry to look for a solution like the Opté.
And, yes, it's a coverage device, but it focuses equally on taking care of the skin as well. The serum, over time, is made to lighten existing hyperpigmentation. Jennifer, the model in Opté's marketing materials, told me she has melasma and that the device has personally changed her life.
As someone who has been dealing with melasma for the better part of a decade, I am often skeptical when I hear about some "magic potion" that will either reduce it or cover it flawlessly, because I've tried it all. There are two particular spots on my forehead that are darker than the rest of my pigmentation. It looks like someone slung a wet paintbrush and two gray dots landed on the right side of my forehead. It's great. I had an Opté consultant use the product on my entire face, which admittedly did take longer than pouncing a sponge on my face. It took about five minutes for the total application, but the consultant admitted she got carried away and didn't need to spend that much time with the application. Check out the before and after — these images are not altered.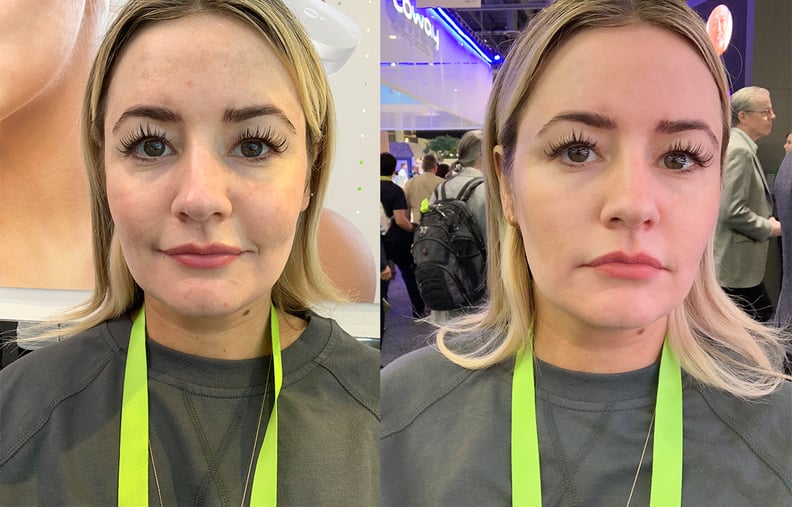 The coverage is impressive: it felt like I had nothing on, and it didn't move on my skin throughout the day. I did not need powder, probably because of the mineral pigments — and several people, including my boyfriend, told me it looked like I had skin editing in real life. I'm curious how this will work on dark to deep skin tones, but I did see it demonstrated on olive and tan skin tones, and they were equally impressive; for not having to pick out an exact shade, the coverage was perfect. When removing the serum at the end of the day, I was intrigued to see how much was actually concealed and that almost nothing appeared on my makeup-removing cloth.
There is no price at this time, which frankly terrifies me. (The device works better than plenty of airbrush makeup devices on the market, which range from $200-$300.) Rabe told me that the product is expected to launch in late 2019.