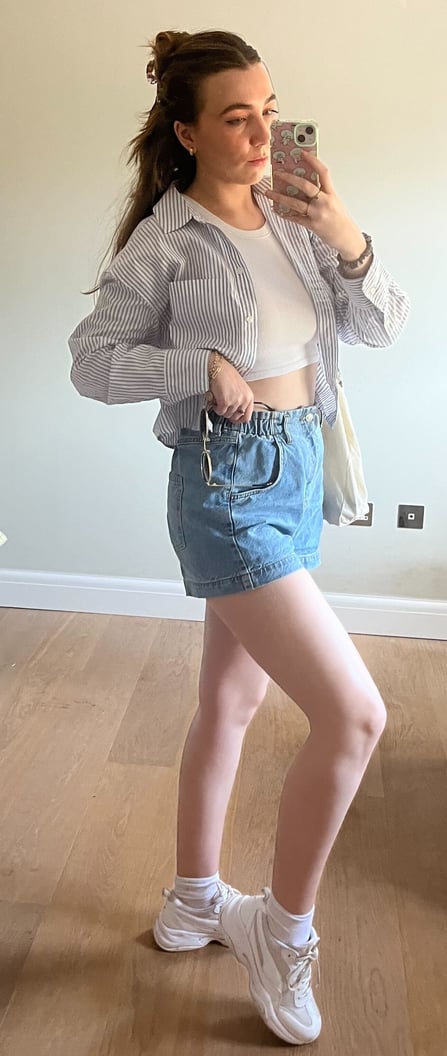 POPSUGAR Photography | Izzie Deibe
POPSUGAR Photography | Izzie Deibe
As POPSUGAR editors, we independently select and write about stuff we love and think you'll like too. If you buy a product we have recommended, we may receive affiliate commission, which in turn supports our work.
The urge to look "sun-kissed" by way of darker, tanned skin has been a beauty standard for white women in the US and UK for years — and our obsession with an artificial glow has never been bigger following two years of minimal travel and more time indoors. In fact, interest in self-tanning products and spray-tan services have increased by 57 percent over the past year on Treatwell, Europe's biggest beauty booking website, and the numbers have spiked by 45 percent this April.
As more information about the dangers of tanning beds and sitting unprotected in the sun become known, self-tanners are the safer way to achieve that sun-kissed appearance. But more and more people are challenging this aesthetic and questioning why we are changing ourselves for yet another beauty fad. TikTok users have been joining forces to reject the faux-bronze look — and I have been inspired to do the same.
I'm extremely pale and, to be honest, I often feel an immense pressure to fake tan in order to wear anything revealing. I use self-tanners on a regular basis, and I never go to an event without a couple of layers of my favorite tanning mousse. While this might seem harmless, reliance on products that change the color of your skin can have damaging ramifications on one's self-confidence, not to mention the additional expense at a time when the cost of living is rocketing.
Sure, getting a fake tan is not as permanent as other noninvasive tweakments or surgery, but the desire to alter our bodies is what is leading us to hitting the bottle. Confidence and mindset coach Hattie MacAndrews explains: "We're living at a time where it's becoming increasingly 'normal' to tweak our bodies — either digitally through photo editing apps or physically through products and procedures — in order to fit an unrealistic beauty standard," she tells POPSUGAR. "Using tanning products and services to try and change ourselves is not sustainable and won't do any good for our self-esteem. These patterns can quickly become obsessive, leading to a feeling of vulnerability without having tan on. This behavior validates the concept of unattainable beauty standards, as you have to change the skin you're in to feel beautiful."
"We should embrace what we are given and not feel pressured to fake tan. All skin tones are beautiful."
While self-tanner is most commonly used to make light skin darker, it can also be used by deeper skin tones to even it out and provide a glow. Of course everyone has the right to make any changes to their body they wish with no judgement, but I've had enough of feeling the pressure to apply the product just to leave my house. Looking for advice, I spoke to 21-year-old Isabelle from Nottingham. The content creator is the first person I saw talking about going natural on TikTok. In one video, she listed all of the things she doesn't miss about self-tanning. It all felt so relatable: the panic when you're invited to spontaneous plans but you haven't fake-tanned, sticky and orange bed sheets, and the inevitable "tiger bread" stage when your tan starts to fade unevenly. Ditching "bottled sunshine" has never sounded more appealing.
When speaking with Isabelle, she told me that fake tanning had previously been her "safety blanket." It was becoming one of her main priorities and an "unhealthy obsession." She says, "When I started fake tanning at 16, I began to only feel comfortable with fake tan on, and I didn't feel myself without it. I was spending more than $500 a year on tanning products, which is ridiculous. I felt an extreme pressure to always achieve this look and, if I didn't, I didn't fit in."
After a year without self-tanning, she now can't imagine going back to her obsessive habit. "I never thought I'd be able to feel confident without a tan, but I've learned to love my skin without it, and I finally feel amazing," she says. "I'm not saying that tanning is bad, but I think that we should embrace what we are given and not feel pressured to fake tan. All skin tones are beautiful."
The biggest tip Isabelle had for me was to ease off slowly rather than going cold turkey. "I used a tanning water to help me slowly come off the mousse. These fade quickly and you don't need to keep scrubbing them off," she says. Another piece of advice she gave was to be kind to myself. "It's not actually fake tan that makes you confident; it's the way you look at yourself and speak about yourself. If you are comfortable in your own skin, that will radiate."
In a bid to reassess my own relationship with tanning, I committed to quitting for at least a month. It wasn't easy, and if I'm being totally honest . . . I cheated. More than once. But, I've come out of the experiment with a newfound admiration for my natural skin. On the hottest day of the year in July, I dared to bare my legs in denim shorts and visited some busy parks and bars. And you know what? It wasn't that bad. I was on the receiving end of some unwarranted jokes by friends, but once I wrapped my head around how deeply ingrained it is that pale skin is less desirable, it's easier to brush off these comments.
I'm not going without tanning products forever because I enjoy changing up my look to suit my outfit and the occasion. However, I will be more mindful about selecting a shade closer to my skin tone and only whipping the bottle out on special occasions. On regular days, I'll stick to a luxurious body-care routine to ensure I feel as confident in my bare skin as possible. Other times, I'll use a very subtle fake tan that enhances my existing skin tone rather than dramatically changes my look. Read on to for the products I tried to help boost my confidence, from luxe moisturizers to products that gave a glow, and others with a subtle touch of bronze.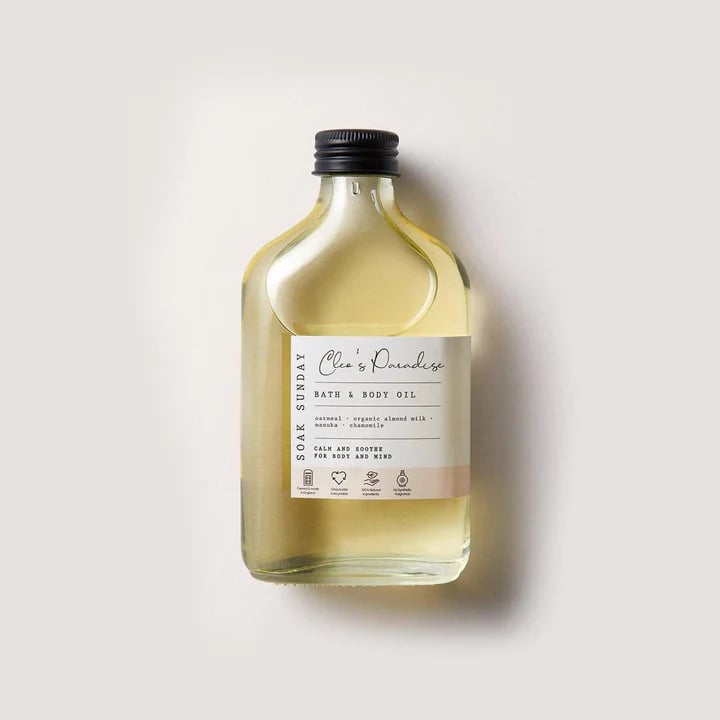 Cleo's Paradise Botanical Bath & Body Oil from Soak Sunday
A capful of the Cleo's Paradise Botanical Bath & Body Oil from Soak Sunday ($17) will soothe your skin and your mind. This is the ultimate relaxing formula for bath time, made with almonds, oats, vegan manuka honey, chamomile oil, and jojoba oil. Slip into the bath and leave with silky smooth skin, or apply directly to damp skin as a nourishing body oil.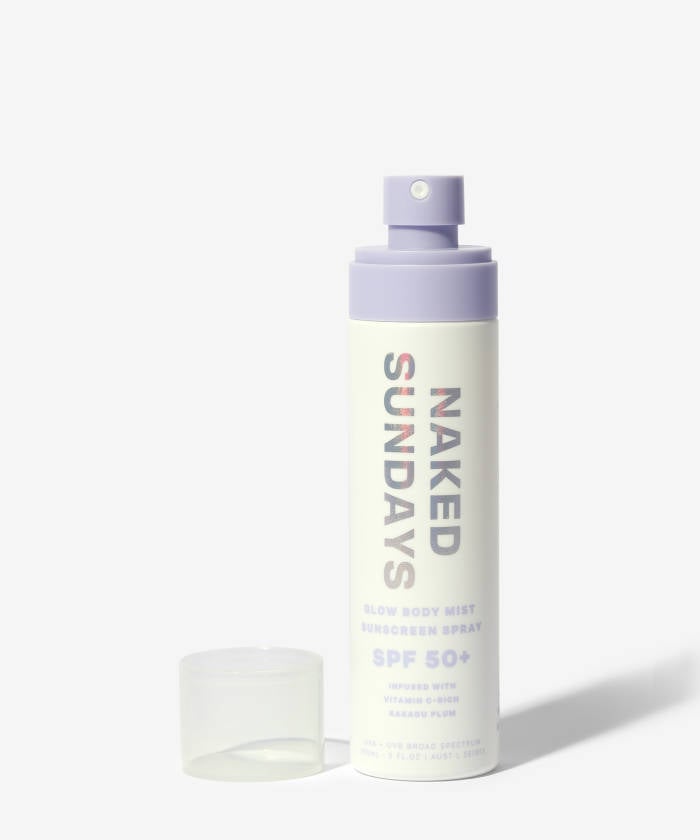 Naked Sundays SPF 50+ Glow Body Mist
Sun protection is never usually pleasurable to use, but Naked Sunday's SPF 50+ Glow Body Mist ($39) is a different story. If you're looking for an incentive to start wearing SPF on a daily basis, look no further than this glamorous, soothing, and, quite frankly, beautifully packaged and formulated product. It's a moisturizer and SPF 50 all in one, infused with vitamin C rich Kakadu plum and watermelon oil. It even smells like a holiday and feels like a treat when sprayed on skin on a hot day. For protected and hydrated skin, lightly spritz all over.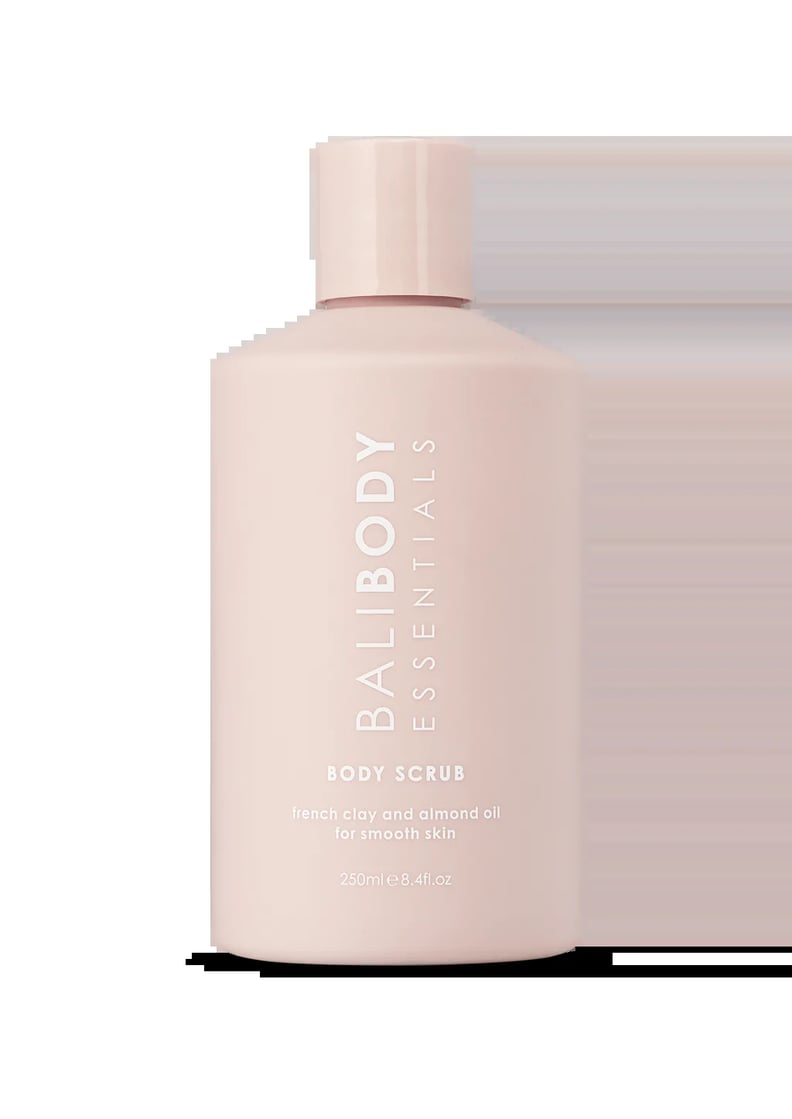 Bali Body's Body Scrub
If you're into physical, hard-working body scrubs, you'll be obsessed with Bali Body's Body Scrub ($26). Made with a blend of clay and hydrating plant oils, your skin is being treated as you get rid of dead skin. Use in the shower or bath in circular motions, starting at your feet and working upward with a gentle pressure before rinsing.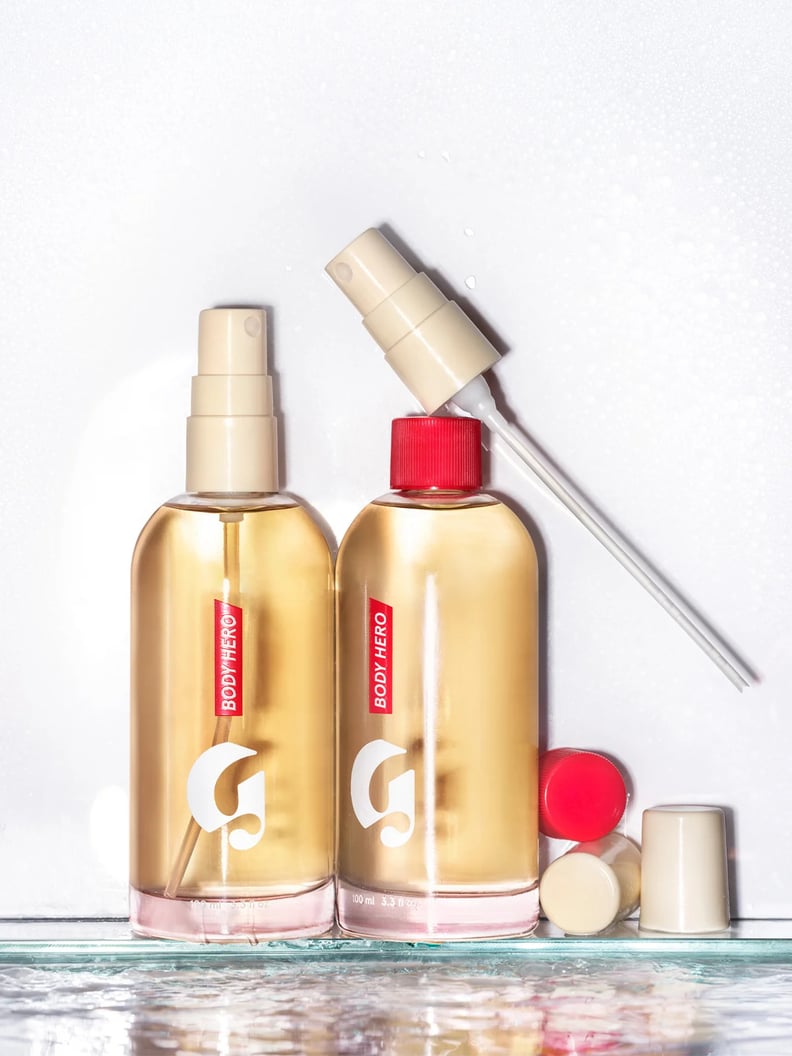 Glossier Body Hero Dry-Touch Oil Mist
Glossier's Body Hero Dry-Touch Oil Mist ($28) is an absolute staple. Three antioxidant-rich oils work to moisturize and soothe skin, and sea fennel extract will help even skin tone and boost radiance.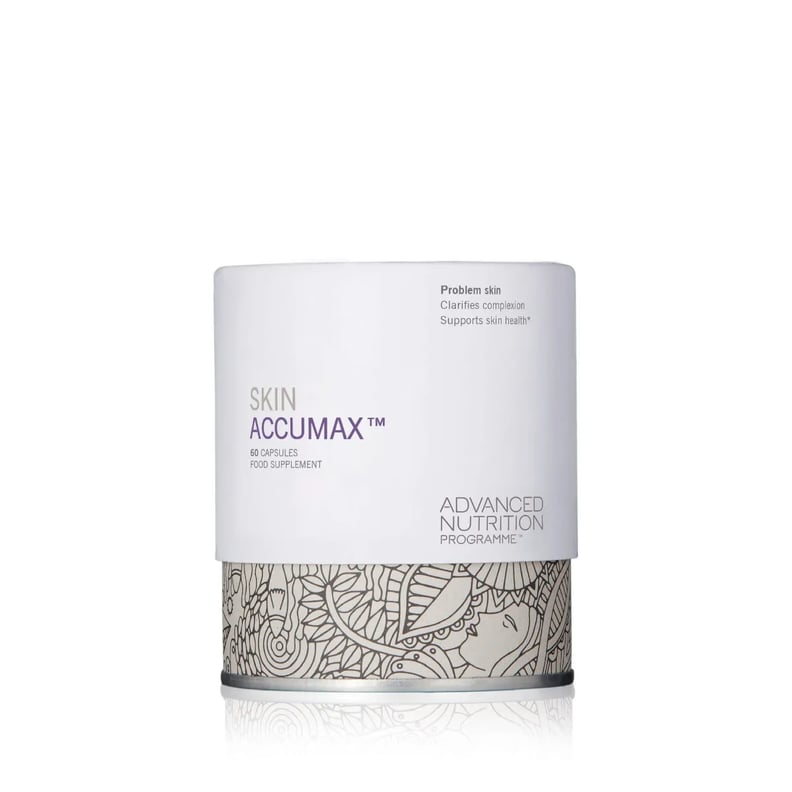 Skin Accumax by Advanced Nutrition Programme
Treat your skin from within with some vitamin and phytonutrient supplements. I like the Advanced Nutrition Programme's Skin Accumax ($66) because they help to banish acne and other skin problems on your face, chest, back and shoulders. When you do all you can to keep your skin healthy from within, you're giving yourself the best chance at feeling confident without lashings of tan.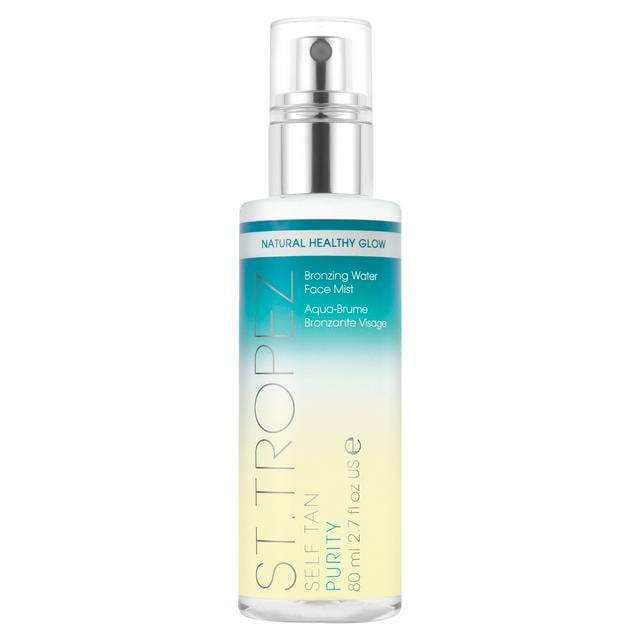 St. Tropez Self Tan Purity Face Mist
The St. Tropez Self Tan Purity Face Mist ($30) is just as much about skin care as it is tan. A few spritzes of this on bare skin or under makeup will gently deepen your complexion while delivering intense moisture and a soothing, cooling sensation. Packing with hyaluronic acid, hibiscus extract, and mandarin water, this is the perfect item to keep in your handbag to fight against pollution and free radicals.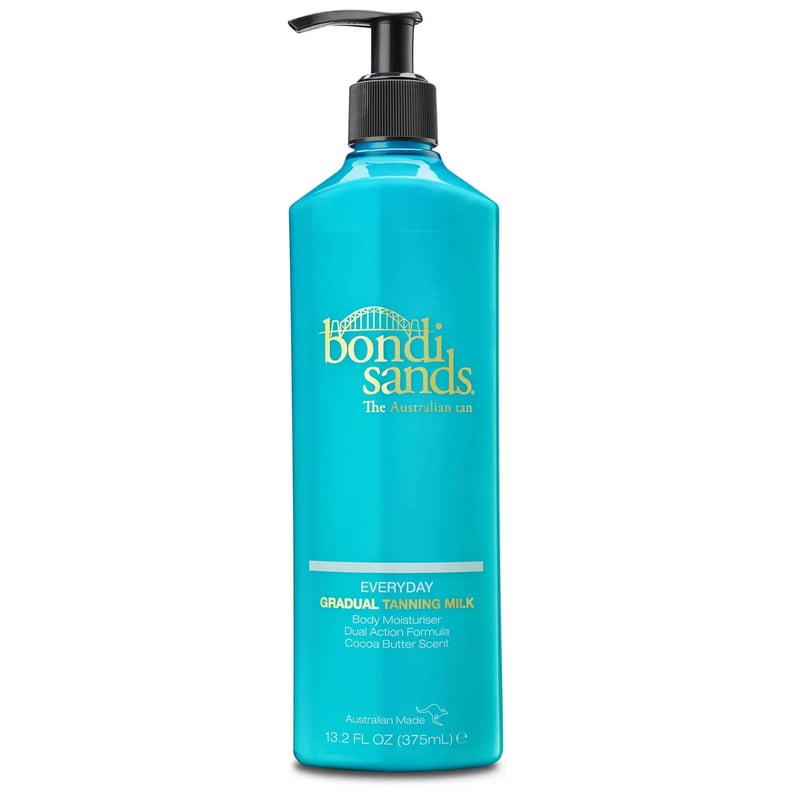 Bondi Sands Everyday Gradual Tanning Milk
When you hear the word "milk," you know you're looking at a light but luxurious formula that blends seamlessly into the skin. The Bondi Sands Everyday Gradual Tanning Milk ($13) provides a gentle sun-kissed and natural-looking tan while hydrating the skin with a mix of aloe vera and vitamin E.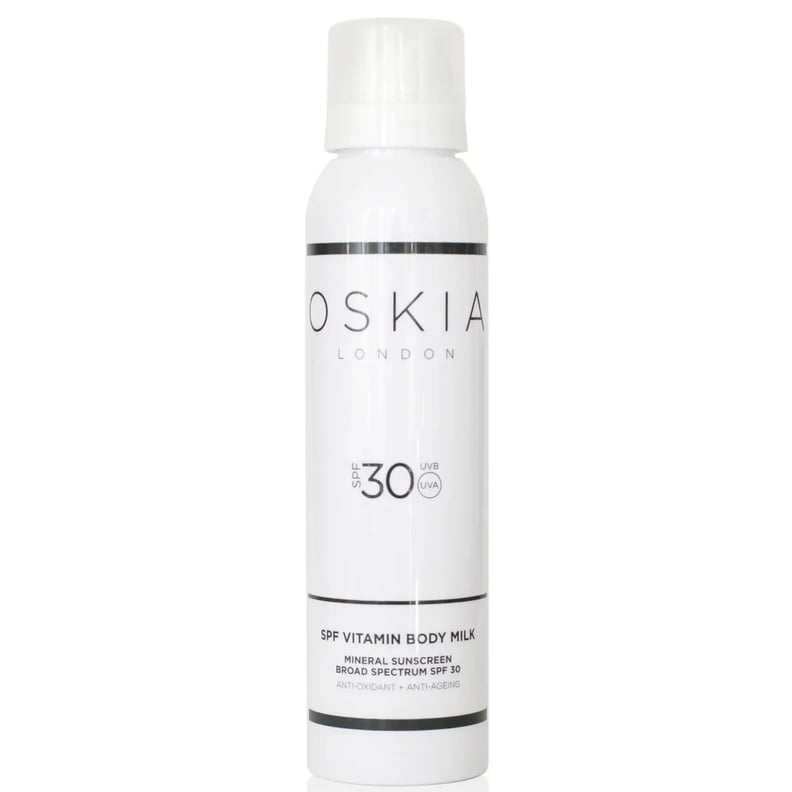 Oskia SPF30 Vitamin Body Milk
SPF is one of the most vital components to consider when discussing body care. It's hard to find an SPF body moisturizer that doesn't cause pilling or leave a greasy, white layer on our skin. However, the Oskia SPF30 Vitamin Body Milk ($69) does the job nicely, while supplying your skin with nourishing and hydrating vitamins and omega-rich oils.
Ciaté London Dewy Stix Body Oil Gloss
If you're after a natural-looking sheen without the tan, this oily little stick is your new bestie. Infused with coconut oil and vitamin E, the Ciaté London Dewy Stix Body Oil Gloss ($26) will soften your skin while highlighting the high points of your collarbones, legs, shoulders, and arms for a long-wearing supermodel look. We love the shade Sun Catcher, which is filled with super-fine micro pearls for the ultimate golden gleam.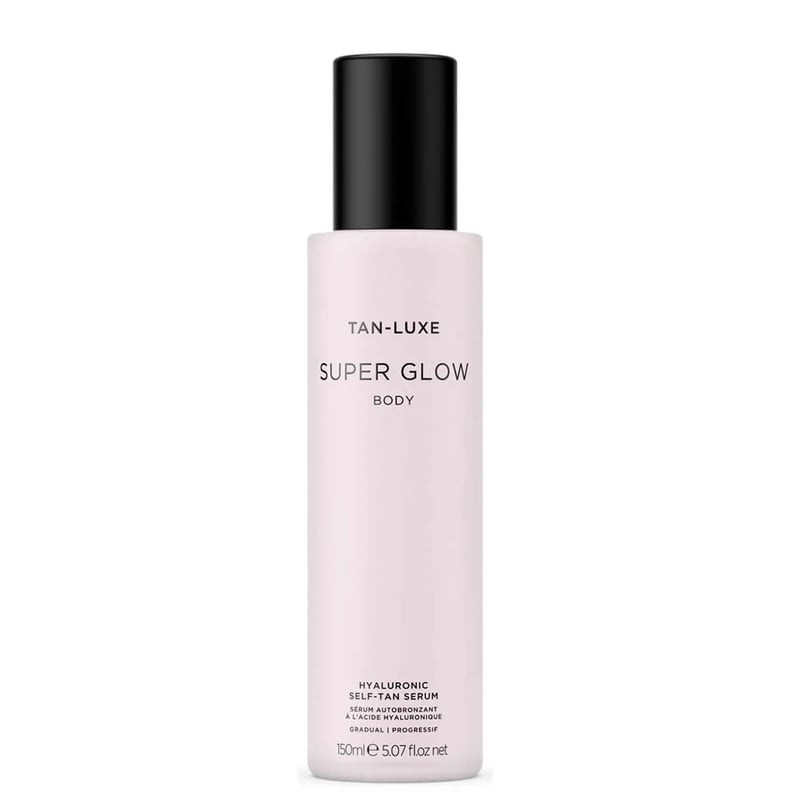 Tan-Luxe Super Glow Body Hyaluronic Self-Tan Serum
Tan-Luxe Super Glow Body Hyaluronic Self-Tan Serum ($49) is made with Hyaluronic Acid and Sodium Hyaluronate to hydrate multiple layers of your skin. This hard-working serum prevents trans-epidermal loss of water, all while providing a subtle glow and super soft skin.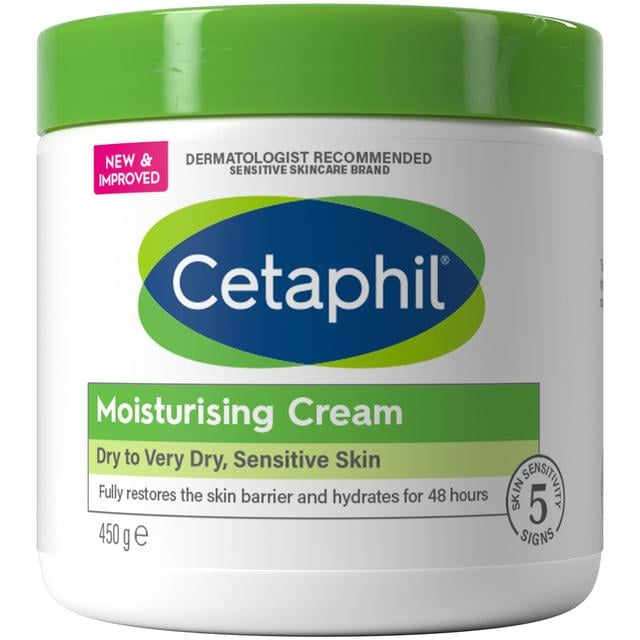 Cetaphil Moisturizing Cream
Cetaphil's Moisturising Cream ($10) is one of the richest body moisturizers on the market — and a favorite for a reason. Almond oil hydrates while niacinamide, panthenol, and vitamin E work together to leave skin softer and more comfortable. And, it's pretty affordable if you're using it daily.