Ruka Hair Tape-In Extensions Review With Photos
Are Ruka Hair's Tape-In Extensions and Gels Worth the Hype? I Tried Them Out
As POPSUGAR editors, we independently select and write about stuff we love and think you'll like too. If you buy a product we have recommended, we may receive affiliate commission, which in turn supports our work.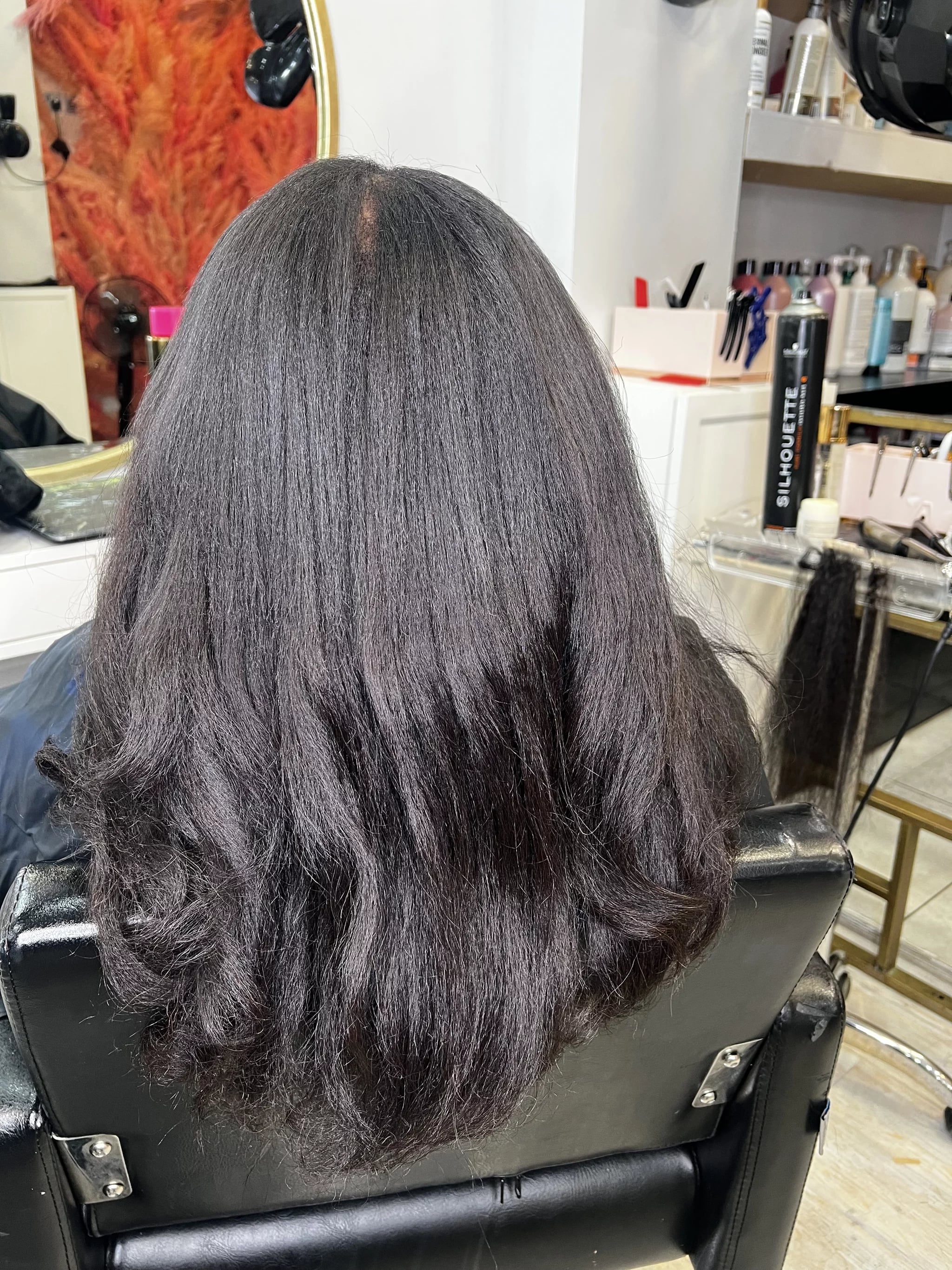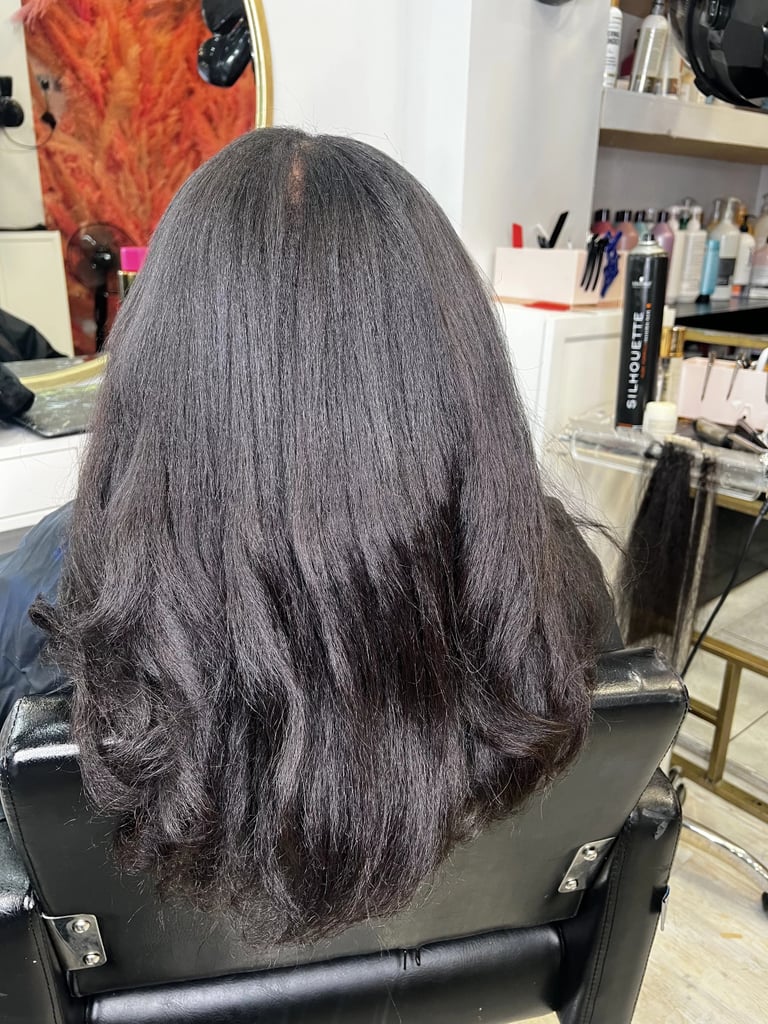 Wigs have dominated the hair world for Black women for years, with sew-in weaves and extensions following closely behind. They all offer ways to experiment with different looks, but there's a new innovative option gaining traction on TikTok that offers flexible styling choices with a gentler approach. Enter tape-in extensions.
British hair brand Ruka Hair, which launched in 2021 with a mission to pair hair-lovers with extensions that match textured hair patterns, has responded to demand and introduced its own multitextured tape-in extensions. "Tape-ins offer a great alternative to weaves that has an excellent blend whilst also being long-lasting," Ruka cofounder Tendai Moyo tells POPSUGAR.
The 100-percent-human-hair range consists of two curl patterns and two length options. There's the tightly spiraled Coils on Coils Tape-Ins ($179-$203) and a straight option with a light kink, Think Silk Tape-Ins ($179-$203).
Alongside the tape-ins, Ruka Hair has also added edge control and hair gel to its product range. "Innovation has always been at the forefront of what we do," Moyo says. "So formulating a product that means that Black women, in particular, do not need to compromise between functionality and the health of their skin and hair was a no-brainer."
Ruka Hair has long been on my radar as a cool, innovative hair-care brand, but the launch of the tape-in extensions and styling products piqued my interest. I decided to give them a go.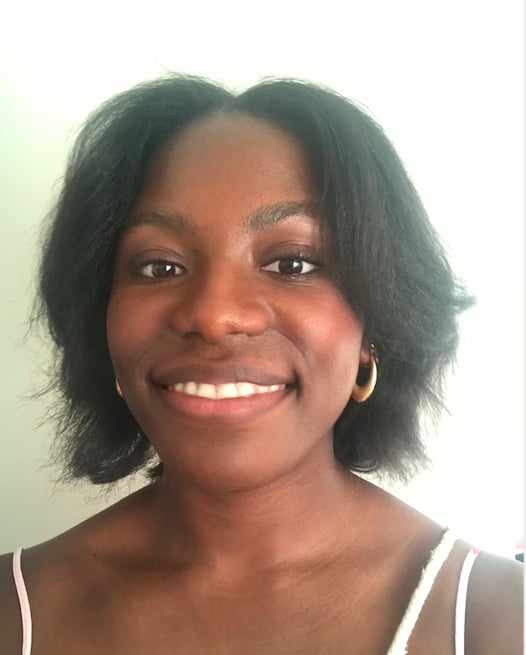 Installing the Ruka Hair Tape-In Extensions
To order the tape-in hair extensions, there is a texture match system on the Ruka Hair website to help you match your hair based on four options: kinky, coily, curly, or stretched. The tape-in hair extensions are typically coupled with stretched or coily hair, so I opted for the Coils on Coils tape-ins.
After ordering the extensions, I quickly found that installing them was not DIY-friendly, so I headed to the stylists at House of Hair UK. The West London-based salon specializes in an extensive range of extension installation options, from microlinks to tape-ins.
Before beginning the four-hour-long appointment, the founder of the salon, new-gen-hair-extension expert Ayanda Soares, conducted a 15-minute consultation in order to determine the best styling plan.
"Tapes are a great option for anyone looking to add length to their hair in a natural, moveable way," Soares said. "We like to make sure all our clients leave the salon with results in terms of lifestyle fit and hair health." The stylist advises that "this isn't a suitable style for anyone that works out vigorously multiple times a day or a swimmer, as the continuous exposure to water can lead to weakened adhesive and slippages."
After a wash, a trim, a blow-dry, and some styling (without a texture release or silk press in sight), I was ready to have the tape-ins installed. Soares told me the magic is all in the tension. "After blow-drying and straightening, we begin by sectioning the hair into pieces that allow for your own hair to meld with the extension for a seamless finish," she said. Each weft was pulled apart before one half was attached to a small section of hair and pulled over the top, sandwiching my hair in between. For the corners and side pieces, Soares used a pair of clamps to keep each piece in place. These ensure a secure application of the tapes on angled areas of the head, like the crown.
Soares also offered maintenance advice. "Rather than wrapping your hair [at night], for tapes it works best if you place your hair in a low ponytail and then a bonnet," she said. In order to reduce friction between my own hair and the extensions and to retain moisture while preventing breakage, I used a sleep turban over the Bouclème x Preen Scarf (£80) to keep the style looking its best.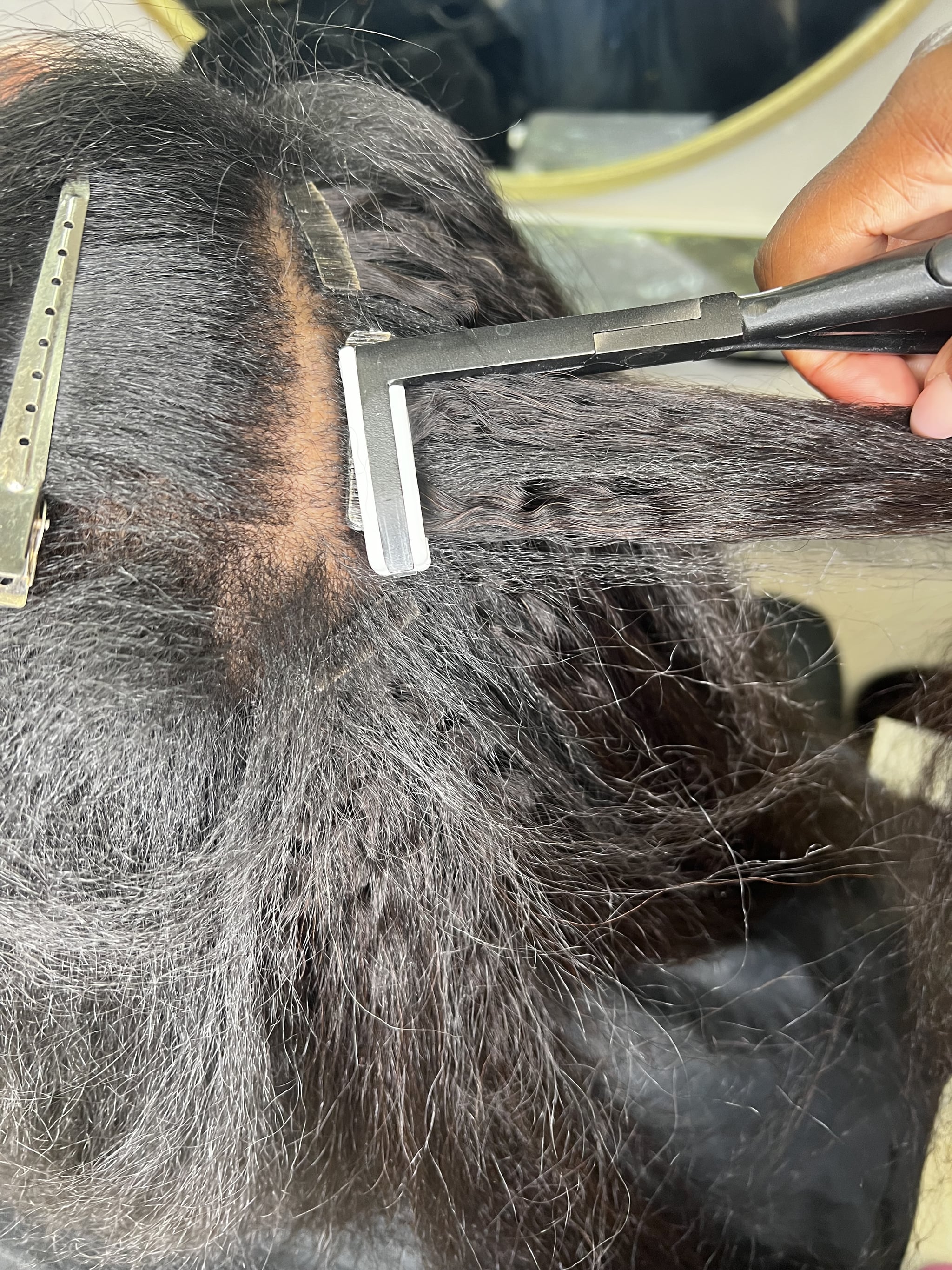 How to Style the Ruka Hair Tape-In Extensions
At home post-appointment, I took to styling the hair with a short biweekly routine, opting for Amika's Blockade Heat Defense ($26), the GHD Glide smoothing srush ($169), and a sweep of the GHD Platinum+ Styler ($279), to refresh the look and blend my hair with the extension strands.
The styling products at Ruka Hair consist of items to suit a multitude of coil patterns and style needs. The Hold Me Down Edge Gel ($20) is formulated with Caesalpinia spinosa fruit extract and works as both a styling aid and a protective barrier against pollutants for coily hair. Thanks to its fast-drying, gummy consistency when applied, I found that the gel provided a secure hold without the dry, flaky aspect of many edge-control options on the market.
I typically wash my hair every eight days, even while wearing braids, so waiting until the third week to wash the style was a bit of a challenge and the only downside to the experience. In order to avoid shedding and slippage, I used the Oribe Gold Lust Transformative Masque ($66) before washing my scalp row by row with Pattern's Cleansing Shampoo ($20) and Medium Conditioner ($25) to avoid product buildup at the scalp. Lastly, I used the Davines This Is a Curl Building Serum ($30) to finish.
After towel-drying with the Aquis Wrap ($21), I blow-dried row by row with the Revlon Salon One-Step Hair Dryer and Volumizer ($50). By maintaining tension at the root, the style lasted for an impressive eight weeks. I removed each tape with the help of the Imbue Curl Worshipping Shine Oil ($13).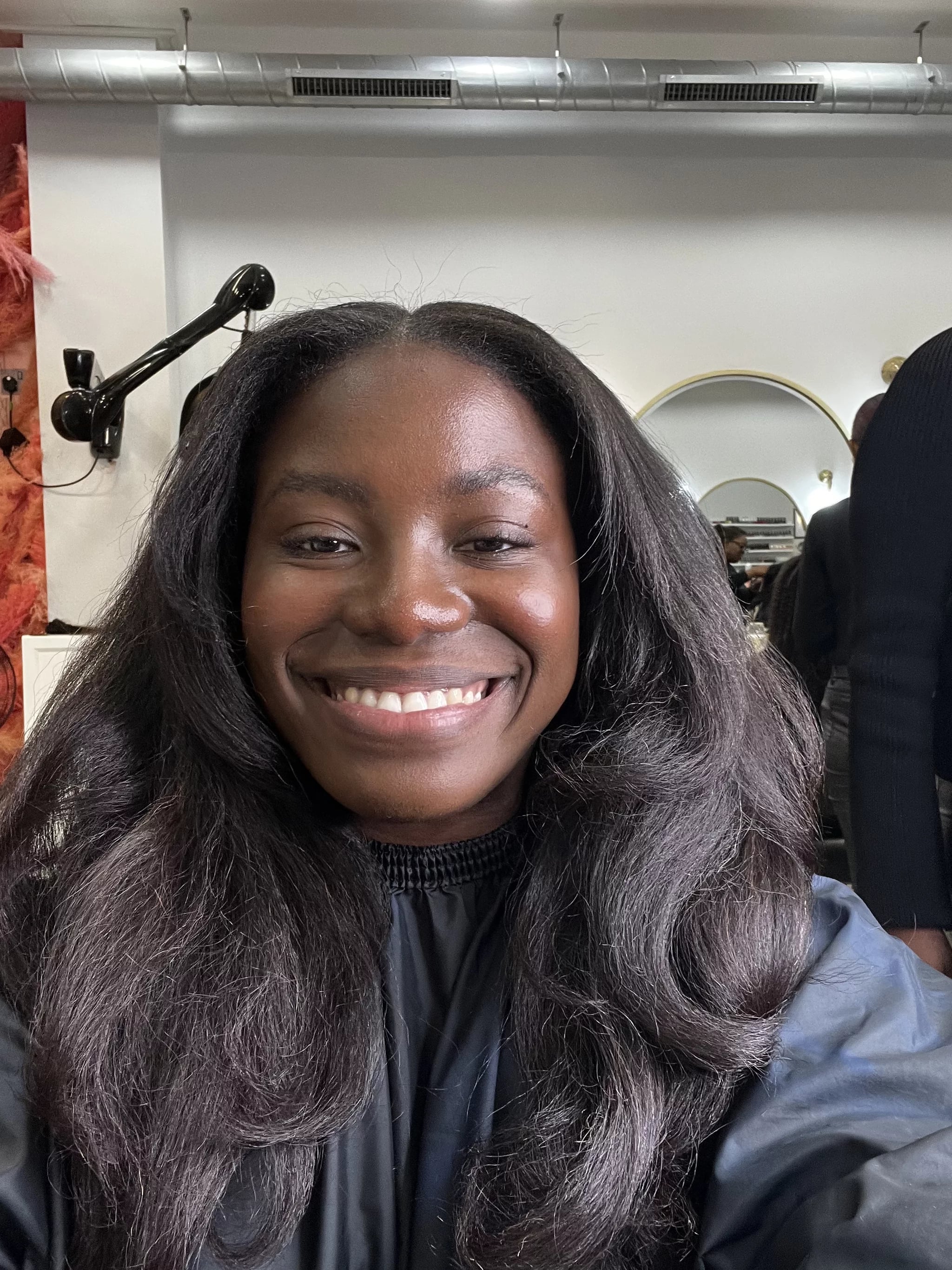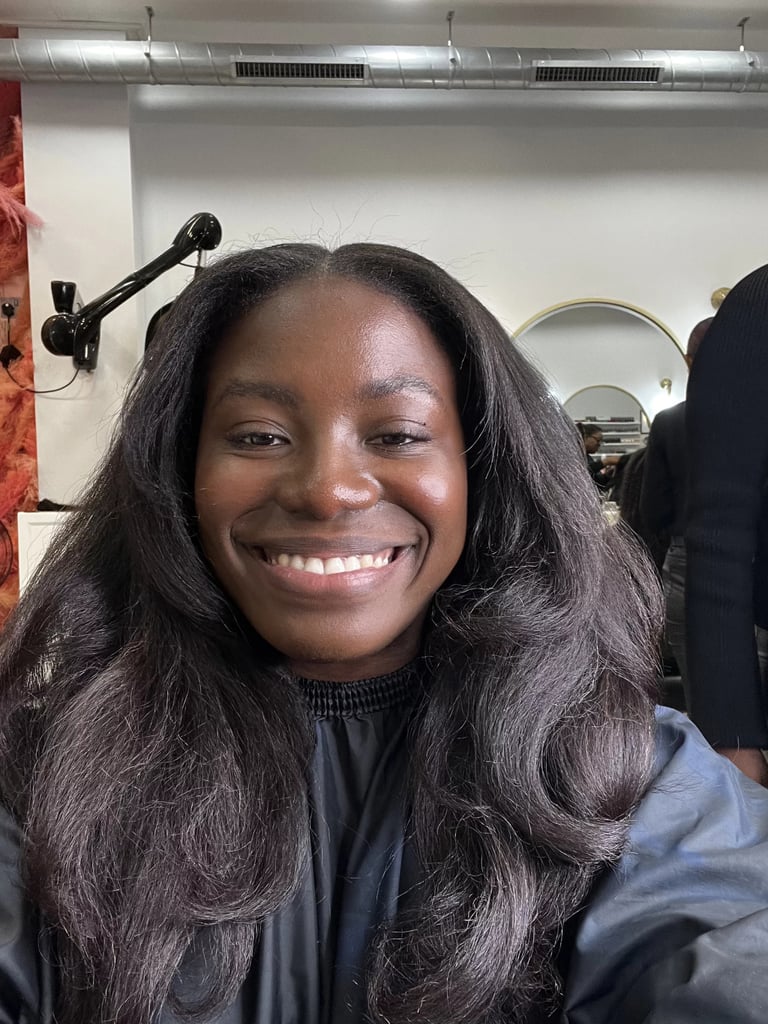 Ruka Hair Tape-In Extensions Review
This is far from a low-maintenance style, but for me, the benefits outweighed any cons. As a Black woman who is admittedly bad at sculpting edges, I found that the waxy nature of Ruka's edge control allowed for smooth styling and its fast drying time kept my coils from springing out of place.
As someone who prefers to wear my hair in braids and wigs, the initial few days with the extensions were an adjustment, but once blow-dried, the coil of the tape-ins matched the texture of my own hair, making them feel like an addition rather than a super-straight change.
Despite the fact that many DIY videos have begun popping up online, after experiencing a full installation in a salon, I would say this is a style best installed by a professional, particularly for people with type 4 hair like me. This way, I saw minimal damage to my own hair and was able to follow the care and removal guidance provided at the end of my appointment to the letter.
Overall, the newest additions to the Ruka range feel like a welcome piece of innovation for the textured-hair space. The tape-in extensions lasted eight weeks and, as they are made with human hair, can be reinstalled with new adhesive, making the price worthwhile, too. I'd gladly opt in again.
Image Source: POPSUGAR Photography / Ata-Owaji Victor