I Tried the Face Mask You've Seen All Over Facebook, and Here Are My Thoughts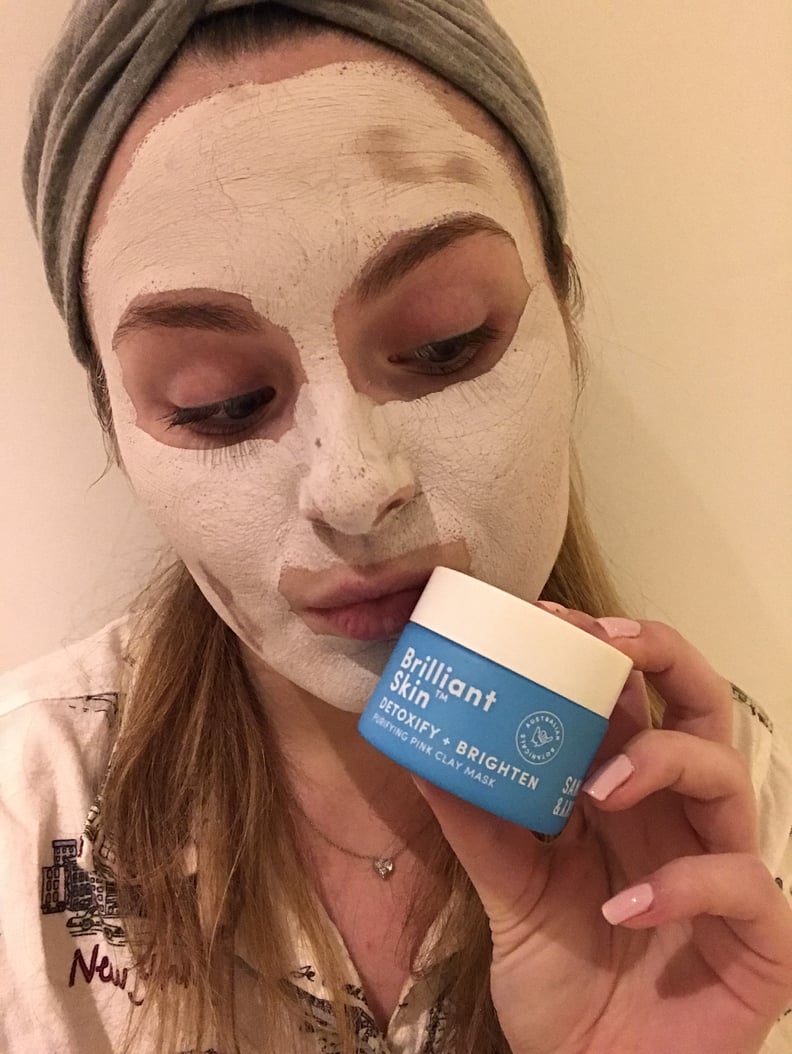 POPSUGAR Photography | Tori Crowther
POPSUGAR Photography | Tori Crowther
As POPSUGAR editors, we independently select and write about stuff we love and think you'll like too. If you buy a product we have recommended, we may receive affiliate commission, which in turn supports our work.
If you haven't seen the Sand and Sky face mask all over your Facebook or Instagram, then I applaud you, because you've clearly been spending time somewhere other than social media! If, like me, you have been scrolling for the entirety of the new year, you've probably seen ads for the blue and pink Sand and Sky face mask cropping up in your feed.
The Australian brand sells just one product: the Brilliant Skin Purifying Pink Clay Mask ($49). The mask promises to detoxify and brighten skin in only 10 minutes, tightening pores and boosting radiance.
The ingredient list boasts Kaolin (that "magic" Australian Clay), aloe vera, and vitamin A. The mask also contains glycerin, which helps to attract moisture to the skin; limonene, which is used in many fruit enzyme peels; and lactic acid, which helps to reduce breakouts. One ingredient to look out for if you have sensitive skin is benzyl alcohol; this can actually cause irritation, so bear this in mind if your skin doesn't react well to alcohol.
Before:
My skin is the worst it's been in months. It's been feeling irritated, dull, and in need of a boost. A mask that promises a detox came at the right time. I must admit that I'm more of a sheet mask-lover than a clay mask kinda gal, but I needed help with drawing out impurities rather than hydration, so was eager to get this pink clay on my face. Before using the mask I cleansed with Glossier Milky Jelly Cleanser ($18).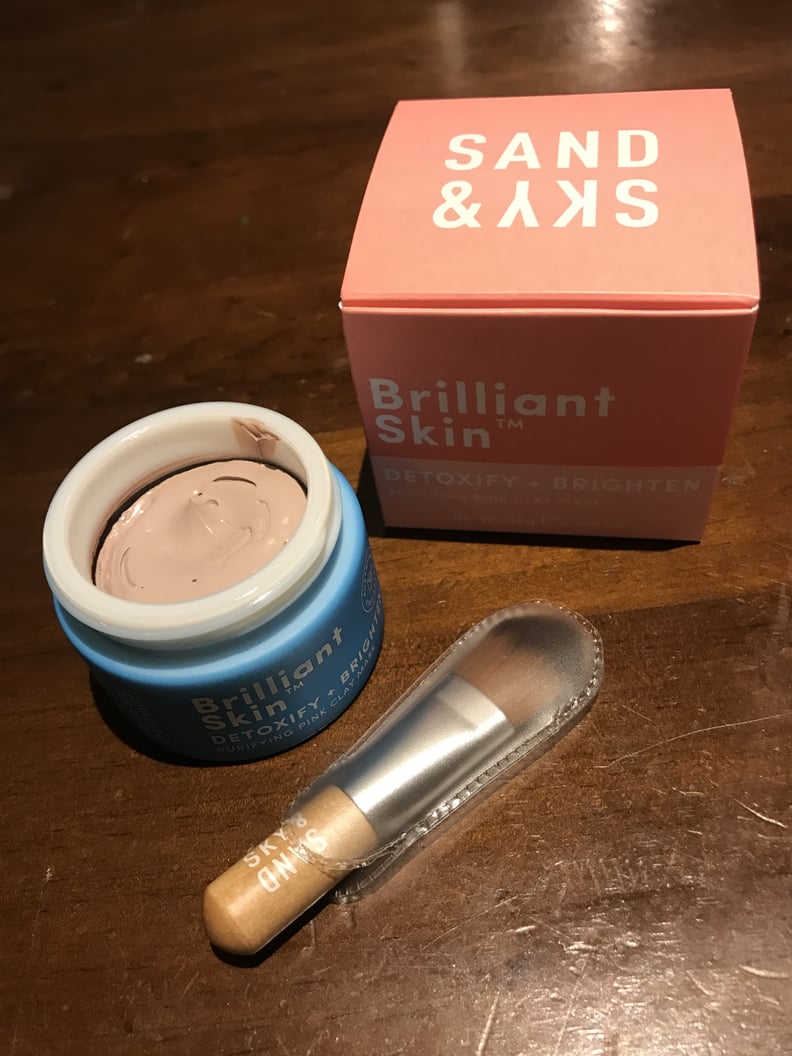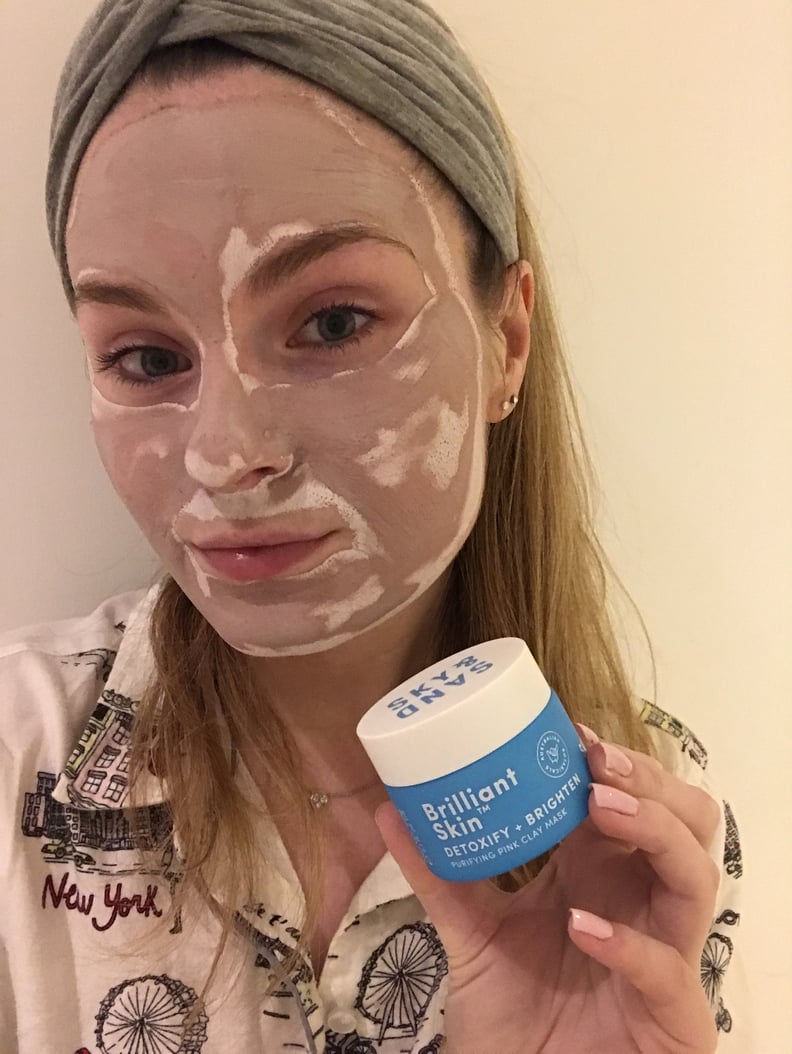 Immediately after applying the mask I felt a stinging sensation. This didn't bother me because I'm used to it from acid masks, but I wasn't expecting it from a clay mask. At first I was a little worried I'd have red raw skin afterwards, but it calmed down very quickly. The Sand and Sky FAQ page notes that this is normal due to all the active ingredients. To test that it wasn't just my skin being sensitive, I pulled my roommate in to test it. She also got the stinging initially but it went away fairly quickly, too.
The mask was easy to apply with the good quality brush provided. The mask seemed to cling to my pores and literally draw out impurities as it dried (see photo for evidence). After the mask had dried, I washed it off with a muslin cloth and was pleasantly surprised how easy it was to remove. Unlike other clay masks that are a faff to wash off, this one turned into a creamy face wash which I loved.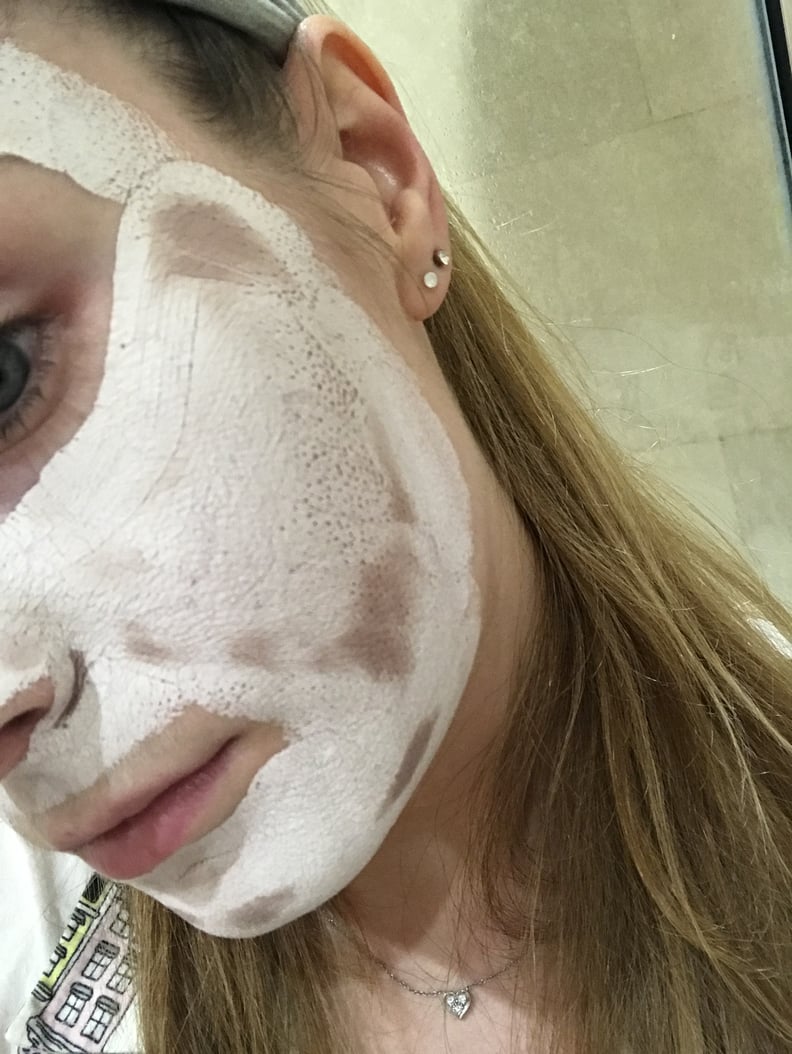 After:
I must note that I did break out a few days after using the mask, but I'm pretty sure I can put this down to the ever-confusing (and in my case, skin sabotaging) contraceptive pill. Immediately after using the mask my skin felt baby smooth and definitely appeared brighter and more radiant. I followed up with Indeed Labs Hydraluron Moisture Boosting Facial Serum ($24) and Dermalogica Intensive Moisture Balance ($66) for a big hydration boost.
Overall, if you're partial to a clay mask in your skincare routine, you'll definitely be happy with the results from the Sand and Sky mask. However, if like me, you favor a sheet mask, or you haven't really tried clay masks before, this one may be a little on the expensive side to try first time. I do believe it improved the overall appearance of my skin, but it didn't blow my mind. Going forward, I'll probably use this mask before makeup for an event to give a glowing boost to the skin.