All of Your Summer Skin Needs Are in This Sephora Sun Safety Kit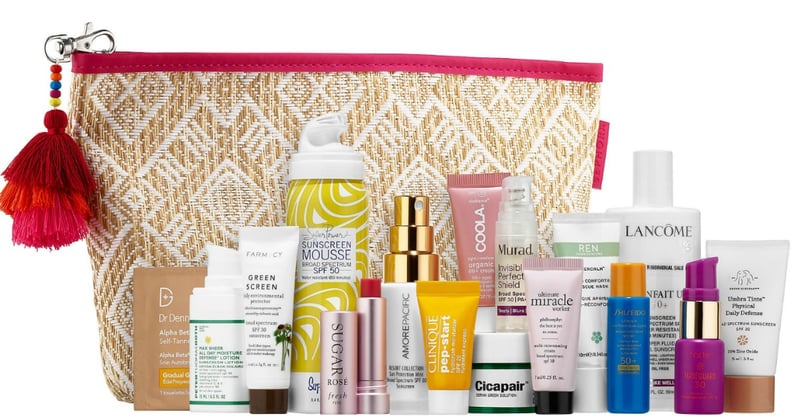 Seriously, can Summer just get here already? While we patiently wait for Mother Nature to get her life in order, we might as well get a jump on some warm weather shopping. If you're unsure where to even begin, start with your skincare. You'll definitely want to drop the 16-piece Sun Safety Kit that just hit Sephora into your cart.
Allure gave us the initial scoop on the set that includes both full and travel-sized versions of beloved sunscreen brands like Lancôme, Supergoop, AmorePacific, Dr. Jart+, Drunk Elephant, Clinique, Tarte, and more. There's a mix of mists, creams, masks, facial pads, and a lip treatment. It's more than just a batch of sun protectors — think of this as your week at the beach skin survival kit. It also includes an after-sun soothing mask and a self-tanner, so you can get your (safe) glow on!
With such a star lineup of brands stashed inside of a cute tassle-decked carrying case, you'd expect to pay an arm and leg to protect your arms and legs, but this kit is only $36 — even though it's actually worth $161. Twenty bucks of each kit sale will go to Memorial Sloan Kettering Cancer Center and $5 from each will go to The Skin Cancer Foundation. So you can shop knowing that you're doing both your skin and the world a whole lot of good.