Should You Ditch Your Dermatologist For Acupuncture?
I suffered from debilitating migraines for years, and after experiencing countless negative side effects (and little relief) from powerful medications, I had just about given up on treatment. That is until a close friend of mine recommended her acupuncturist. She had been seeing him for about a month for her headaches, anxiety, and hormone imbalances and had nothing but glowing reviews. I quickly booked an appointment, and after regular treatments, I found that my migraines had considerably subsided, leaving me with only one or two painful days a month instead of the 15-plus days I was used to.
That's when I decided to do some digging. What couldn't acupuncture treat? Nearly nothing, as it turns out. Acupuncture is shockingly versatile, even for skin care. It's a great alternative method for aging skin and breakouts in lieu of more-invasive procedures like Botox and heavy-duty acne medications. So far, I've been blessed with clear, firm skin, but when the time comes to get more serious about my complexion, I'd rather go with preventative options over corrective ones. I sat down with my acupuncturist, Dr. Min Zhang, a practitioner for over 25 years, to get the skin care scoop.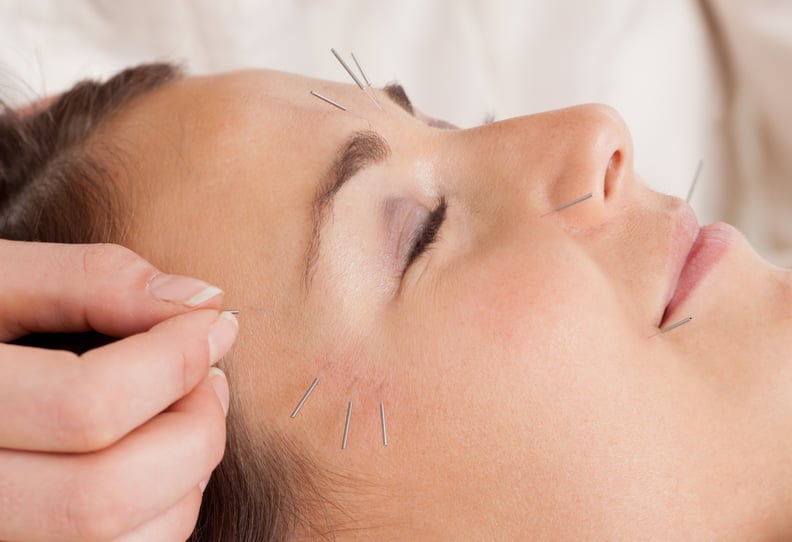 What is acupuncture, and how does it work? During an acupuncture treatment, the practitioner inserts fine, sterile needles into specific pressure points on the skin to create local reactions. It is based in traditional Chinese medicine, wherein qi, or energy, flows along certain channels (known as meridians) in the body to keep you balanced. Should the qi be disrupted or blocked, acupuncture can stimulate and unblock the qi, activating healing responses in your body.

Though these beliefs are different from Western medicine, modern research has proven that acupuncture therapy can have significant effects on your body's various systems. Dr. Zhang blends Western and Eastern medicine to get the best results for each patient. "For example, Chinese medicine states that if the lung is healthy, skin is healthy, but Western medicine says liver toxins can be the cause of poor skin health. Based on the needs of each patient, I choose which route to go for treatment."

What skin conditions can be treated with acupuncture? "Acne, wrinkles, dermatitis, and eczema can all be treated with acupuncture," said Dr. Zhang. "Sagging, dark spots, dullness, and enlarged pores can be improved, and even some types of hair loss respond to acupuncture." Issues like male-pattern baldness and deeply damaged skin may be harder to treat. In his practice, he frequently treats acne, eczema, psoriasis, and hair loss caused by stress.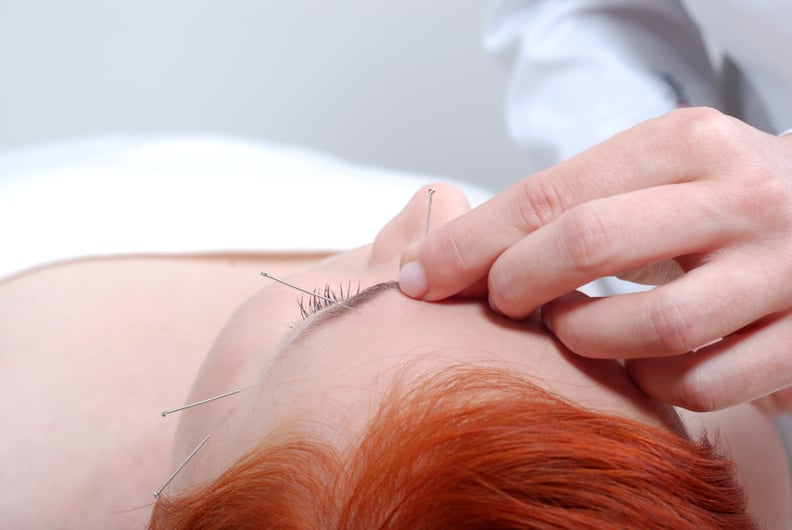 How does acupuncture work for skin? There are two primary reasons to treat your skin with acupuncture therapy — health and beauty — and they are often connected. As you likely know from experience, nearly anything can affect your complexion, from stress, poor sleep, and a bad diet to hormonal imbalances and environmental factors. "An acupuncturist must first diagnose the cause for a patient's skin problem then select proper acupuncture points for the treatment," Dr. Zhang explained. The acupuncturist can then treat the skin concern locally (on or around it) and/or via the meridians connected to the concern. To illustrate, Dr. Zhang cited a specific case: "Hormones play an important part in some skin conditions. One female patient was suffering from very bad acne and an irregular period from her birth control medicine. After six treatments of focusing directly on her skin condition and her hormone points, her period became consistent and her acne was tremendously improved."
How do you treat signs of aging with acupuncture? Acupuncturists treat concerns like fine lines, wrinkles, and sagging with local treatments nicknamed the "acupuncture face-lift." Dr. Zhang told me that cosmetic acupuncture has been used since the Sung Dynasty (960-1279 AD) and kept the empress looking youthful. By inserting needles into specific points on the face, acupuncturists can stimulate collagen turnover and blood flow to nourish the skin and reduce the appearance of wrinkles.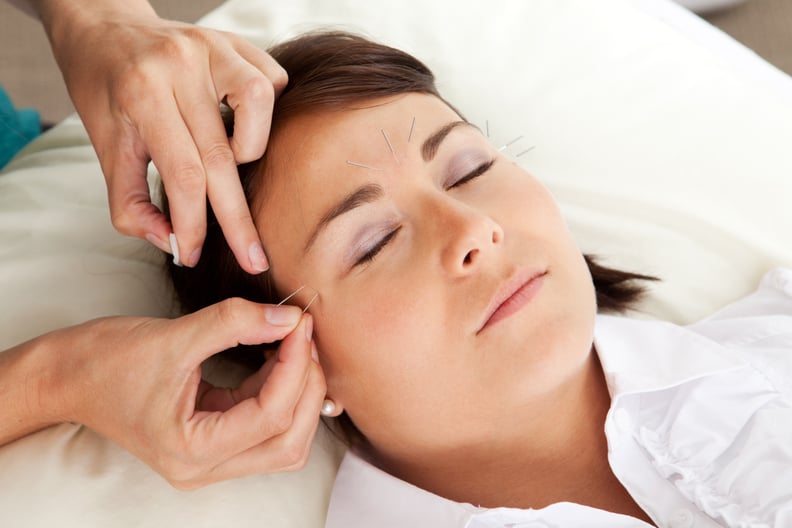 Can you treat yourself at home with pressure on the same points? Dr. Zhang said that acupuncture is more effective than pressure on the same points (known as acupressure), because it penetrates the surface and is deeply connected with your meridians. He strongly recommends acupuncture for loose, sagging skin. However, you can give yourself very basic treatments at home, one to fight puffiness and the other to fight breakouts.

Place your index fingers directly under the iris of each eye, and lower them until the pads of your fingers are between your lower lid and your orbital bone. Massage these symmetrical points for up to 60 seconds several times a week to reduce eye puffiness. After you've finished massaging these areas, drag your fingers lower on your face until they sit just under your orbital bone (close to the top of your cheekbone). Massage these points for fewer breakouts.

Is acupuncture better than going to a dermatologist? "Dermatologists often use antibiotics and other chemicals to treat the skin," said Dr. Zhang. "Topical skin care products and medications help some skin conditions but not those caused by internal problems." Also, acupuncture is a healthy and safe alternative to prescribed medications. Accutane has some side effects that shouldn't be taken lightly. He does admit that in order to prevent or reduce wrinkles, you must maintain steady treatment (about once a week for 30 minutes). You may consider this to be too much of a time investment, but think about it: you also need to continue getting Botox to be line free. Dr. Zhang is strongly against that method. "Botox isn't natural. Acupuncture is. Choosing a natural method that promotes energy in the body is the best way to get results."
Finally, if you're nervous around needles or think you don't have time to get acupuncture, let me soothe your concerns. I rarely feel Dr. Zhang insert the acupuncture needles (that's how small they are!). And while it can be a struggle to make room in my schedule for acupuncture, I make sure it takes precedence over happy hour. Plus, it makes for a very relaxing break in my week. During each 30-minute treatment, Dr. Zhang turns off the lights. Coupled with the fact that I have needles on the tops of my hands, this makes it difficult to go on my phone (he knows me too well), so I have no choice but to close my eyes and decompress, resulting in a multitasking power nap. That night, I have the best sleep ever instead of the usual restlessness, and I wake feeling clearheaded and serene.