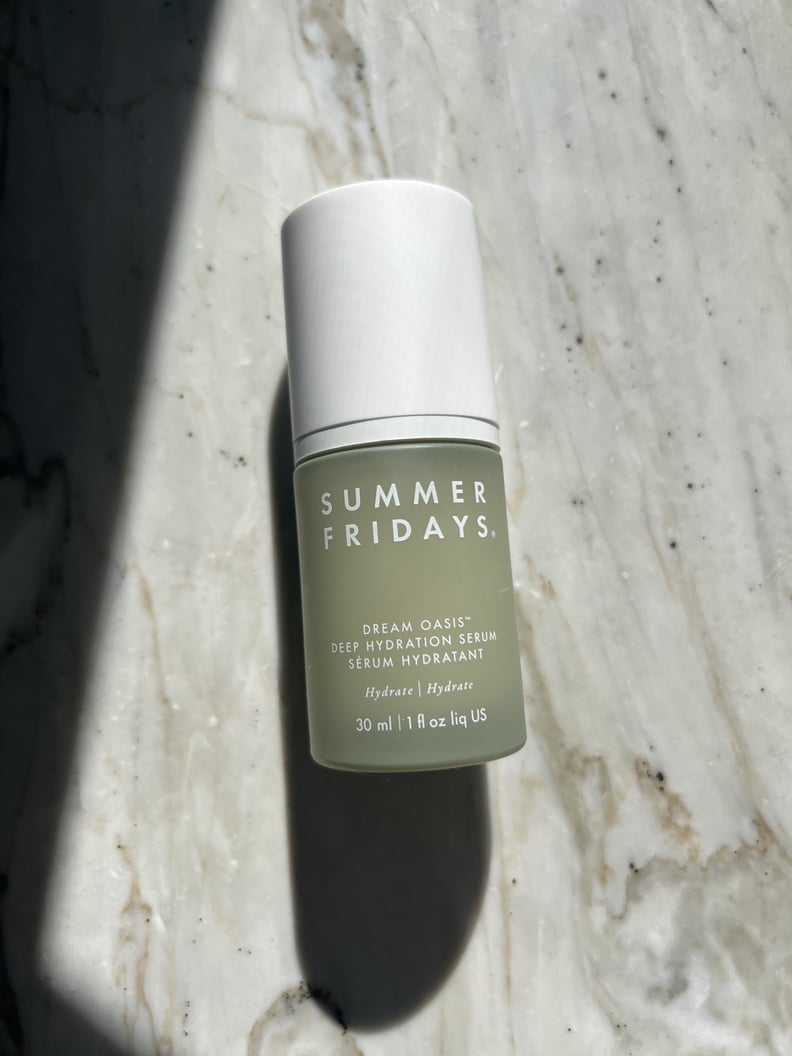 POPSUGAR Photography | India Yaffe
POPSUGAR Photography | India Yaffe
As POPSUGAR editors, we independently select and write about stuff we love and think you'll like too. If you buy a product we have recommended, we may receive affiliate commission, which in turn supports our work.
I live in Southern California, and while people know the state is perpetually warm, they tend to forget that we're in a desert — so not only is it hot, but it's also incredibly dry. Couple the arid climate with the Santa Ana winds we're currently battling, and it seems as though everyone I know is dealing with dry, flaky skin. My skin-care routine is usually pretty simple, but I've been adding the Summer Fridays Dream Oasis Deep Hydration Serum ($44) to my morning and nighttime routine, and it's been a game changer for my complexion.
If you have sensitive skin, this is a great serum for you to try. The colloidal oatmeal works to soothe an irritated complexion, the squalane supports the moisture barrier, and the glycerin both softens skin and maintains hydration in the complexion. The texture is silky smooth and not too thick with a gel-cream consistency. It's one of those products you could use year round; in the summer, it's lightweight enough to use on its own, but in the winter, it feels nice to apply underneath a moisturizer. It also works well with lots of different skin types and is one of the few hydrating products that people with oily skin love as well.
I've been using the product for a few weeks, and it took a solid week for me to start to see results, which included less flaking skin and a decrease in redness. I use this in the morning after my vitamin C serum and before my moisturizer, plus at night after my AHA serum and before moisturizer. I like this product because it doesn't feel too heavy on the skin but really delivers in the moisture department. But don't just take my word for it. One customer said, "NYC has been brutal lately and I have had to lay off on the acids after multiple instances of destroying my skin barrier. I love this serum because it is substantial and I feel like it does a great job at providing needed moisture to my skin and repairing the skin barrier damage I cause it." Another person commented, "This is one of the best deep hydrating serums I've used in a long time! It definitely lives up to its name and provides a deep hydration that lasts all day long. I've noticed my skin looks so healthy and glowy since I started using this!" If, like so many of us, you're battling dry and irritated skin, this is the serum of your dreams.