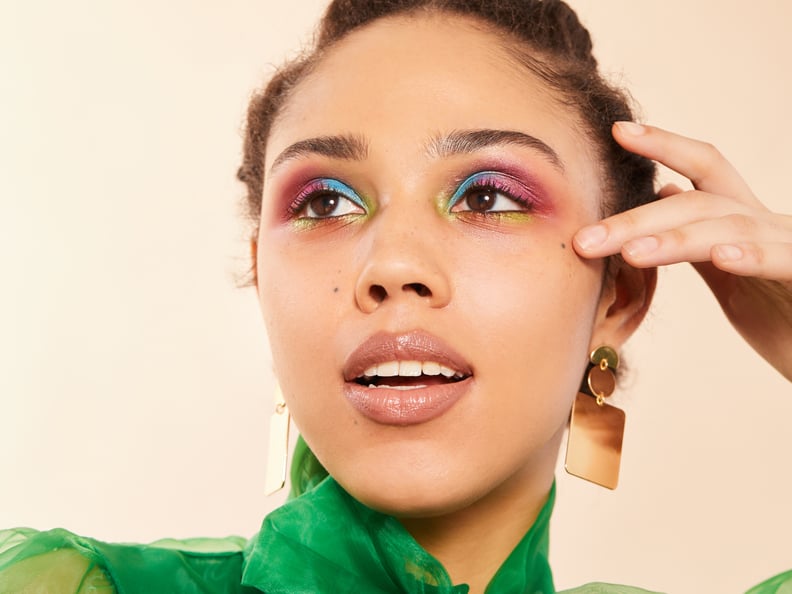 POPSUGAR Photography | Chaunte Vaughn
As POPSUGAR editors, we independently select and write about stuff we love and think you'll like too. If you buy a product we have recommended, we may receive affiliate commission, which in turn supports our work.
Old way of thinking: makeup in summer needs to be lighter, fresher, and more pared down. New way of thinking: unless things get unbearably sweltering or you can't stand up on the subway without leaving a puddle of sweat on the seat, now is the time to experiment with your makeup more.
Give us color! Sparkle! Drama! (Because "Euphoria" didn't start a beauty movement for nothing, are we right?) From celebrity-approved "hologram" eyeshadow and watercolor eye makeup that lets you channel your inner Vincent van Gogh to 90's inspired frosted lips and a gradient glitter cat eye, there's no shortage of makeup inspiration that will make you want to whip out your cosmetics bag this season.
Don't worry: we're here to ensure getting the looks is easy. In the slides ahead, the industry's top makeup artists break down this summer's six hottest makeup trends that you won't want to ice out.
Summer Makeup Trend: "Hologram" Eyes
Makeup trend: The eyeshadow equivalent to standing under a row of twinkly lights during a nighttime rooftop party in summer: "hologram" eye makeup. The look features pearlescent eyeshadow tones that shift in the light to create a multidimensional, holographic effect — making it perfect for the warmer months when al fresco lunches and afternoon picnics are a mainstay.
Get the look: "Using my fingers, I press on iridescent, not frosty, shadow or highlighter — like the Fenty Beauty Killawatt Freestyle Highlighter ($40) — on the center of eyelids, inner corner, and brow bone," celebrity makeup artist Michael Anthony previously told POPSUGAR. The key is to press, not smear, the pigment. If you're looking for another option, try the Nabla Cosmetics Eyeshadow ($10) in the shade Alchemy, the pinkish duochrome hue shown here.
"Then, here's the magic trick: I use a liner brush and wet the product with water and line the top and bottom lash line with the wet highlighter or shadow," says Anthony. "This activates the product and gives you a slightly different effect."
Summer Makeup Trend: Double Liner
Makeup trend: We all knew someone — or were that someone — who tight-lined our top and bottom lashes in grade school with thick, ultra-dark black eyeliner. Unlike tightlining, "double lining" is the fresh, modern take on that throwback trend that's all about defining and accentuating the eyes with liner in a way that's wearable for day and night. As the name suggests, it involves lining your top and bottom eyelashes.
Get the look: "One trick to modernize your eyeliner is to softly trace the lines with a powder or cream shadow in a similar shade or deeper to soften the line," Bobbi Brown Cosmetics national pro artist Jaime Perez, previously told POPSUGAR. "You get can blur the edges of the liner to make it look more even."
To create a double lined eye, Perez recommends using precise tools like the Bobbi Brown Ultra-Fine Liner Brush ($31). We also like the KVD Beauty Super Pomade Vegan Eyeliner, Shadow & Brow Pigment ($25).
Summer Makeup Trend: Frosted Lipstick
Makeup trend: The 90s are calling (by way of a Nokia 3310 mobile device, obviously) to tell you that frosted lips are back, baby. The best part? Getting the frosty finish is easy, says NYC-based makeup artist Anne Kohlhagen.
Get the look: You can either opt for an opal lipstick that you can apply straight from the tube; Kohlhagen likes the NYX Professional Makeup Glitter Goals Liquid Lipstick ($9). Or, if you want to add more oomph (and it's summer, so why wouldn't you?) "try lightly brushing a frosted eyeshadow over the center of the lips" to add extra shine, she says.
Summer Makeup Trend: Watercolor Eyes
Makeup trend: You don't need Vincent van Gogh's painting skills to create the season's coolest eye makeup trend, but you should have an affinity for watercolor.
Get the look: The first step, Kohlhagen says, is to map out an outline of four to five colors you want on your lids using powder shadows. This allows you to spotlight every shade, as opposed to accidentally blending them together. "You want to avoid taking a blending brush and mixing the shades together," she says. "Focus on letting the colors overlap, but do not combine them."
Next, apply a cream or liquid eyeshadow in the corresponding color on top to set the look and make it pop. "I also think it helps to use a mix of matte and metallic cream colors to build dimension and texture," she said. Blend out any harsh edges with a fluffy eyeshadow brush, and finish with a spritz of setting spray, like Huda Beauty's Resting Boss Face Waterproof Setting Spray ($33).
Summer Makeup Trend: White Eyeshadow
Makeup trend: You don't follow the rules and wear white after Labor Day anyway, so why not kick off the color with your eye makeup? The hue has been trending along with the early 2000s revival, but to give it a modern twist, apply it to your undereye area in place of (or in addition to) your lids.
Get the look: Kohlhagen says to "start with a really light concealer on the lid first" to make the alabaster shadow pop. Any white pigment will pop against your skin tone, but the most flattering shades have a slight shimmer and gold undertone, which can also help brighten the entire eye area. A good bet: the Makeup By Mario Master Crystal Reflector in Quartz ($26).
Summer Makeup Trend: Glitter Cat Eye
Makeup trend: Unexpected, dramatic, eye-catching — a gradient graphic glitter wing can take any look to the next level. "Start with the lightest color first and work your way to the darker shades," Kohlhagen says, adding that "once the dark colors are applied you can't remove that without starting over."
Get the look: Use a thin eyeliner blush so you have added control, and go slowly to ensure it blends seamlessly. If you want to add a bit of bling, throw in some glitter. "For maximum shine, use two to three different sizes and colors of glitter," Kohlhagen says. After priming the eyes, use your finger (or a glitter brush like one from the Sephora Collection Essential Eye Brush Set ($29)) to start with the smallest flecks first, and apply them all over the darkest part of your wing. Then, add a larger glitter on top, but keep it more spread out. "You want to make sure that your smoky wing is perfected before placing the glitter down to ensure a seamless look."