Sunday Riley Brightening Vitamin C Moisturizer Review
Sunday Riley's New Moisturizer Is My Secret Weapon For Glowing Summer Skin
As POPSUGAR editors, we independently select and write about stuff we love and think you'll like too. If you buy a product we have recommended, we may receive affiliate commission, which in turn supports our work.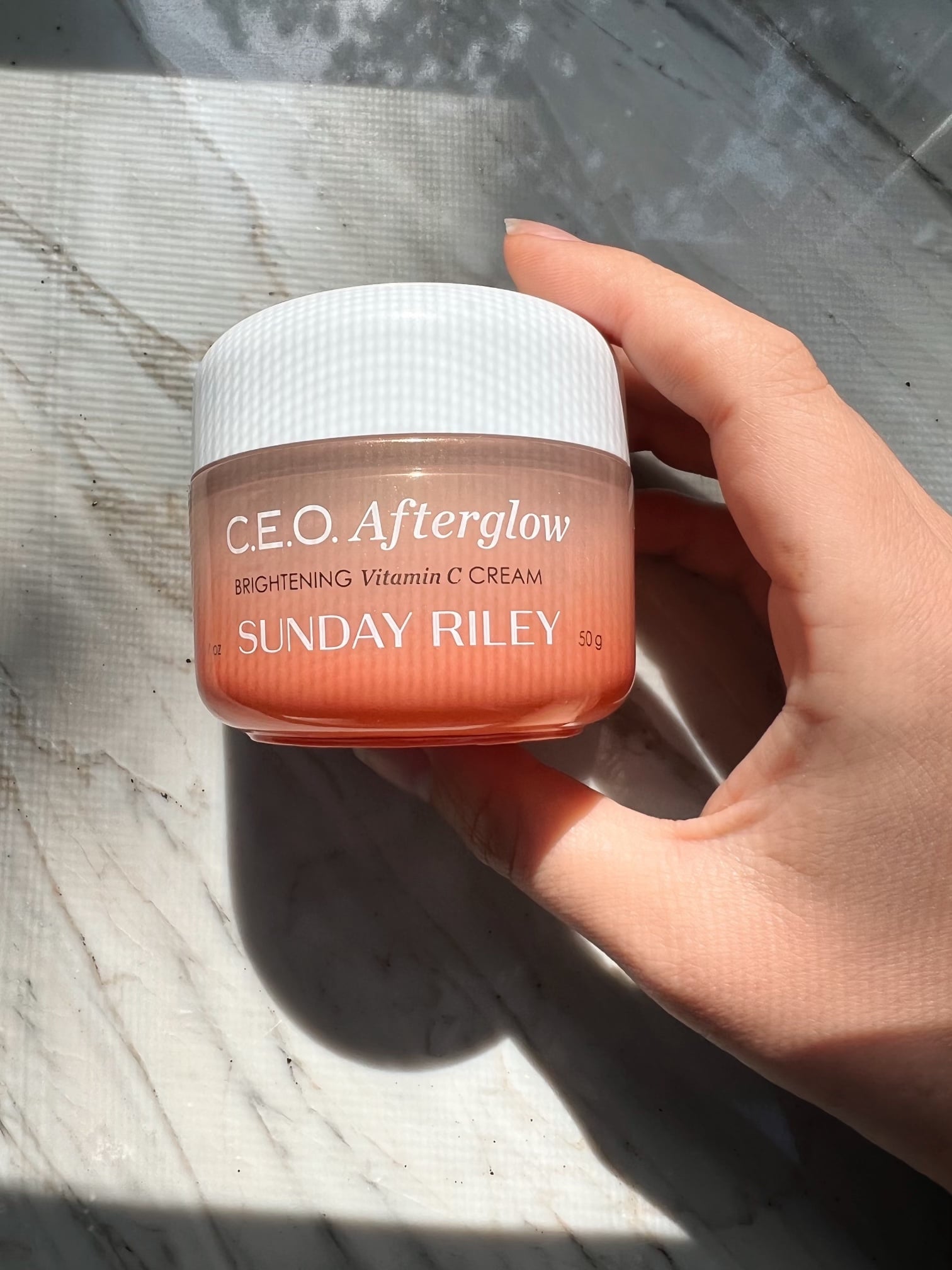 It's almost summer, and here in California it's starting to warm up, which means it's time for me to switch out my skin care to more lightweight options. I have sensitive skin, so my routine is pretty simple, and I only use a few products. A nonnegotiable in my everyday routine is vitamin C because I love the brightening and plumping effect the ingredient gives my skin. Using Sunday Riley's vitamin C serum was the first time I ever saw real results from a skin-care product, and so I was thrilled to test out the new Sunday Riley C.E.O. Afterglow Brightening Vitamin C Moisturizer ($65).
I had high hopes for this moisturizer since I love the serum from the same line so much, and it delivered.
This moisturizer is meant to be used morning and night. I currently use it in the morning, and I love how it soaks into my skin. Upon first glance, the product is a bright-yellow/orange hue. I was worried it might make my pale skin look a little strange, but it blends in easily and without any real tint. The product also smells quite strongly of neroli, which is akin to orange blossom. It's a scent I happen to love, so I didn't mind it, but is good to know about if you try to stay away from fragrant skin care.
I had high hopes for this moisturizer since I love the serum from the same line so much, and it delivered. This moisturizer hasn't broken me out, it lays nicely underneath sunscreen and makeup, and it's a great thickness for me, with a light cream consistency. Plus, I do feel like my skin is smoother and brighter, which is a massive plus. Paired with my daily vitamin C serum, I'm positively glowing. I also love that it's formulated with lutein, a natural antioxidant that helps protect the skin from blue light. As I sit here typing this on my laptop, it brings me peace of mind knowing that my skin care is really working to protect me. If you're looking to brighten up your complexion this summer, do yourself a favor and pick up this moisturizer.
Image Source: POPSUGAR Photography / India Yaffe