What Will Sustainability in Beauty Look Like in the Future?
What Does "Sustainable Beauty" Really Look Like in 2023?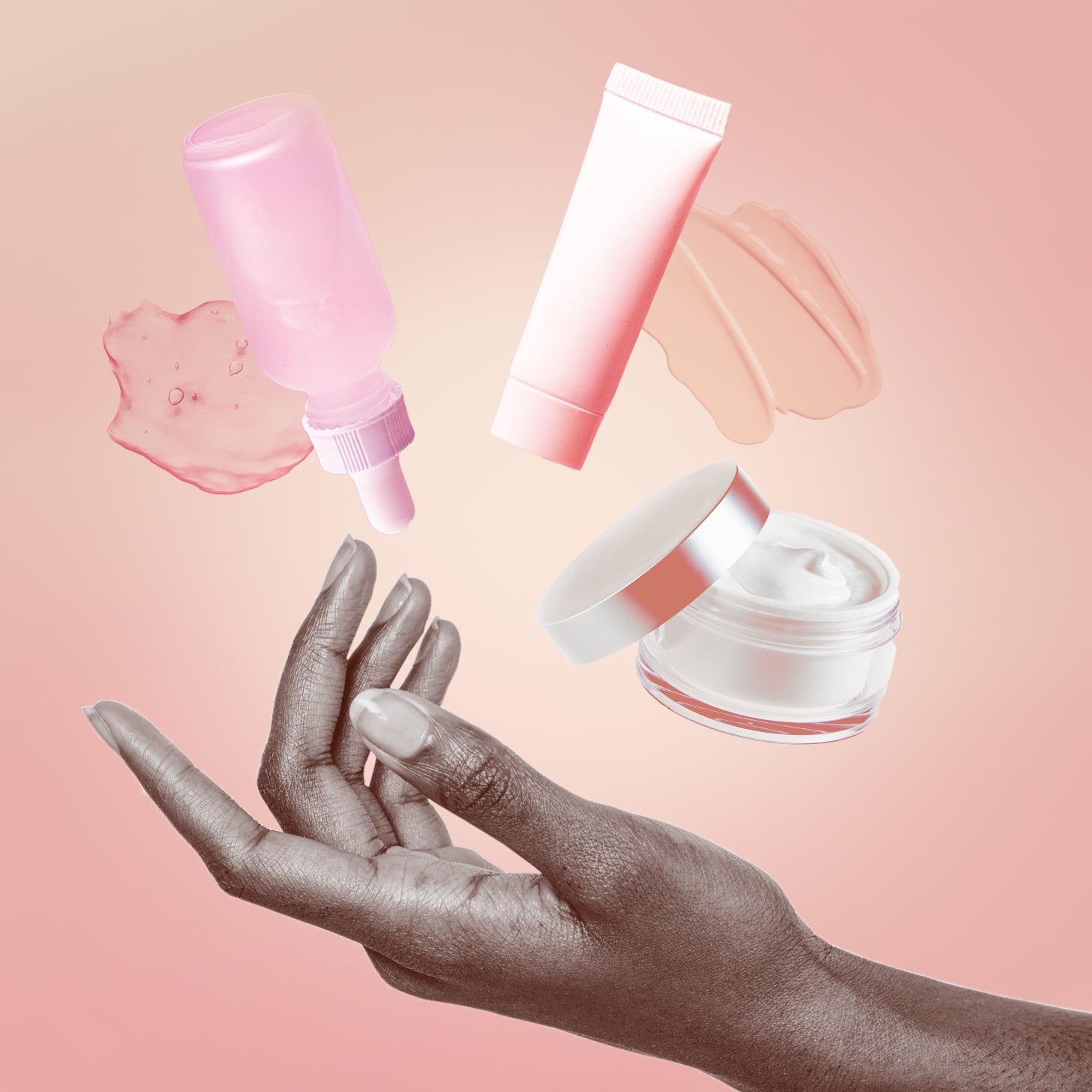 Image Source: Getty / Iryna Veklich, Westend61, Anthony Lee, Iana Kunitsa, Anna Efetova and Illustration by Becky Jiras
While "natural beauty" was all anyone could talk about in 2015, and "clean beauty" was all the rage in 2019, these days, the beauty industry seems squarely focused on "sustainability" — a term that can feel vague and encompasses a lot of different marketing buzzwords and initiatives.
The reason sustainable beauty is so hard to define is because it's often used as an umbrella term for a lot of different subcategories, including clean and natural beauty, making a stroll down the beauty aisle a very overwhelming experience. And while the cosmetics industry is still on the rise — the US market alone is worth $60 billion — 64 percent of shoppers in 2023 are focused on sustainable beauty purchases, making "sustainable beauty" not just a conscious choice for the consumer but also a very important business move for brands.
So while some companies are focusing on packaging and others are simply rethinking their marketing campaigns, below are a few sustainable beauty practices we predict to see more of in 2023 and beyond.
Sustainable Beauty Prediction: Gen Z Will Lead the Change
A recent report from Unidays describes Gen Z shoppers as "a generation with high hopes and high expectations. They want retailers to be sustainable so they can be sustainable — without compromise." This tracks with what brands are seeing when it comes to consumer trends. According to James Park, president of skin-care brand Herbivore, the demand for sustainability by Gen Z consumers is one of the main reasons sustainability is becoming more top of mind across all markets. "The Gen Z consumer is more conscious and environmentally aware than any other generation based on the consumer research we've conducted," Park says.
Kristin Wolf, Ulta Beauty's senior vice president of enterprise strategy and transformation, agrees, adding: "Our guests — especially Gen Z — are growing more interested in products that align with their beauty needs, values, and lifestyle practices, and brands are evolving to better meet them where they are. This includes evaluating how ingredients are sourced, formulated, packaged, and eventually disposed of — as these are all key factors for conscious-minded beauty enthusiasts."
Sustainable Beauty Prediction: Packaging Will Be a Bigger Focus
The hard truth is that the beauty industry has a huge waste problem. In fact, the beauty and wellness industries alone generate more than 120 billion packages every year, and most of it ends up in landfills. Packaging is too small, too flexible, or made of too many materials to be traditionally recycled. Additionally, more than 10 percent of beauty and personal-care products go to waste from either overproduction or spoiling. It makes sense, then, why so many companies are getting more innovative with their packaging to combat the crisis.
Good Time, for example, launched a line of hair and body-care products that are completely plastic-free — no refillable cartridges, no glass, just the wash. Instead, all formulations come in bar form with the goal of nixing the package problem entirely. Then there's Plus, a new solid body-wash sheet that comes in a dissolvable wrapper made from wood pulp, which activates into a foamy lather when it comes in contact with water. Once you're done using it, you can just drop the sachet to the drain and watch it dissolve within 10 seconds.
The reason this hasn't always been a focus in the past is two-fold: it's hard to get consumers to understand the impact, and it's not easy to do, production-wise. With the former, when polling multiple generations, only 20 percent of shoppers seek sustainable packaging, but when asking just Gen Z consumers, 36 percent say they often buy products made from recycled material, a number industry insiders expect to rise as Gen Z become more conscious consumers.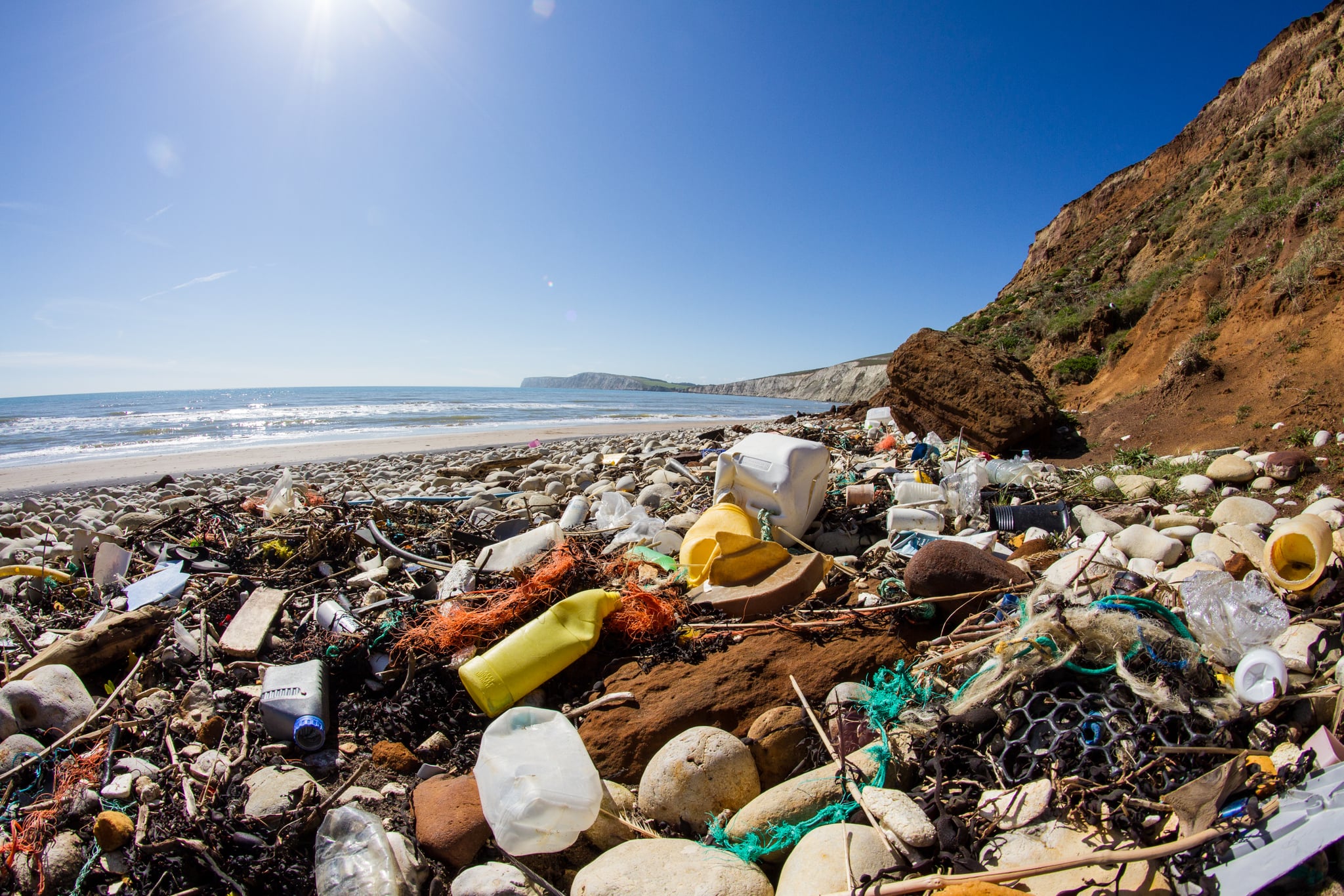 Image Source: Getty / LUIS ACOSTA/AFP
Then, there's the fact that shifting to more sustainable packaging isn't easy. According to Caliray brand founder Wende Zomnir, it's easiest to implement sustainability when you build a product that way from the ground up, which may mean consumers will start finding sustainable substitutes for their favorite brands versus waiting for them to reformulate. "Brands can definitely evolve existing products to be more sustainable, but I think there's more creativity and freedom to make sustainable choices when you are looking at a new product 'holistically' and not just trying to make substitutions," she says. "However, everything counts, so even if a brand can't make huge changes, staying open to opportunities for small sustainable swaps can have an impact and can be easier to scale in the short term."
Others who may be looking to incorporate more sustainable packaging into existing product lineups have been experimenting with refillable cartridges, like Drunk Elephant did with its new Protini Polypeptide Cream Refill or Dove's 0% Refillable Deodorant.
Wolf says whether companies are embedding sustainability into their DNA during inception or reformulating packaging after years in the market, it's a conscious choice and an element of beauty that will only continue to become increasingly more important to customers.
Sustainable Beauty Prediction: Transparency Will Reign Supreme
Guided by TikTok reviews and their Instagram discovery page, Wolf says social media will play an important role in influencing sustainable beauty, driving more accountability and action from brands and retailers alike. Wolf says Ulta Beauty uses its ever-evolving Conscious Beauty assortment to provide its consumers with more transparency when it comes to making an informed shopping decision. The assortment features brands and products that are vegan and cruelty-free, have clean ingredients, are sustainably packaged, and leave a positive impact.
"Within this work, we made a commitment to have 50 percent of all packaging sold at Ulta Beauty be made up of recycled, bio-sourced, or refillable materials by 2025," Wolf says. And with 70 percent of shoppers considering TikTok a helpful resource when purchasing beauty products, the opinion of the masses definitely plays a role in the success of a brand or product.
Alexis Androulakis is one half of the duo behind the educational beauty brand Fempower Beauty. Her partner initially started their TikTok account, @thelipsticklesbians, as a way for the founders to share behind-the-scenes moments. This included one trip to Sephora, where Androulakis was prompted to blindly guess where her favorite beauty product was made, a video that went viral. Now they use their platform to educate their community on the importance of breaking away from conventional beauty norms.
In her opinion, brands that prioritize transparency and educating consumers about their sustainable practices can help build trust and demonstrate their commitment to sustainability. "Sustainability is a movement towards a more environmentally conscious approach taken in both the production and disposal of beauty products. Notice how Sephora went from Clean to Clean + Planet Positive. This is very intentional to communicate the synergy I describe above," Androulakis says. "I personally like to include the idea of diversity, equity, and inclusion under this umbrella as well, as it's ultimately about being socially conscious, too." Another brand doing it right, according to Androulakis, is E.l.f. Cosmetics with its "Fair Trade Certification" stamp that lives on its shelf as well as its website. While "fair trade" is considered another buzzy term that lives under the sustainability umbrella, in this case, it's a certification that is very costly for brands and takes a significant commitment.
Sustainable Beauty Prediction: Companies Will Look to Scale Their Efforts
Experts agree that implementing more sustainable practices can be the more expensive route. As a result, you can expect larger beauty companies to aim to scale these efforts across their business to make the most impact. Garnier, for example, was already one of the first brands under L'Oréal to popularize organic products in the mass market and recently announced its Green Beauty Initiative as a way to radically reduce its global impact on the environment. Citing unprecedented global events and consumer habits, the brand is focusing on plastics and packaging, product formulations, and factories and production.
Sustainable Beauty Prediction: Brands Will Focus on Education
While Gen Z prioritize sustainability, they don't often know what that actually entails, so brands are in the unique position of being able to educate their consumer. A way some brands are engaging in this type of educational marketing is by partnering with third parties. "We also believe we have a role in educating our community about sustainability, which is why we make it a point to raise awareness and provide education via campaigns like We Are Allies and Planet A," Park says.
For big retailers, like Ulta Beauty, it often takes curating leading voices in the industry to guide change. "Our Conscious Beauty Advisory Council, which is composed of change-makers spanning industries and brands, helps inform, elevate, and evolve product development and packaging," Wolf says. "This March, we'll begin piloting our Packaging Collection Program in partnership with Pact Collective in select stores across the Northeast. We're excited to test and learn through this program and encourage guests to conveniently discard their hard-to-recycle beauty empties at select locations to be properly processed and prevent additional landfill waste.
She adds: "While there is always more work to be done, we're proud of the role we play as a beauty retailer, helping to elevate and provide more access to brands that are propelling sustainable beauty forward."