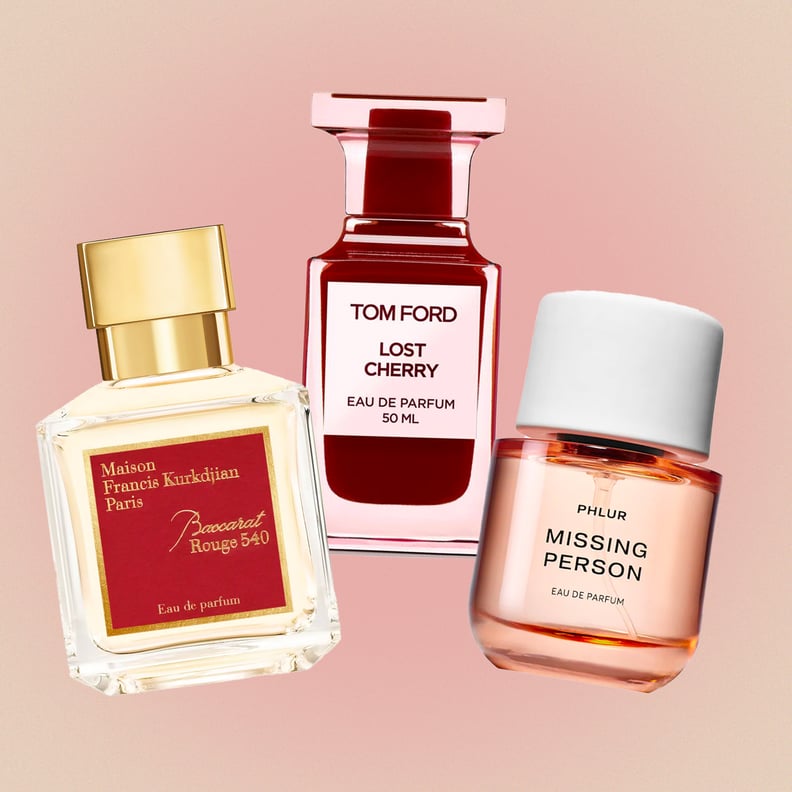 Maison Francis Kurkdijan | Tom Ford / Phlur
Maison Francis Kurkdijan | Tom Ford / Phlur
Within the last year, perfume sales have skyrocketed by as much as 45 percent, according to reports from market research firm NPD Group, thanks to a boom in demand driven by the pandemic. Many people looked to pick up a slice of affordable luxury during extended periods at home, and fragrance was the easy way to do it. (That's even despite the spike in perfume prices by 15 percent due to the supply chain crisis.) At the same time, this was when TikTok started trending, and pretty soon, #PerfumeTok was born.
Flash forward to today, and the category is growing by the day on the social media app. Users are recommending their favorite fragrances, popular dupes, and the time to wear them. The platform has seen plenty of questionable perfume trends, like "vabbing," as well as conversations around the success rate of pheromone perfumes. Even TikTok influencers like Addison Rae launched their own fragrance lines. Beyond that, we've also seen some cult classic scents that have quickly become must-haves after trending on TikTok, regularly selling out every time they hit the shelves.
Clearly, there's a lot more in the scent space to unpack. Let's take a closer look at some of the top trending fragrances that have gone viral on TikTok ahead.
Maison Francis Kurkdijan Baccarat Rouge 540
One of the most popular fragrances that has skyrocketed in popularity on TikTok, the Maison Francis Kurkdijan Baccarat Rouge 540 ($325) is constantly sold out despite its hefty price tag. It's a musky perfume with a mix of woody amber florals cut through with a hint of sweetness that makes for a luxurious splurge.
Ariana Grande Cloud
The fact that the Ariana Grande Cloud($44) is constantly flying off the shelves is no surprise given the singer's hold on Gen Z and it's under-$50 price tag. It's classified as a floral-fruity gourmand scent with sweet notes of whipped cream, vanilla, and praline mixed with musk, woody notes, vanilla, pear, lavender and bergamot.
Kayali Vanilla 28
Created by beauty entrepreneur (and huge social media personality) Huda Kattan, the Kayali Vanilla 28 ($118) is an amber vanilla fragrance with notes of vanilla orchid, jasmine, brown sugar, tonka bean, amber, musk, amberwood and patchouli. TikTokers claim it's sweet, easy to wear, and works perfectly for layering.
YSL Black Opium
YSL Black Opium ($130) isn't a new fragrance, but thanks to TikTok it's grown in popularity once again. It's an amber vanilla fragrance that combines pear, pink pepper, orange blossom, coffee, jasmine, bitter almond, licorice, vanilla, patchouli, cedar and cashmere wood.
Vilhelm Parfumerie Mango Skin
If you love citrus scents, then the Vilhelm Parfumerie Mango Skin ($245) is for you. It's a floral fruity fragrance that combines mango, orange and violet with middle notes of frangipani, mango blossom, and ylang-ylang with undertones of blackcurrant and musk.
By Kilian Love, Don't Be Shy
Described as an amber fragrance, the By Kilian Love, Don't Be Shy ($325) is most frequently described as smelling of marshmallows, although this isn't one of the fragrance notes listed on the bottle. Instead, it contains neroli, bergamot, pink pepper, coriander, orange blossom, jasmine, honeysuckle, rose and iris with sweet notes of sugar, caramel, vanilla, musk, and labdanum.
Tom Ford Lost Cherry
Another boujie scent that tops the chart among TikTok users is the Tom Ford Lost Cherry ($375), which is a heady-meets-fruity fragrance with notes of sour cherry, bitter almond, plum, Turkish rose, jasmine sambac, tonka bean, vanilla, Peru balsam, cinnamon, and patchouli (to name a few).
Phlur Missing Person Eau de Parfum
You either love or you hate the Phlur Missing Person Eau de Parfum ($96), but one thing is for sure: it has left people on TikTok talking. This woody floral has layers of white musk meant to remind you of that special someone missing from your life.