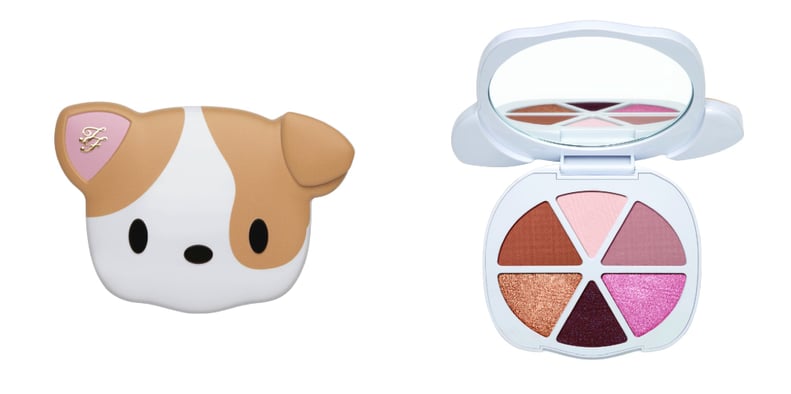 Talk about puppy love: the founders of Too Faced Cosmetics are getting creative with their newest limited-edition palette.

Jerrod Blandino and Jeremy Johnson cofounded the company in 1998, and they both frequently take to social media to share cute photos and videos of their 6-year-old dog and brand mascot, Clover, who's living a life that's 10 times more exciting than yours and mine. So it comes as no surprise that the Insta-famous pup is also the inspiration behind Too Faced's latest products.
The Pretty Puppy Palette ($28) will come with six pigmented, easy-to-blend eye shadows — with kitschy names like Bad to the Bone (a soft peach), Bow Wow (gold-brown), Heavy Petting (chestnut brown), Puppy Nose (baby pink), Snuggle Time (beige), and Vanity Fair (gold) — that, according to a recent Instagram post from Blandino, come in a mix of matte and metallic finishes. In addition to the eye shadow palette, which will be sold in a compact shaped like Clover's face, the brand is also launching Melted Clover ll ($21), a peachy matte lipstick.
The best part about the launch, though, is that Blandino and Johnson plan to donate $150,000 of the proceeds to Best Friends Animal Society, an animal welfare group that focuses on reducing the amount of homeless animals killed in animal shelters. Good makeup for a good cause? All the more reason to pick up the palettes on Too Faced's website on Sept. 12.