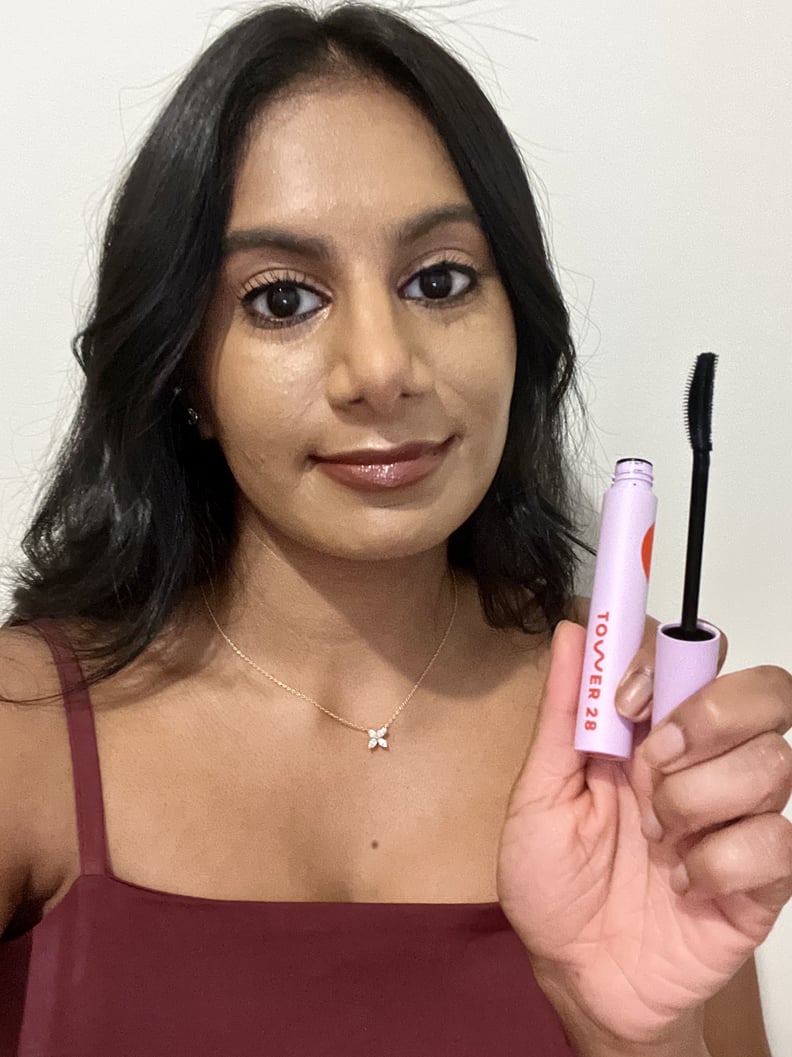 POPSUGAR Photography | Anvita Reddy
POPSUGAR Photography | Anvita Reddy
As POPSUGAR editors, we independently select and write about stuff we love and think you'll like too. If you buy a product we have recommended, we may receive affiliate commission, which in turn supports our work.
Tower 28 released its first-ever mascara, and as a fan of the brand, I had to try it out. I already adore the ShineOn Jelly Lip Gloss, collecting most of the colors like Pokémon cards, and the SunnyDays SPF 30 Tinted Sunscreen Foundation is an editor favorite for sensitive skin. What's unique about Tower 28's MakeWaves Mascara ($20) is its wand. It has three flexible, suspended bands that form a wave-like shape. It's supposed to lengthen and define while lifting and curling for a voluminous, fluttery lash.
What I Like About the Tower 28 MakeWaves Mascara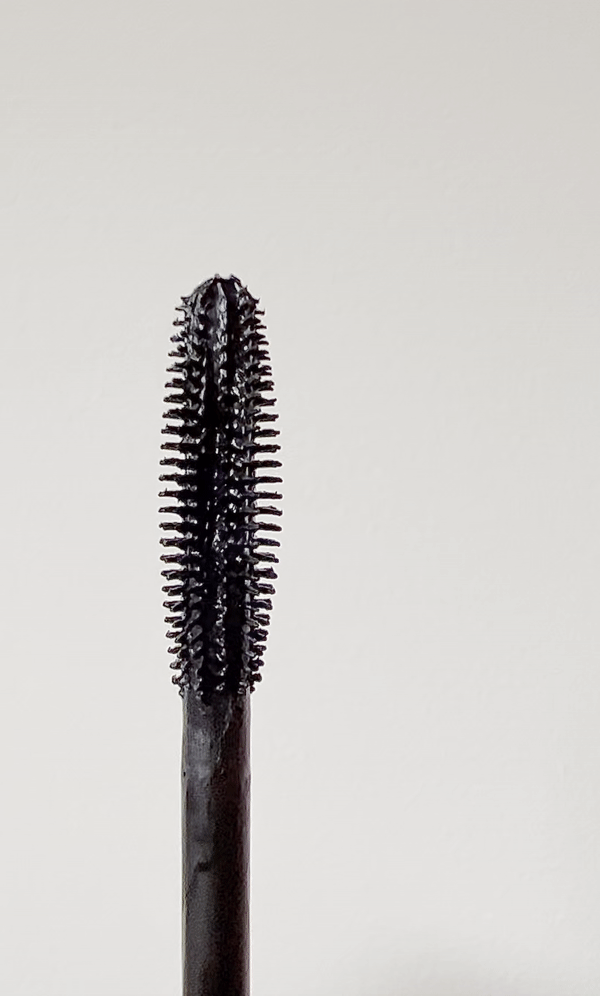 The Tower 28 MakeWaves Mascara has a functional wand that lets you easily reach every lash from the outer corner to the inner corner for a flared look. The wave design fit perfectly into my lash line, allowing me to lift from the roots and coat my lashes evenly. The outer part of the wave has longer bristles that helped me lengthen and separate each and every lash hair. This side also helped me comb out clumps and prevent spider lashes while giving them a fanned-out look. The inner part of the wave has shorter bristles, which helped me build up the volume of my lashes and give it a bold, jet-black appearance. The triple-wave wand made it so convenient and easy to create and shape the perfect lash in just two to three swipes.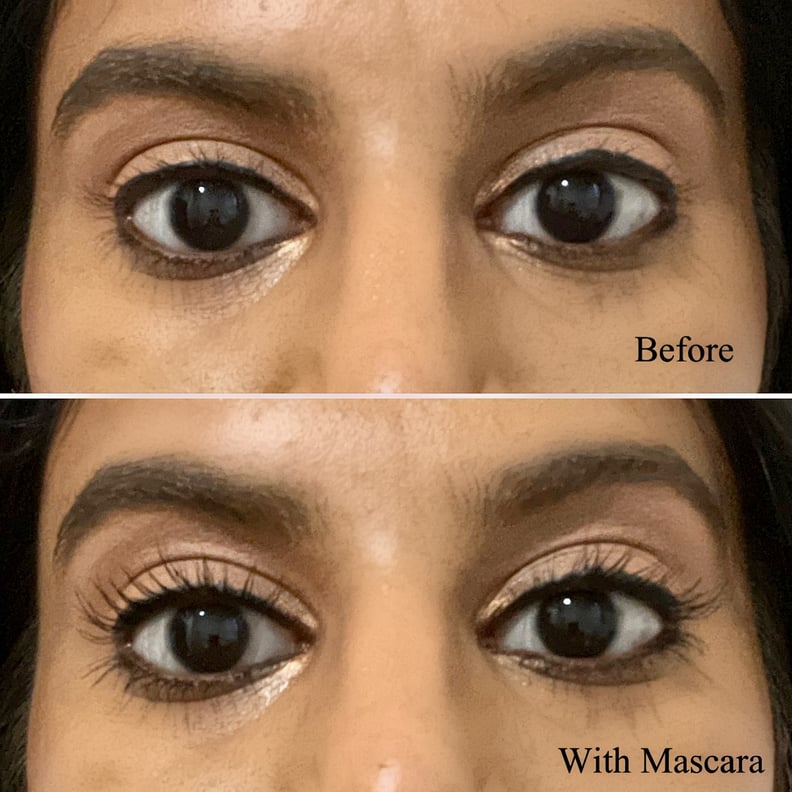 The wand isn't the only highlight of this mascara; the formula is just as impressive. It contains vitamin B5 and castor oil to keep your lashes conditioned and healthy. The formula easily glided along my lashes with a weightless feel. Plus, I noticed that my lashes didn't feel crunchy or dried out but rather soft. There was absolutely no flaking either. I was also impressed by the amount of lift and hold this mascara had on my lashes. It turns out the formula contains Aquaflex Technology, which is an ingredient that works to define and hold curls for long-lasting wear. The formula is not only gentle on my lashes but also great for my sensitive eyes. It wasn't irritating and didn't stain my contacts either.
What's Worth Noting About the Tower 28 MakeWaves Mascara
The mascara wand is pretty unique with a wave-like design, and each part provides a lash-enhancing function. The best way to use this mascara is to use the inner concave part of the wand to build up volume and the outer, convex part of the wand to lengthen and define your lashes. This mascara delivers drama in just a few swipes. If you're looking for a mascara that gives your lashes an enhanced but natural look, the MakeWaves Mascara is not so subtle. It's been one of my go-tos for a glamorous, fluttery lash look.
One thing to note is that the mascara is water resistant but not waterproof. It can handle a few drops of rain and humidity but not a dive into the pool.
Who the Tower 28 MakeWaves Mascara Is Best For
The MakeWaves Mascara is best for those who want a falsies-like lash. It can lift and slightly curl the lashes for a more awakened, bright-eyed appearance. It is dramatic and bold but doesn't clump or flake. The long-wearing formula delivers the perfect blend of lengthening and volumizing. This is one of the best vegan and clean mascaras I've ever used. As someone who wears contacts often, this mascara didn't stain or irritate my eyes, either. If you're in the market for a clean mascara that's safe for sensitive eyes, this is a pretty decent budget-friendly pick at $20.
Where Is the Tower 28 MakeWaves Mascara Available?
The Tower 28 MakeWaves Mascara is available on the brand's site, at Sephora ($20), and at Credo Beauty ($20).
Rating:
★★★★★