Fans of the cruelty-free movement were shocked this week when a blog from Cruelty Free Kitty reported that Wet n Wild is being sold in Shanghai, despite being a brand that prides itself on not testing on animals.
In March, Suzana Rose, founder of Cruelty Free Kitty, was notified by a consumer in Shanghai that they had seen a Wet n Wild display in Watsons, the largest health and beauty drugstore in China. At the time, Rose reached out to Wet n Wild and it responded that it did not have any retail partners in China.
Two months later on May 7, Rose received photos from a blog reader confirming the display from the Watsons store in Shanghai. Here's everything we know about the current situation.
Why Is China at the Center of the Cruelty-Free Debate?
When it comes to being cruelty-free, the issue brands are faced with is deciding to sell in China. China makes up a hefty percentage of the beauty market — it is the second largest country in cosmetics market share behind the United States — but in order to be imported and sold in the country, brands are required to undergo animal testing. Even if the brand itself doesn't test on animals, to be sold in China, it must adhere to these regulations. (For clarity, most brands don't test on animals themselves; they hire third parties to do so for them.) This is why many cruelty-free brands choose not to sell in the market, despite improvements in the laws over the years. The issue, as you can tell, is complicated.
Wet n Wild Beauty has touted its cruelty-free status as a differentiating factor in a cluttered beautyscape: while many other mass, affordable brands sell in China, Wet n Wild made cruelty-free, vegan products accessible, which is why the report from Cruelty Free Kitty has many scratching their heads. When asked to confirm if the brand was sold in China, we received the following statement from Stefano Curti, global president of Markwins Beauty Brands:
"Wet n wild does not test on animals. Wet n wild is a global brand for [beauty-lovers], inclusive of all ages, ethnicities, skin colors, ideologies, and economic statuses. Cruelty-free has and will remain a key pillar of our brand. In 2018, Watsons began offering our products to beauty enthusiasts in China via a pilot program with 30 stores. Wet n wild products sold in China are domestically manufactured in China, and as such do not require animal testing."
The statement, which was later posted to all of Wet n Wild's social channels, goes on to explain that China no longer requires animal testing for non-special-use cosmetics, which include hair care, skin care, nail products, and fragrances. That's true: On Dec. 13, 2013, the CFDA removed the compulsory animal test requirement.
Curti elaborated that Wet n Wild products were able to enter the market in China and maintain their cruelty-free status because of this, and that it will continue to work with the Chinese government to adhere to the brand's "strict guidelines for cruelty-free beauty globally."
What the brand neglects to mention is details of the pilot program and if this program keeps Wet n Wild from being subject to post-market animal testing. We reached out for comment on the program; Wet n Wild did not immediately respond. This is why many cruelty-free bloggers and advocates have put Wet n Wild on their "do not buy" and "not cruelty-free" lists.
Post-Market Testing Concerns
The issue in question with Wet n Wild's statement is post-market animal testing. The brand claims to avoid animal testing because the products are manufactured there, but brands are still subject to post-market animal testing should they be sold in-store.
Wet n Wild claims to avoid animal testing because the products are manufactured in China, but brands are still subject to post-market animals testing should they be sold in-store.
"Brands can bypass pre-market animal testing laws. This is true," said Suzana Rose of Cruelty Free Kitty. "This can happen if the brand is manufacturing their products in China, and if the products fall under the umbrella of 'ordinary cosmetics', which includes makeup. However, it's been confirmed by Humane Society International that post-market animal testing can still be used on products as part of a non-routine inspection. This means that, for example, products can be pulled from the shelves and tested on animals if there's a consumer complaint about a product. For this reason, brands that sell in China are putting themselves at risk of being tested on animals and shouldn't market themselves as 'cruelty-free.'"
Post-market testing isn't common but is still a consideration to take into account. In a statement made on Knudsen & Co.'s website, a regulatory compliance company in China, it states that "after conducting extensive research, Knudsen & Co. has demonstrated that no animal testing has occurred in the last few years as part of a post-market test, mainly due to the high costs and long testing times." It explains that there is a threat, theoretically, that if there is a safety concern regarding a product, it could be tested on animals.
The Only Way to Be Sold in China and Maintain Cruelty-Free Status
Because of the post-market testing risk, the standard is that beauty products cannot be sold in China and maintain cruelty-free status. To be sold in China and be cruelty-free, the only options are to be sold online or to be a part of the pilot program through Cruelty Free International.
Because of the post-market testing risk, the standard is that beauty products cannot be sold in China and maintain cruelty-free status.
The program was announced in June 2018 by Knudsen & Co. in collaboration with Shanghai Fengpu Industrial Park and Cruelty Free International and includes six brands: Azena, Brighter Beauty, Bulldog, Montagne Jeunesse, Neal's Yard Remedies, and Subtle Energies; these brands were hand-picked by Cruelty Free International and are Leaping Bunny certified. The Leaping Bunny Pilot Project avoids post-market testing by requiring all participating companies to perform an immediate product recall in the event of a safety hazard, to avoid triggering post-market animal testing.
Wet n Wild is not Leaping Bunny certified, which makes it ineligible for this program. For brands to achieve this certification, they must adhere to a number of standards implemented by the Leaping Bunny Program and every year must recommit to these standards. The program publishes a list of brands each year that recommit to the process and a list of companies that did not recommit.
We reached out to the brand as well as Watsons for information regarding the pilot program Curti said Wet n Wild is currently a part of and if it ensures no post-market animal testing, however, we did not receive a response at the time of publication.
So Now What?
At the time of publication, Wet n Wild still has the claim that it is 100 percent cruelty free on its website and social profiles and maintains that it is part of PETA's Beauty Without Bunnies program. (According to the Beauty Without Bunnies database, Markwins, the parent company to Wet n Wild, is listed as cruelty-free.) We reached out to PETA to confirm whether the brand was still a part of this program and received the following response:
"Thank you so much for contacting PETA regarding wet 'n wild's cruelty-free status with PETA's Beauty Without Bunnies program. We are currently investigating and will determine whether wet 'n wild still meets the requirements to be included on our cruelty-free list. We'll provide more information as soon as possible."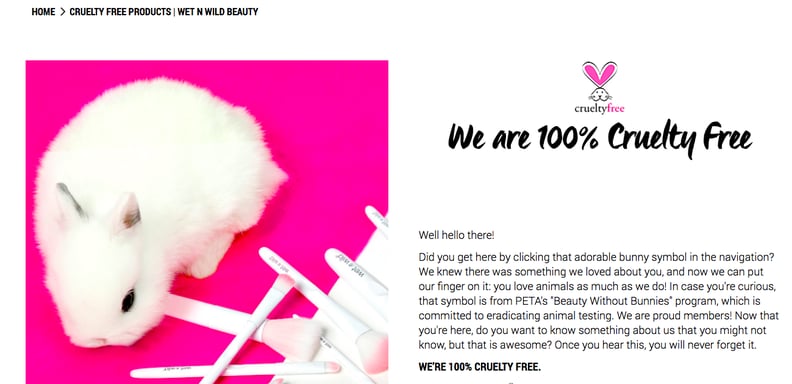 Wet n Wild's website as of May 24, 2019.
On Wet n Wild's Instagram, questions have been met with a corporate response: "We are committed to being cruelty-free, please check our story with a message from our global president."
Cruelty Free Kitty notes that Wet n Wild had been removed from the Leaping Bunny Program's list of cruelty-free brands, and this tidbit has spread like wildfire as an admission of guilt in the community. However, there's been confusion about whether it was ever Leaping Bunny certified. While parent companies often represent all of their brands, it should also be noted that Markwins was not on the list of brands that recommitted to the Leaping Bunny program in 2018 and also was not on the list of brands that did not recommit, so it appears it hasn't been on the list in a few years, as Cruelty Free Kitty has reported. (Editor's note: Leaping Bunny's latest list is 2018.) That said, we have not been able to confirm outside of the Cruelty Free Kitty report when Markwins was a part of the program, if it all. We reached out to the Leaping Bunny Program to get clarification on this but have not received an immediate response.
We will update this post as we receive more information.