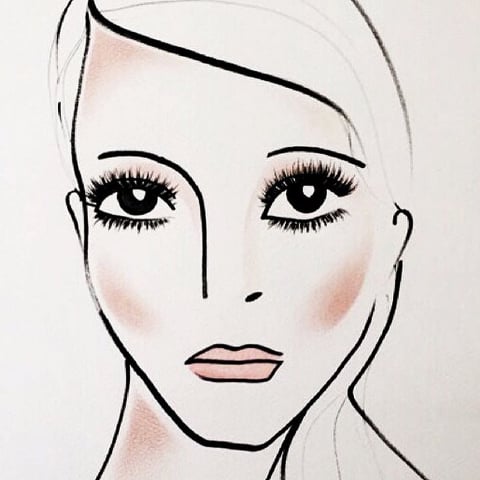 Though the everyday consumer may have only learned about it in the past few years, contouring is a classic technique that has been around for centuries. But the makeup artist who popularized it among the celebrity set was Way Bandy. Haven't heard of him? It's time you brushed up on your beauty history.
Very few makeup artists in the '60s and '70s hand-mixed their own cosmetics, and even fewer placed a priority on the health of their clients' skin. But Bandy did both. He was known for his natural-looking technique and was hired by stars like Cher, Farrah Fawcett, and Diana Ross. He even published a now-revered (but out of print) book: Designing Your Face: An Illustrated Guide to Using Cosmetics. Instead of listing brands or specific products, he advised his readers to look for specific shades and textures so they could become a mixing master like himself. The highly descriptive text taught aspiring artists how to sculpt based on their unique features, not face shape, which was a revolutionary concept at the time.
Sadly, Bandy died of AIDS-related complications in 1986, but the beauty lessons he left behind are timeless. And now, his friend Marc Jacobs is making sure that the iconic artist is getting the credit he deserves for publicizing contouring.
This Summer, Marc Jacobs Beauty will be releasing Air Blush Soft Glow Duo ($42), a compact consisting of two complementary cheek hues that can be used separately or together to create a luminous flush. Along with the product, the brand is celebrating the "draping" technique, a spinoff of contouring.
"[Way Bandy] embraced the concept of 'color glow' as a way of bringing out the natural 'drape' of the face," the brand said in a statement. In lieu of using a contouring and highlighting duo, Marc Jacobs Beauty wants you to use this blush for contouring, aka draping, effectively reviving the '70s bold cheek trend.
The key to making draping look chic, not dated, is blending. Use the darker shade in the Air Blush compact to chisel, then buff it out with the lighter color. The finished result should make you appear as if you just spent all night dancing at Studio 54. Read on to learn more.