If you have stick-straight eyelashes, hate applying mascara daily, or just want to elevate your natural lashes, you've probably considered getting a lash lift. Lash lifts are like a hair perm but for your eyes. It gives you beautiful, curled, lifted eyelashes for weeks without the need for a single lick of makeup.
Some people like to get lash lifts consistently to keep up that I-woke-up-like-this look, while others like to reserve the treatment for special occasions, like a tropical vacation or a wedding. No matter your reason for getting an eyelash lift, you probably have some questions if it's your first time.
Below, we're breaking down everything you should know about a lash lift, including how to prep for the treatment, what it costs, how long it lasts, and more.
What Is a Lash Lift?
Like the name would suggest, an eyelash lift or perm is a chemical treatment that adds a semipermanent curl to your lashes for weeks at a time. Think of it as a mini version of the hair perm your mom sported in her glory days, sans regretful throwback photos.
How to Prep For a Lash Lift
The only thing you need to know is to arrive at your appointment with naked lashes. We all have places to be, so it's OK if you're coming from work with mascara-coated lashes (it will be removed pretreatment), but having bare lashes makes the entire process smoother and faster. As soon as you lie down on one of the comfortable massage tables, the *transformation* can begin.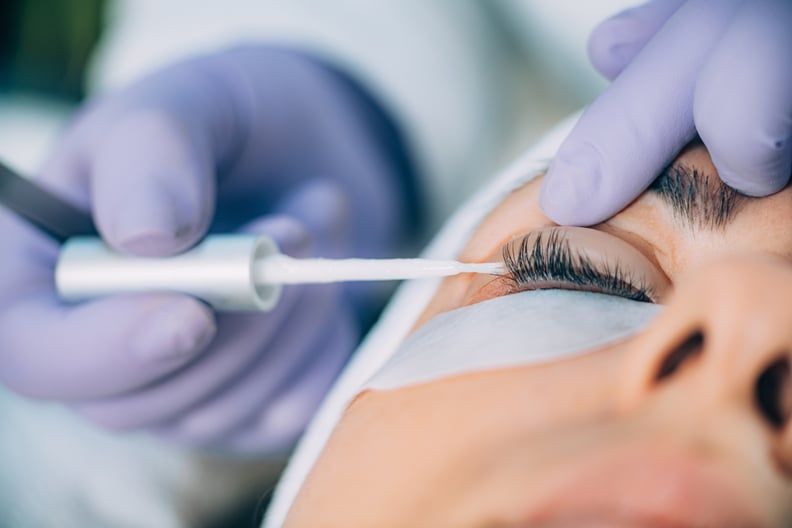 How Long Does a Lash Lift Last?
Lash lifts are said to last at least five to six weeks, but they can occasionally be pushed to around seven weeks. By this point, the results will have faded significantly, but your lashes may still have a slight curl to them.
How Much Is a Lash Lift?
Like with any beauty service, the price varies depending on where you are and the location you go to. While extensions can easily run you over $200 and require touch-ups every three to four weeks, both perms and lifts are usually under $100, and the amount of maintenance is completely up to you.
How to Take Care of a Lash Lift
Water can deactivate the perm cream if it makes contact with your lashes too soon, so avoid getting them wet for at least three hours. It's also recommended that you wait until the next day to apply eye makeup, like mascara. The upkeep after treatment is much easier than it is for lash extensions.
Do Lash Lifts Hurt?
Not at all. In fact, the treatment is so relaxing that it's not uncommon for people to fall asleep. However, it's not recommended for those with ultrasensitive eyes. Also, if you get easily claustrophobic or are uncomfortable with having your eyes closed for a long period of time, you may not enjoy this treatment.
Do Lash Lifts Ruin Your Natural Lashes?
It's normal for your lashes to fall out as they go through their natural life cycle, which consists of three phases and can last up to four or five months. This is why they may look full and luscious for a while and a little bit lackluster a few months later. Though you may experience some fall out in the days immediately following your appointment, taking off your eye makeup properly and being gentle with your eyelashes can help prevent this.
Are Lash Lifts Safe?
As long as you've chosen a reputable technician, you shouldn't have to worry about the formulas getting in your eyes. If you have particularly sensitive eyes or are extremely concerned, you should contact your technician ahead of time and consider testing the solution on a small area of skin a few days in advance.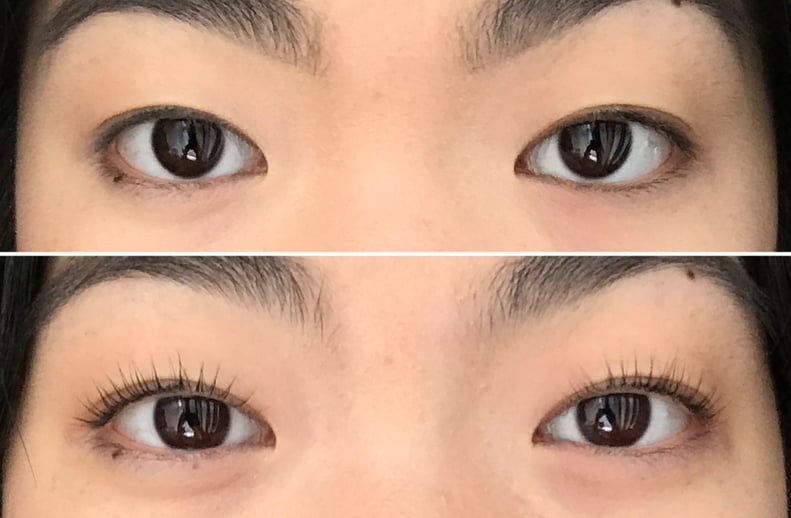 Lash Lift Before and After
Top: Bare lashes hours before the treatment.
Bottom: Bare lashes hours after the treatment.