If you're still experiencing chills following the powerful words of First Lady Michelle Obama at the Democratic National Convention on July 25, you're not alone. The FLOTUS delivered a riveting speech that touched millions in more ways than one. She reflected on her time in the White House with the POTUS and recounted the sweet moment when a 5-year-old black child named Jacob touched the president's head of hair.
The New York Times shared that Jacob was interested to learn if Barack's hair felt similar to his. The POTUS encouraged Jacob to touch it to see for himself. As he timidly patted the coif of President Obama, Jacob replied, "Yes, it does feel the same".
Michelle revisited the interaction during her speech at the DNC to remind the nation of the impact today's leaders have on the youth:
"With every word we utter, with every action we take, we know our kids are watching us. We as parents are the most important role model. Let me tell you, Barack and I take that same approach to our jobs as president and first lady because we know that our words and actions matter, not just to our girls but the children across this country. Kids who say, 'I saw you on TV,' 'I wrote the report on you for school.' Kids like the little black boy who looked up at my husband, his eyes wide with hope, and he wondered, Is my hair like yours?"
But Michelle's words touch on more than just the young boy's interaction with Barack. The occasion itself shows that the powerful duo has given young black children the hope that no dream is too big — not even becoming the first black man or woman to occupy the White House. Seeing Jacob admire someone who looks just like him in such a position of power reinforces the truth that no matter the tint in your skin or the texture of your hair, all things are possible.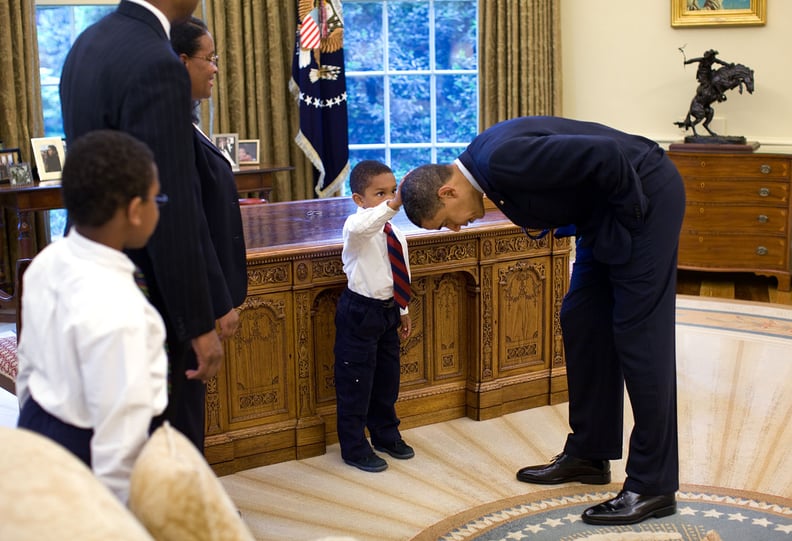 If you missed Michelle's incredible speech, check out the entire video here.