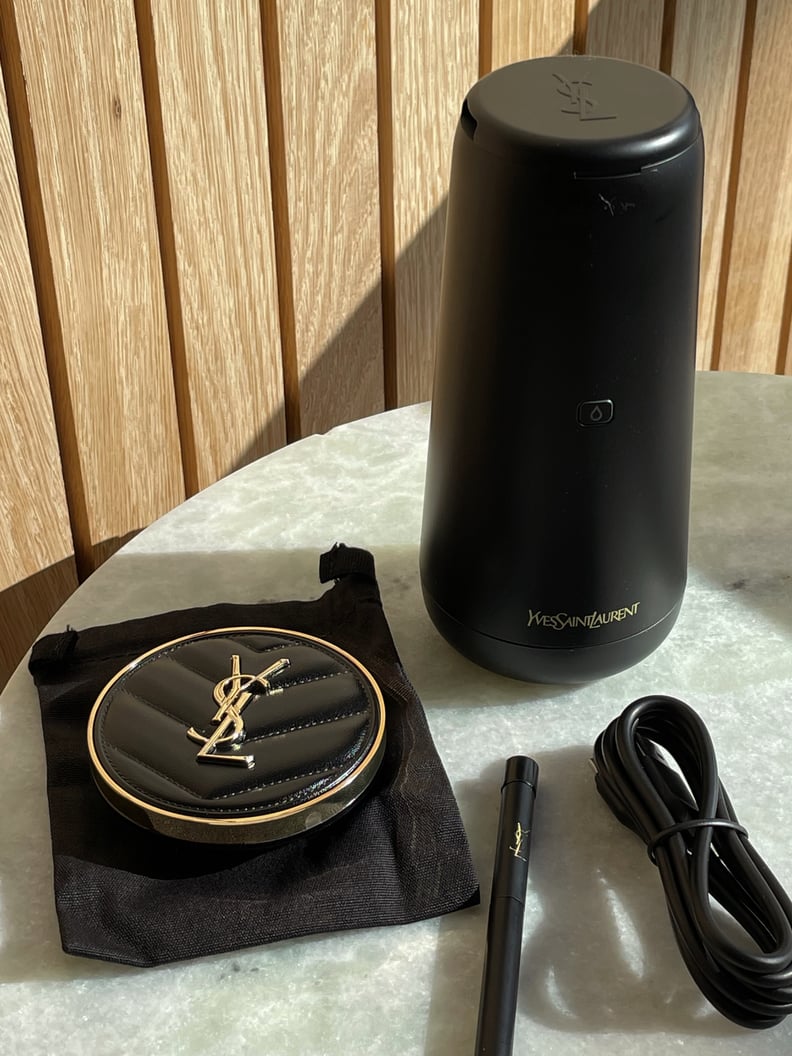 POPSUGAR Photography | Renee Rodriguez
POPSUGAR Photography | Renee Rodriguez
As POPSUGAR editors, we independently select and write about stuff we love and think you'll like too. If you buy a product we have recommended, we may receive affiliate commission, which in turn supports our work.
YSL Rouge Sur Mesure is a beauty device that utilizes artificial intelligence to create customized lipstick shades.
It has been going viral on TikTok for its ability to create up to 4,000 different shades of YSL's Velvet Cream Matte Finish lipstick.
One editor tested the beauty device and was impressed with the results.
You've probably seen an amazing celebrity makeup look and wondered exactly what products they used to achieve it. Tons of people have speculated for years about Taylor Swift's exact shade of red lipstick, and I know I've personally wished I could re-create specific lipstick shades I've seen on some of my favorite models. If you've ever wished you could create your own lipstick shade or had the power to re-create any color (even one worn by a celebrity), allow me to introduce YSL's latest beauty innovation, the Rouge Sur Mesure Custom Lip Color Creator ($299).
The new tool from YSL Beauty marries beauty and technology by using artificial intelligence to customize practically any lipstick shade you can imagine. Although it sounds daunting, the way it works is simple: you insert a set of color cartridges into the device, choose the color you want to create via the device's phone app, and from there the machine will mix up the perfect shade in minutes.
The device itself is beautiful and looks like either a futuristic YSL handbag or a very classy message in a bottle (from aliens, probably). While it's not cheap — it will set you back $299, not including the cartridges, which cost $89 each — can you really put a price on completely customized beauty? The cartridges themselves are split into four color families (red, orange, pink, and neutral) with three shades in each family, so if you purchase all four cartridge sets, you'll end up with 4,000 different shades at your fingertips. The device even has a removable compact with a mirror, so after creating your perfect shade, you can opt to take your lipstick with you when you're on the go.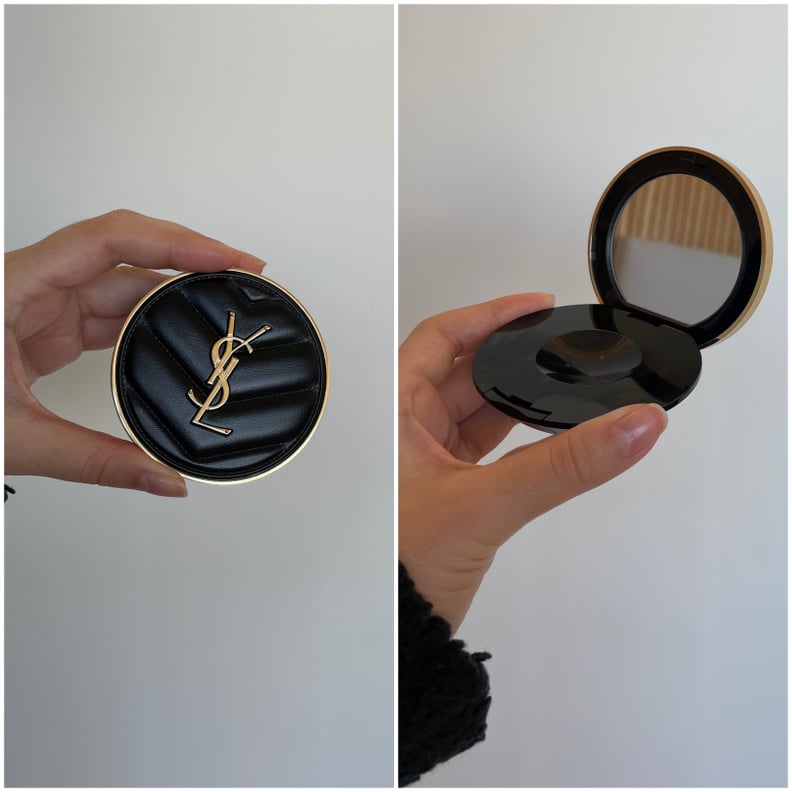 The technology doesn't stop there: YSL's custom lip creator is a nonporous PET device that is easy to clean, and it comes equipped with rubber seals designed to be ultrahygienic. The cartridges have a built-in chip that tracks the fill level as well as the date it was opened, which means you won't run the risk of using it past the expiration date or running out of the product without warning.
The first thing I did after opening the package containing my device (after screaming in excitement) was download the Rouge Sur Mesure App on my phone. The app guided me through easy-to-comprehend steps via which I learned how to charge my lipstick printer as well as how to connect it to my phone's Bluetooth. Scrolling through the app, I quickly learned that YSL's Rouge Sur Mesure App has three different features designed to make finding the perfect lip color a piece of cake.
The first option, "Shade Palette," allows you to select a shade through a virtual try-on and a color wheel within the app. The second option, "Shade Match," allows you to upload an image of any color to the app, and the color recognition technology will create the exact pigment. (This option is perfect if you're looking to match a celebrity's lip color or if you want a lipstick that matches a specific item of clothing or accessory.) The third option, "Shade Stylist," allows users to take photos of themselves in the outfit of their choice and then select two color points (like the color of their top and the color of their shoes). The algorithm will then generate shade recommendations based on what it believes will work best with the outfit.
Plus, before creating a color, you can always try everything on virtually. You also have the option to choose how much product the device makes based on your lip size, as well as whether you're looking to just test a shade or make enough of a color to wear several times.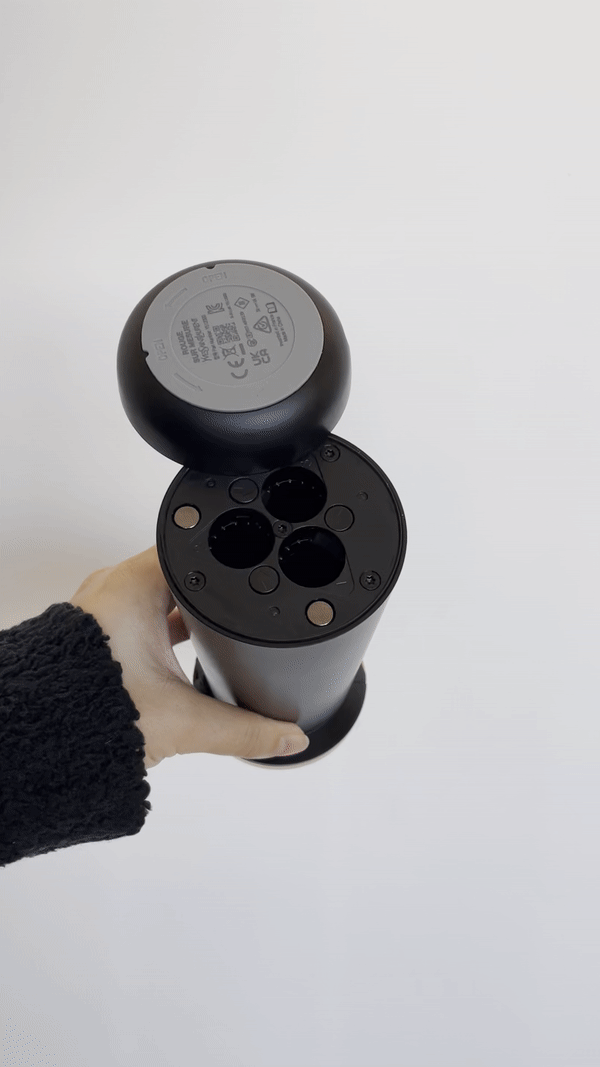 I've had a specific photo of Lily Aldridge pinned to my Pinterest makeup board for at least three years, so I knew I wanted to make quick use of the shade match feature and re-create the color she was wearing on her lips. Since the color I was looking to mimic was a neutral pink, I opted to insert the nude color set. From there, I set to work making my first-ever custom lipstick shade. And by "set to work," what I mean is I uploaded the photo of Aldridge and sat on my butt while my new favorite beauty tool created my new favorite lipstick shade.
The machine made a low humming sound and then quickly dispensed the pigment into the detachable YSL compact. From there, I mixed the colors using the included YSL lip brush and applied.
The process honestly couldn't have been easier, and I was incredibly impressed with the results. I had Lily Aldrige's exact lipstick shade, and it took me less than a minute to get it. The color wore well throughout the day, and if I needed to reapply, all I had to do was whip out my handy YSL compact where I had leftover color readily stored and easily accessible.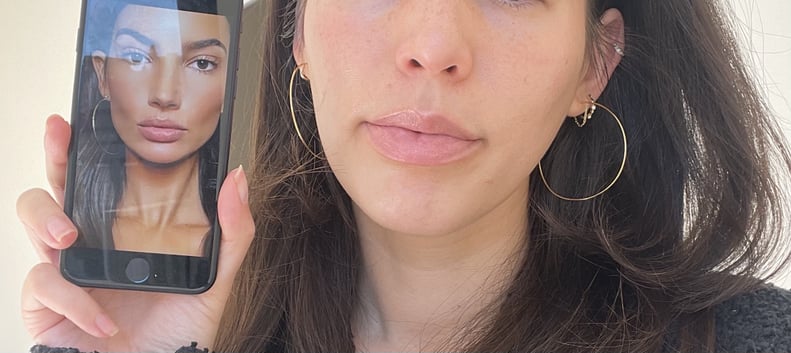 Over the last few weeks, I've had a blast testing the other features, with Shade Palette being the easiest to master and Shade Stylist the most innovative to use. This device is absolutely one of the coolest beauty tools I've ever tried, and I've found myself unable to stop myself from texting my friends videos every time I create a new lipstick shade. Although the price is definitely steep, I think it's perfect for beauty-lovers who already spend frequently on lip products, because once you own it, there's really no need to purchase a new lipstick ever again.
Rating:
★★★★★