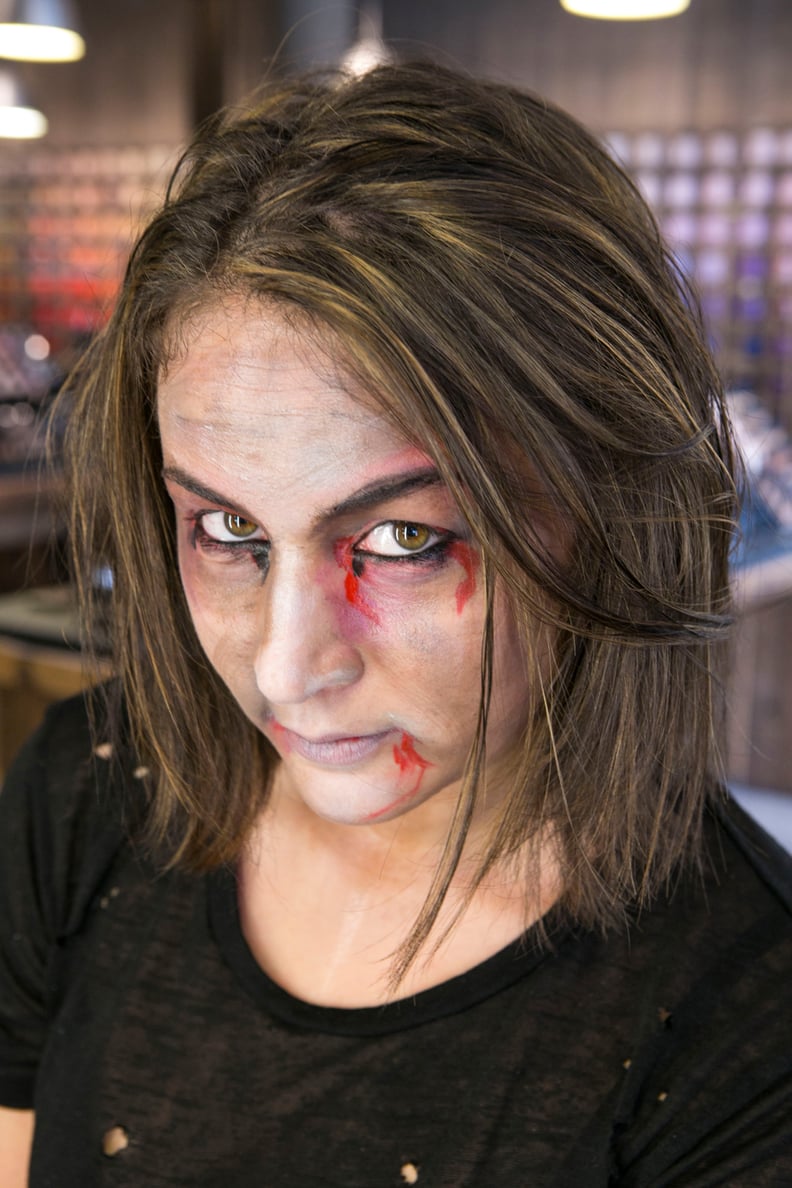 As POPSUGAR editors, we independently select and write about stuff we love and think you'll like too. If you buy a product we have recommended, we may receive affiliate commission, which in turn supports our work.
Along with witches and black cats, another obvious Halloween costume is a decaying zombie, and with the popularity of The Walking Dead, you'll be even more relevant. Considering all you need are some old clothes and dirty hair, the look is all about the makeup. MAC senior artist Luc Bouchard showed us his take on creating an undead masterpiece. Just keep clicking to see how to make your skin deteriorate right before your eyes.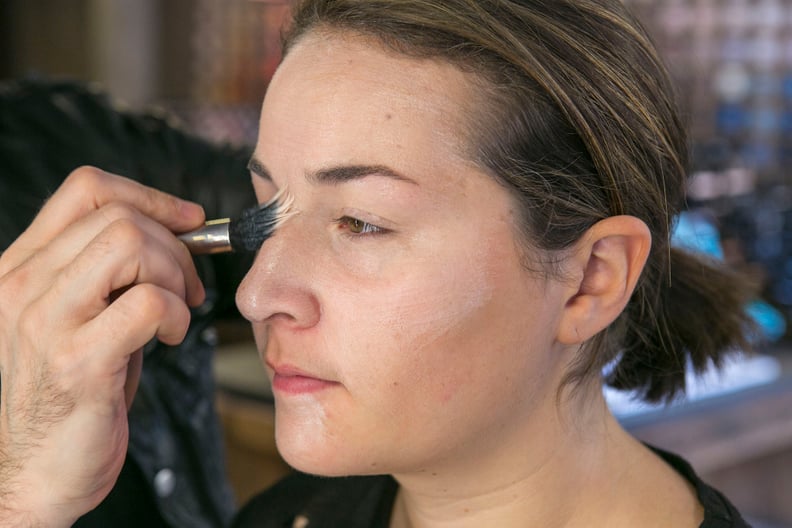 Give Yourself a Ghostly Base
After you've washed your face and prepped your skin with a makeup primer, the next step is to give your healthy complexion a ghostly pallor. To achieve this, Bouchard recommends Face and Body Foundation in White ($35) for the best effect.
Emphasis Eyes
After you've gone pale, hollow out your eyes with a taupe and brown shadows all around your eye sockets. Don't forget to go around your nose, along your cheekbones, and around the contours of your mouth.
Next, he created the beginnings of a bloody stare by lining the eyes with a red Lip Pencil ($20). He also drew on bloody cuts, and went back and blended everything with a brush.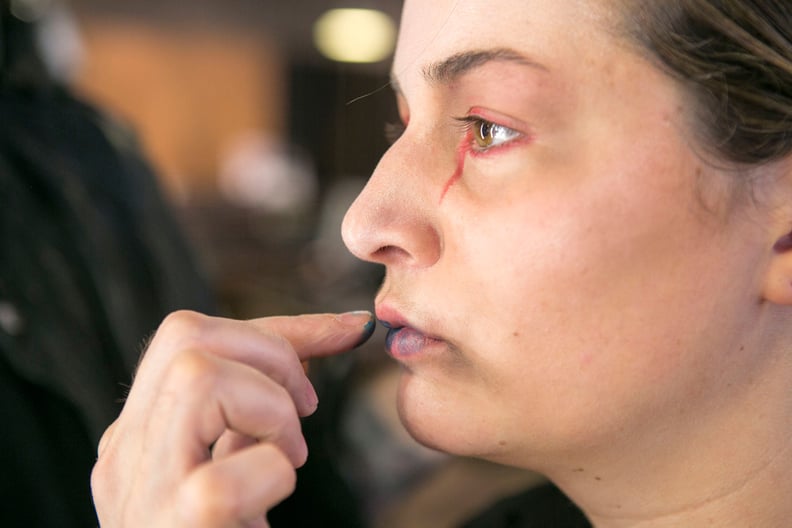 Add Shadows
The key to a convincing zombie is just to keep layering colors and shades. So, Bouchard went back and added more shadows to the skin with various shades of brown.
Then, he added a touch of Lipmix in Blue ($15) on the lips and on face to create bruises.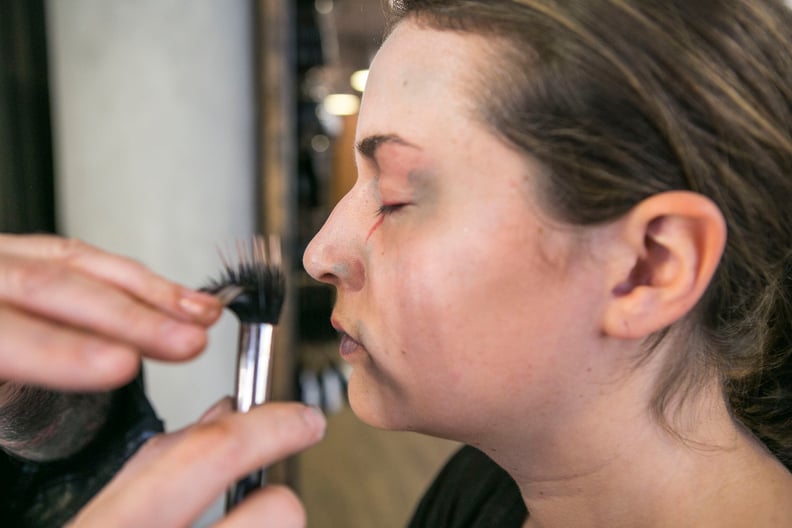 Dirty Up
To add to the "unhealthy" tone, Bouchard used a brush to splatter sheer brown color on the face to mimic dirt.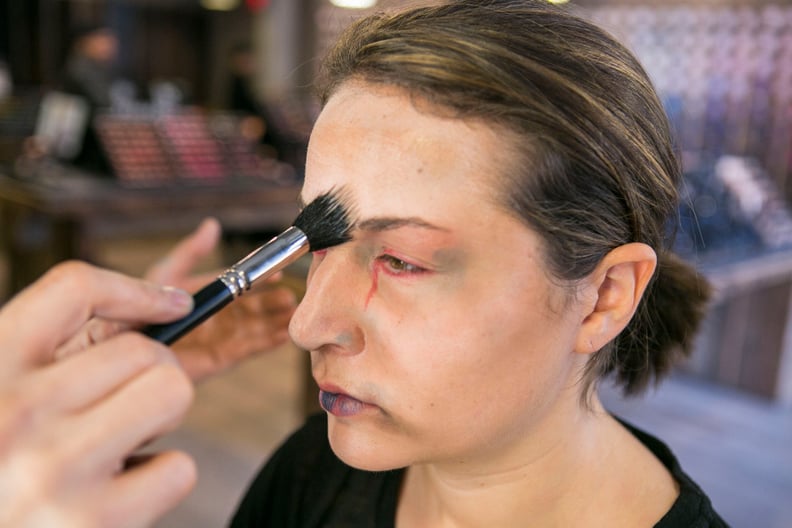 Add Texture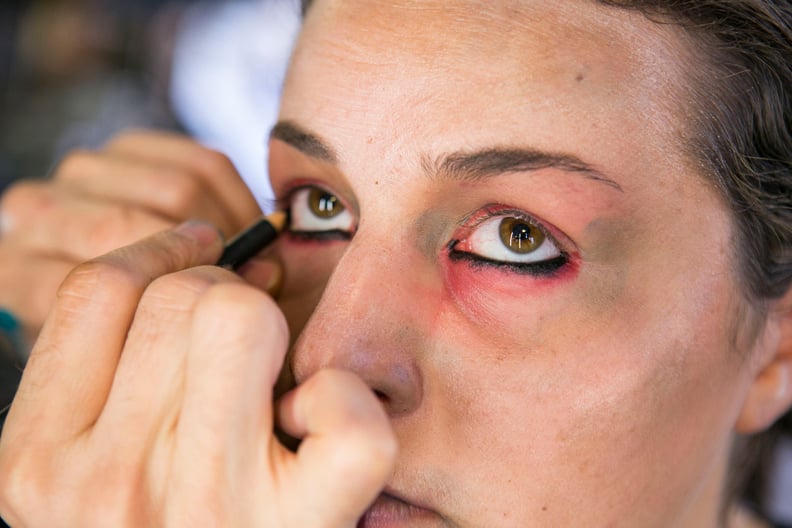 Line Eyes
For a more eerie stare, Bouchard used the Chromagraphic Pencil in Black Black ($16) along the lower lash line and into the waterline, and smudged it to add to the decaying look of the skin around the eyes.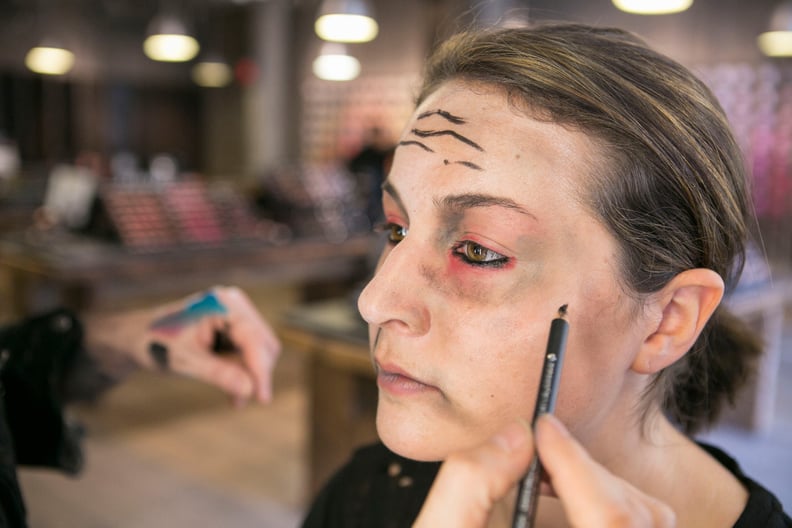 Magnify Wrinkles
To create the appearance of "dirty wrinkles," Bouchard used the black pencil to haphazardly trace any lines where wrinkles naturally form when you raise your eyebrows or even smile.
Blend
He blended the look with a brush and added more depth with black powder.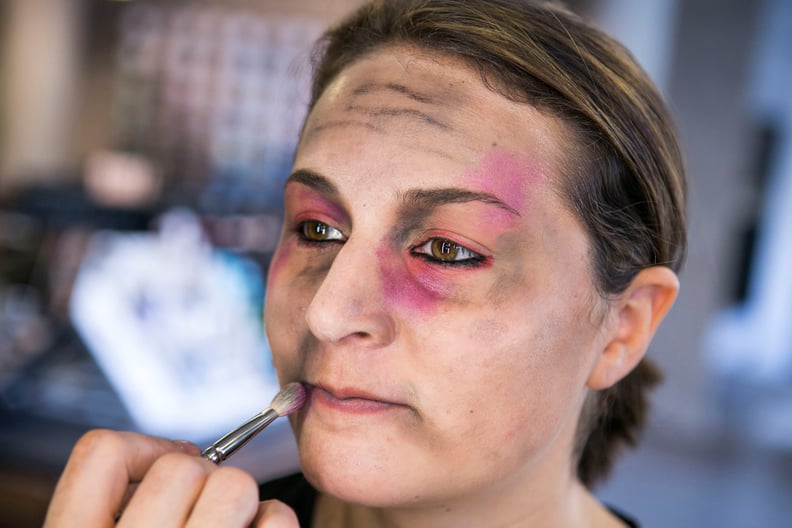 Create Bruises
He then created more bruises with pink hues around the eyes.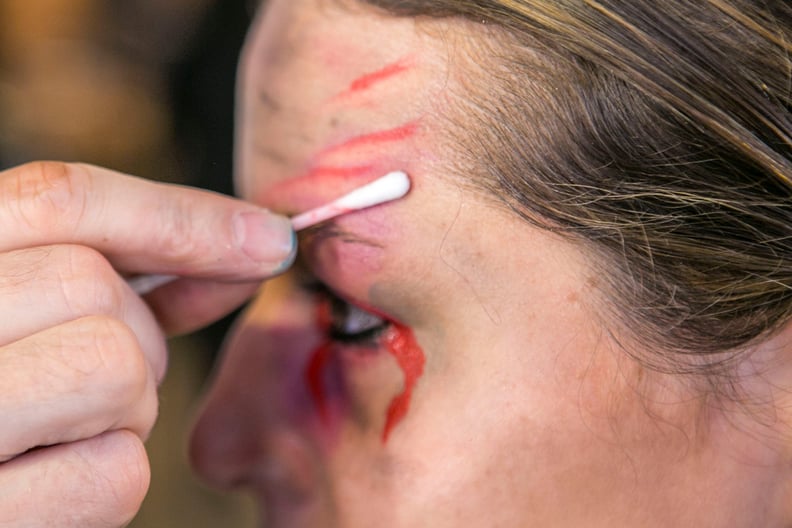 Mute the Makeup
Get fancy with your application, and go back with a cotton swab to create scratch marks.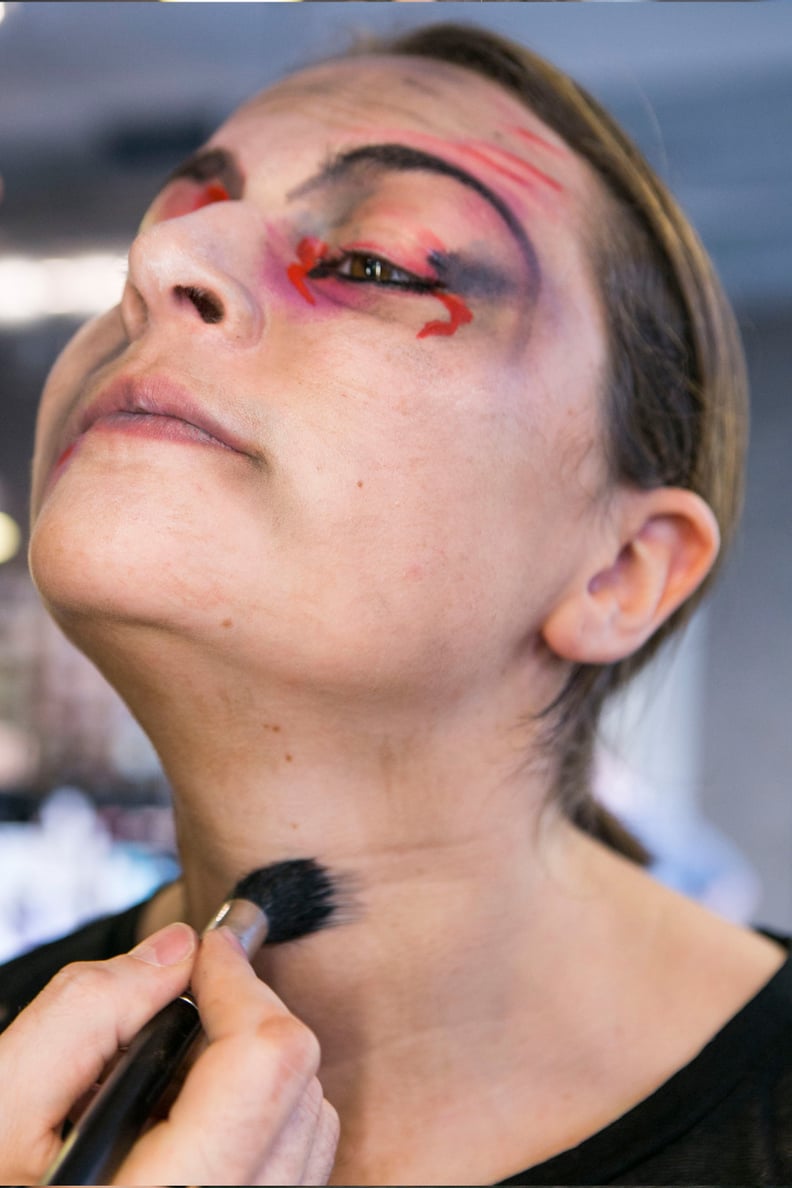 Decorate the Décolletage
Don't forget to add brown streaks to your chin and neck, since a lot of dead skin and dirt buildup is inevitable as a zombie.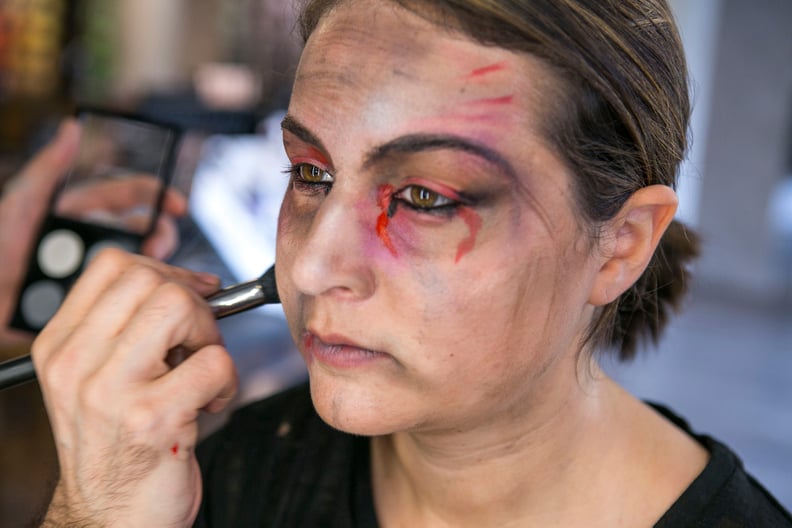 Add Shine
Next, Bouchard created a little dimension and sparkle (it is Halloween, after all!) with silver shadow dusted on random spots of the face.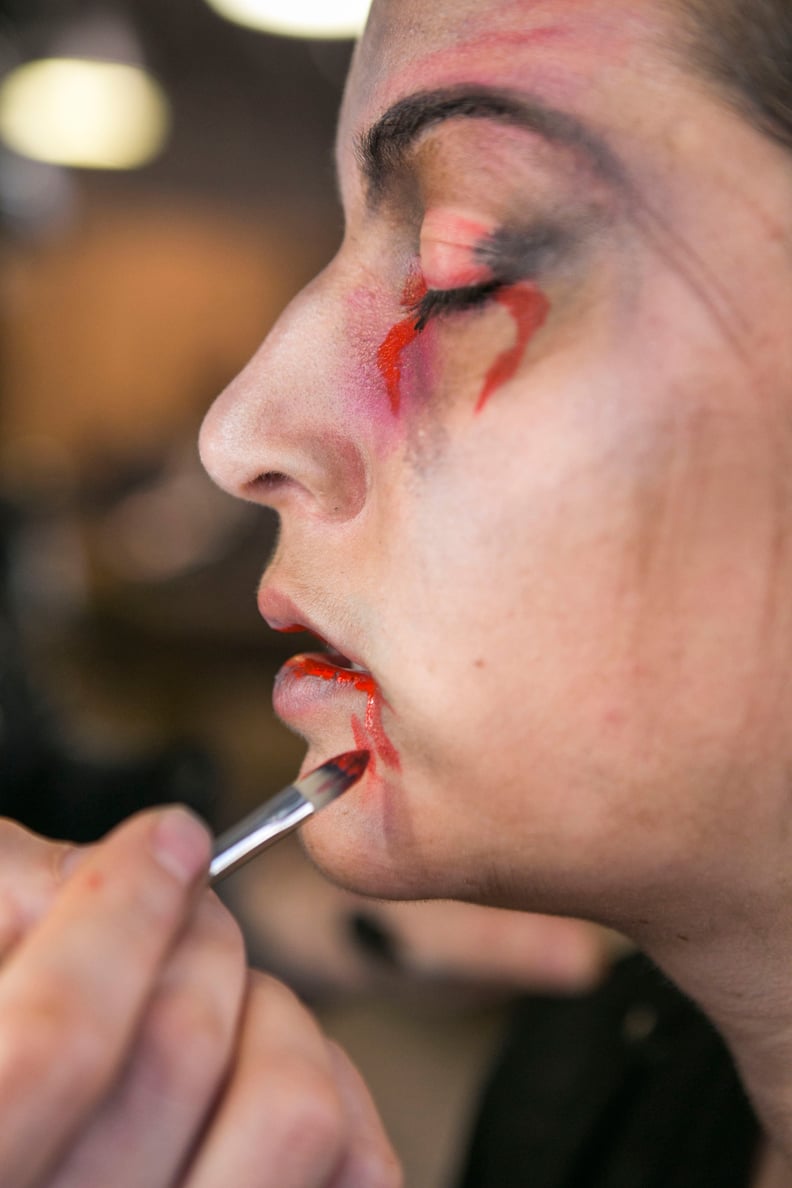 Add Blood to the Mouth
To make it look like you just had a meal, paint a little red acrylic on the inside of your lips, and add drips coming from the outer corners of your mouth.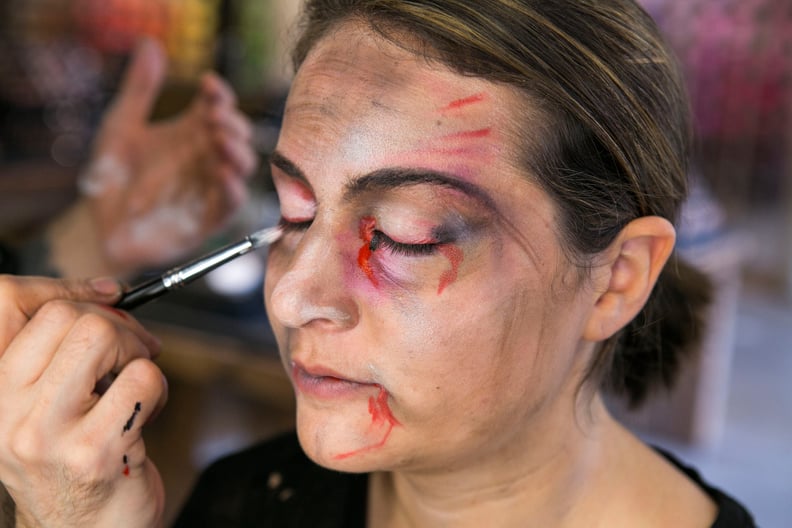 Add White Accents
Now that your face is covered in dirt, blood, and bruises, you'll want to bring back that ghostly pallor by adding accents of white acrylic.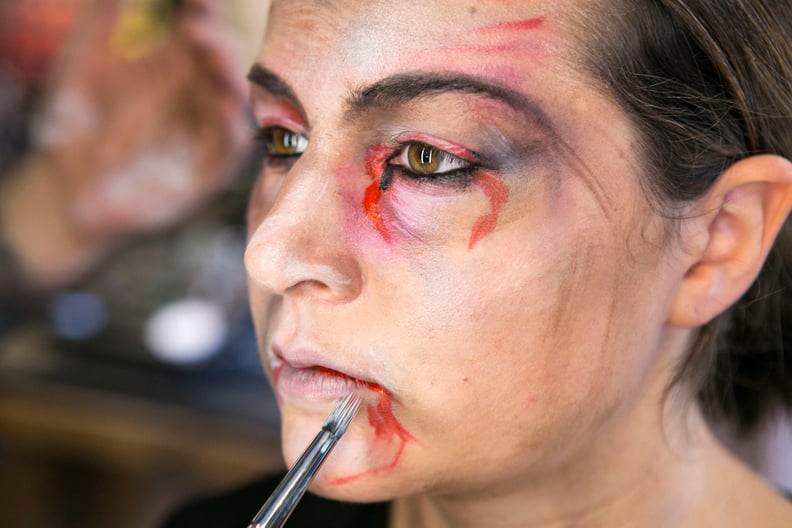 White Out the Lips
Don't for get to add white to your lips, so they lose any healthy color.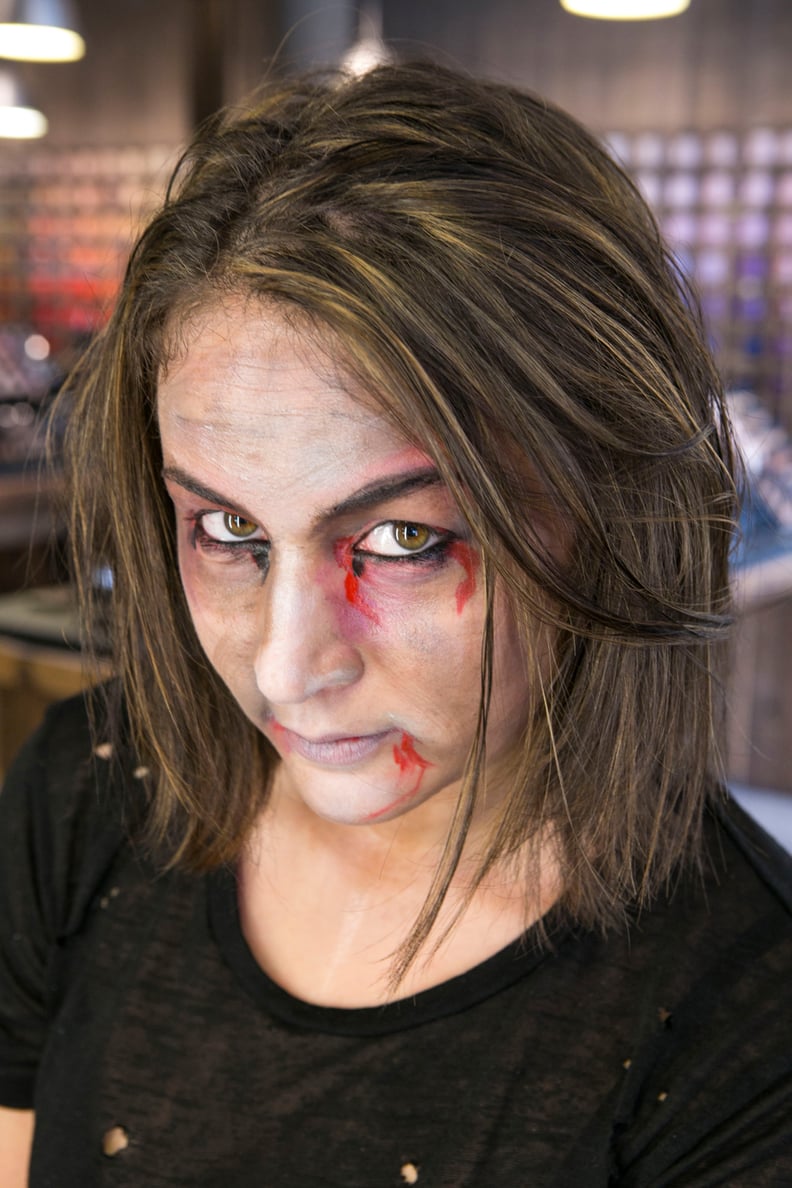 The Finished Look
Give your best menacing stare for a frightening look!