Auli'i Cravalho Moana Interview March 2017
Why Auli'i Cravalho Is Actually Thankful For That Head Bonk at the Oscars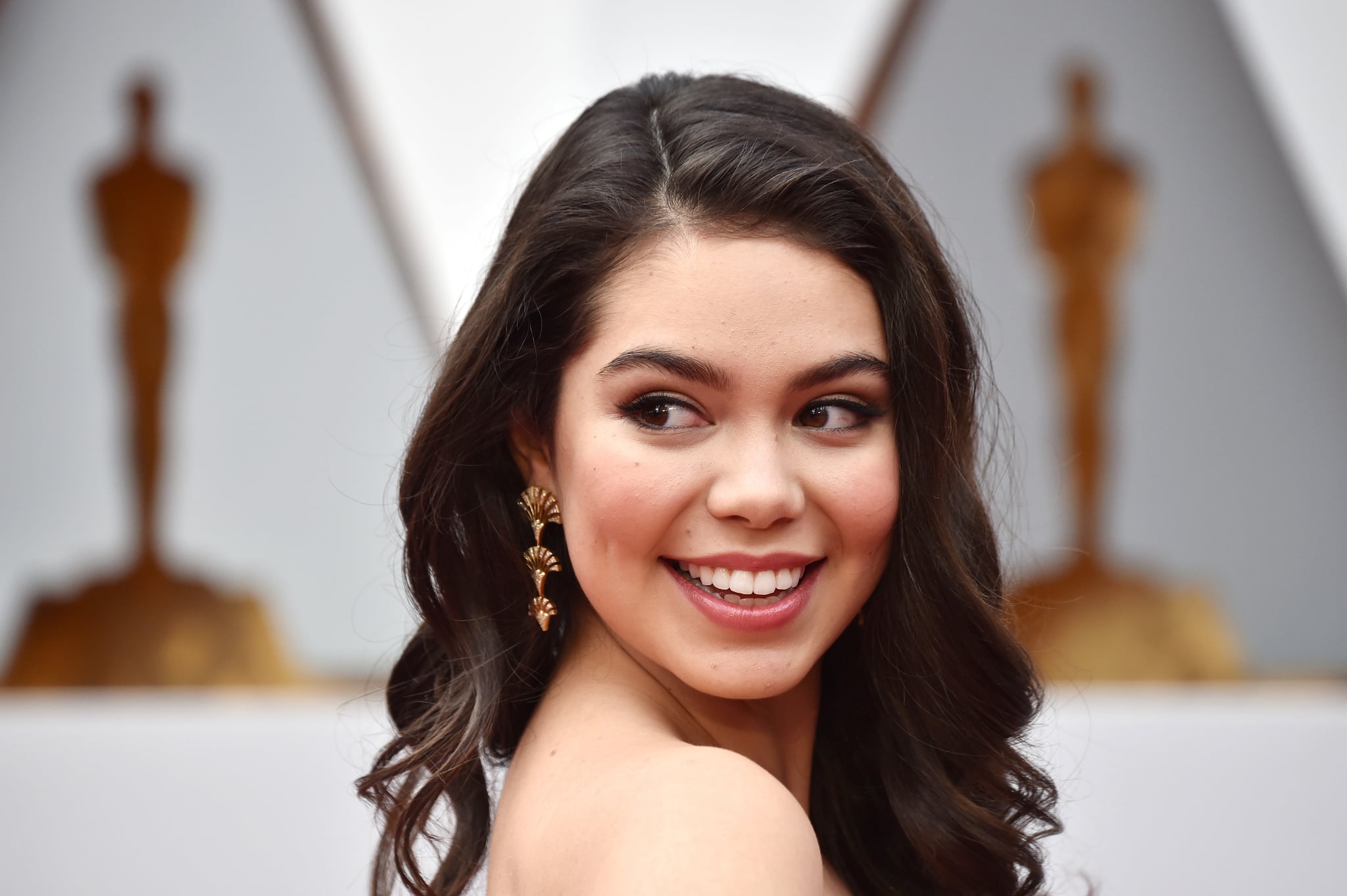 Image Source: Getty / Frazer Harrison
Auli'i Cravalho may only be 16 years old, but her dreams are already coming true. The young actress was cast in Disney's Moana when she was just 14, and in the time since, she's traveled the world, performed at the Oscars, and even snagged a role in an upcoming TV pilot. It's clear the young star is a pro, even when she gets hit in the head midperformance. Just in time for Moana's DVD and Blu-ray release, we sat down with Auli'i to talk about everything from that Oscars head bonk to the crazy ways her life has changed in just two years.
POPSUGAR: So I wanted to talk about the Oscars. I mean, I know you already addressed your head-hitting incident, but what was it like for you as a whole?
Auli'i Cravalho: It was such an amazing experience. I never in my wildest dreams imagined that I would be performing at the Oscars when I was 16 years old, but it happened! Backstage it was honestly . . . there were so many busy worker bees back there, so I wasn't allowed backstage very much. But in my dressing room we were turning up to Bach, because I was so nervous that I needed some calming music.
Oh, and speaking of that little head tap the night of the Oscars, funny story: that actually happened in the dress rehearsal the day before.
PS: Oh, no way.
AC: Yeah way. So we all got together after, and I was like, "OK, I don't wanna be that person that ruins the vibe, but I did get tapped on the head a little bit." And they were like, "What? No way!" And then we all kind of laughed about it, and I was like, "All right, just make sure it doesn't happen tomorrow." And then it happened the next day.
PS: What was going through your head when it happened during the show?!
AC: I was like, "Dude, not again. Double whammy, like two nights in a row." But I mean I'm kinda grateful that it happened. It was kind of like a [clicks tongue] "you're at the Oscars" moment.
PS: Kind of like a pinch-me moment.
AC: Kind of, yeah! For the dress rehearsal the day before, everything was super heightened, and the shoes felt too tight. But the night of, it felt like a dream, so it was kind of a good little tap on the head to remind myself that it's real.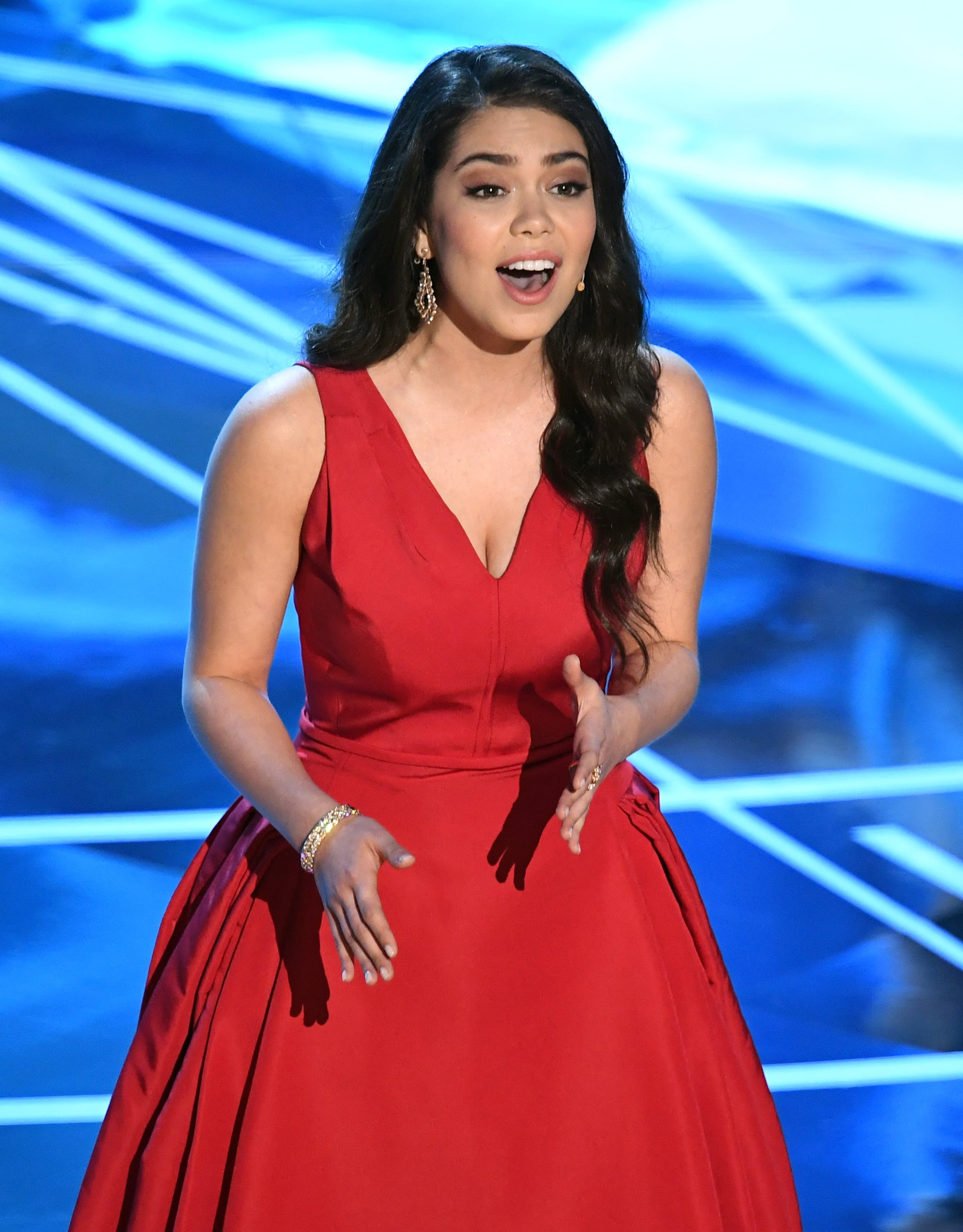 Image Source: Getty / Kevin Winter
PS: How has your life changed since Moana?
AC: I've been able to travel the world! I've been to Singapore and London and New York. I have had the most amazing journey, I've been able to meet wonderful people across the globe, and I've learned so much. I was cast in Moana when I was 14, and I'm 16 now. I've been able to learn that it's really important to go on that journey and figure out who you are. I've been able to go on an incredible journey with Moana, with the film, like Moana does in our film. So, I mean, figuring out who you are takes time, but it's definitely well worth it.
PS: What's a secret about Moana that nobody knows?
AC: Well, I see myself as Moana, but I see myself more as her best friend. Because I'm able to root for her all the more. And I'm also able to kind of like look at her and realize just how amazing she is. And then, like I said, just cheer her on for the rest of eternity. Like, I can do that when I am the character, but I more so can do that when I'm her best friend.
PS: I love that. And you have a new show! Congratulations! What can you tell me about it?
AC: I'm absolutely thrilled. My character and the rest of the characters are high school students. It's called Drama High, and it's about these different people coming from very different walks of life and being brought together by theater. And it's beautiful, because that's what theater really does.