Benedict Cumberbatch at Comic-Con 2014
Could You See Benedict Cumberbatch as Batman?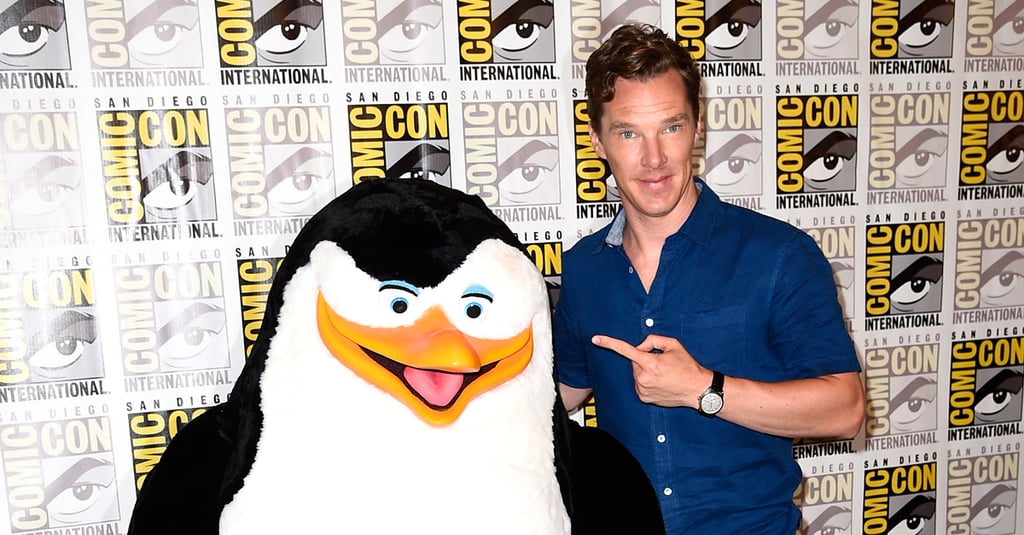 Comic-Con kicked off on Thursday with a celebrity who is well known in the world of fanboys and girls — Benedict Cumberbatch. The actor was in San Diego to promote his new animated movie, Penguins of Madagascar, in which he voices a wolf with a gift for espionage. Of course, the crowd went wild for Benedict (even though he wasn't allowed to field any questions about Sherlock), and we learned a few new things about him in the process. Check out the list of new fun facts below.
He'd never been to Comic-Con before.
Despite being a geek icon thanks to his role on Sherlock, Benedict is making his Comic-Con debut this year. When asked if he'll be back for Sherlock next year, he teased "possibly." We'll take it.
He went really method for Penguins of Madagascar.
When asked how he prepped for the role, Benedict joked, "You have to go undercover for a long time. I worked in Yellowstone as a wolf for a while. It got a bit hairy, no pun intended, when I became the alpha. And I realized quickly the other wolves were Christian Bale and Daniel Day-Lewis."
He's not content to stick with animated characters.
When asked to compare lending his voice to characters versus "full-body acting," Benedict replied, "I like to use my body." (Cue swooning from hundreds of fangirls.)
He and The Hobbit go way back.
Benedict, who plays Smaug in The Hobbit: Desolation of Smaug, revealed that he's loved The Hobbit since he was little, citing it as the first book his dad ever read to him. His other old-school pop culture loves include The A-Team and Knight Rider.
He wants to play the Dark Knight.
When asked which superhero he'd love to play, Benedict first made a joke about the rumors that he'll play Doctor Strange, saying he'd like to play "Nurse Normal" (womp, womp). Ultimately, though, he said he'd like to play Batman.