Britney Spears Tweets a Photo With Her Boyfriend
The Funniest Celebrity Tweets of the Week!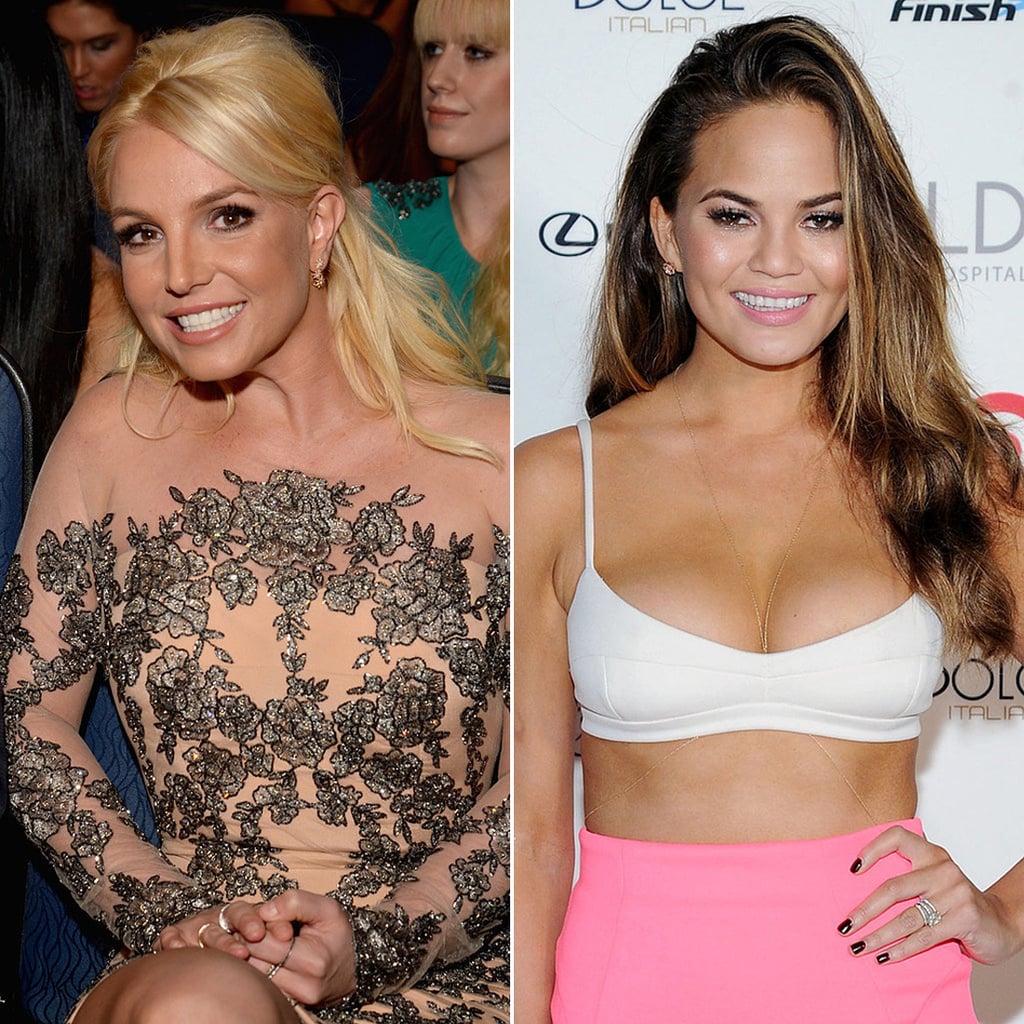 Britney Spears has been a woman of few spoken words lately, letting her biographical Britney Jean album communicate what's up in her world. Now she's turning to graphic clothing to share not-so-subtle messages. In a photo Brit tweeted this week, the singer clued us in on how she tells her boyfriend David Lucado to get to stepping. In other funny tweets, Chrissy Teigen showed off her hydrating bath-time ritual, Seth Myers discovered his hilarious billboard placement fail, and Kristen Bell is reeling with the effects of drinking for a scene. Keep reading to LOL at all that and more.
Sorry not sorry ;) pic.twitter.com/qyUfurvap7

— Britney Spears (@britneyspears) February 15, 2014
Yes, Britney has a jacket for that point in a relationship.
Bathtub selfie game on lock #birdbath #shavetimes pic.twitter.com/wuNJmFIeyv

— christine teigen (@chrissyteigen) February 19, 2014
The photo that didn't make it into Sports Illustrated.
So honored to have my billboard over LA's famed "Hardwood" sign! pic.twitter.com/jhOAI35wT9

— Seth Meyers (@sethmeyers) February 19, 2014
Strategic advertising at its best.
A new study shows on average, men's brains are larger than women's. But the extra space is filled entirely with barbecue sauce.

— Conan O'Brien (@ConanOBrien) February 20, 2014
So that's why Claire never joins Frank at Freddy's.
Took this Girls quiz and I got Marnie, so I guess the apocalypse is coming? http://t.co/SntAczbEMJ

— Lena Dunham (@lenadunham) February 19, 2014
What I am is what I am. Are you what you are or what?
when you do shots in a scene you pee often b/c you're drinking so much water. #HouseOfLies

— Kristen Bell (@IMKristenBell) February 17, 2014
Pass the Smart Water.
Practicing my big entrance. http://t.co/75WmBijmDX

— Chelsea Handler (@chelseahandler) February 20, 2014
Chelsea is taking cues from Lady Gaga.
#truedetectiveseason2 pic.twitter.com/A4sIkMwsVn

— kelly oxford (@kellyoxford) February 21, 2014
#flashbackfriday! It's Oprah and Gayle's suspenseful road trip.
three ridiculous questions for SI Cover model @chrissyteigen http://t.co/DOYk99vF6h @captainmorganUS #3RQ

— Jimmy Kimmel (@jimmykimmel) February 20, 2014
Just add some butter to that tire.
Here's another shot of @RashisTVUgly & me for a @TheSoup parody of Homeland...I think. Wait... pic.twitter.com/v596EdDehu

— Joel McHale (@joelmchale) February 21, 2014
Nope. That's True Detective you're parodying, Joel.
#throwbackthursday Speaking of spirit gum... Looking GOOD before my first ep of #HIMYM pic.twitter.com/ecDHmohIX4

— James Van Der Beek (@vanderjames) February 21, 2014
Dawson's life has been rough without Joey.
I think I've been watching too much figure skating. At Starbucks this morning I ordered a triple salchow mochaccino.

— Ellen DeGeneres (@TheEllenShow) February 19, 2014
Well done, Ellen.
"Don't go, Jason Waterfalls." #misheardlyrics

— jimmy fallon (@jimmyfallon) February 19, 2014
Please stick to Ricki Lake . . .
At any given time I'm thinking, "what the fuck is this"

— Kat Dennings (@OfficialKat) February 19, 2014
The world is a confusing place.
Backstage @FallonTonight. If Bobby De Niro only knew about my secret crush on him. (Don't tell his very chic wife!) pic.twitter.com/Kx0tzkguQJ

— Joan Rivers (@Joan_Rivers) February 19, 2014
Joan never lost that creepy playground vibe.
As you know, I'm hitting the #Oscars stage! Here's a #TBT from @CaesarsPalace. I might need to find that suit... pic.twitter.com/XH5heqQgHS

— Bette Midler (@BetteMidler) February 20, 2014
Bette has plans to dazzle.