Courteney Cox Quotes About David and Johnny August 2016
Courteney Cox on Her Split From Johnny McDaid: "It Was Brutal"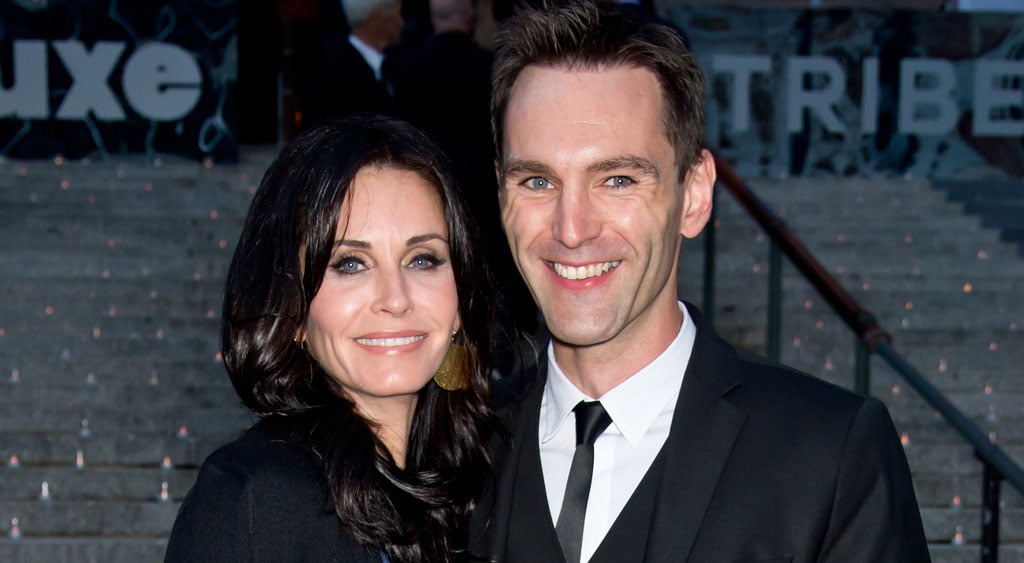 Who knew Courteney Cox could be such an open book? The actress appeared on Monday night's episode of NBC's Running Wild With Bear Grylls, where she opened up about everything from her divorce from David Arquette to her daughter, Coco, to her on-again romance with Johnny McDaid. While hiking through rural Ireland with Bear, Courteney got very honest about why her relationships haven't worked out in the past and why she really doesn't mind getting older. And unlike her Friends costar David Schwimmer, who recently said the fame from the TV show made him a recluse, Courteney says she's never felt that burden. Check out her best quotes below:
On being in the spotlight for so many years: "I feel lucky. I don't feel burdened by it. I mean, people can be pretty mean, though, now that there's all this social media. The comments . . . if I ever want to feel really bad about myself, I just click on one of those Daily Mail comment sections."
On why her marriage to David Arquette didn't work: "I think that we were such good friends. We found ourselves leading separate lives and just coexisting and being great friends, but not having the intimacy that . . . is so important in a relationship. I think you really need to work in a relationship, and I think that we tried. We're just really different, too. I'm the polar opposite of him. That can be great for a lot of things, but I need this kind of real, one-on-one connection. And I don't know. It wasn't a dramatic ending. It was more of a . . . just, I don't know. I've really been . . . No one's ever asked me in this way, so I haven't really thought about it like this. I mean, as divorces go, I would say it's one of the better ones. For sure. We're good co-parents together."
On her on-again, off-again romance with Johnny McDaid: "We were engaged for over a year and then we broke up. There's something about . . . you know, he's from Ireland. And the way he regards love is precious. We have to treat it in a different way. It's more special. You coddle it. So, I didn't know how to regard love the way he does. And I definitely made a lot of mistakes that I see, whether it's codependency or people-pleasing. I didn't know how to bring it in. It was always external. I definitely have learned a lot, and no matter what, I will be a better person from that breakup, even though it was so brutal." She then confirmed they are back together, but said their relationship is in a "new context" now. "It's just . . . everything's new. And we have both really worked on ourselves on the parts that needed the most attention. And it feels really different."
On the pressure to look young in Hollywood: "I think there's a pressure to maintain [your looks], not just because of fame, but just, you know, being a woman in this business. Getting older has not been . . . I don't think it's the easiest thing. But I have learned lessons. You know, I think I was trying to keep up with getting older, trying to chase that . . . you know, it's something you can't keep up with. So, the more you relax into it and the less I try . . . 'cause sometimes you find yourself trying and then you look at a picture of yourself and go, 'Oh, God.' Like, you look horrible. I have done things that I regret, and luckily they're things that dissolve and go away. So, um, that's good, because it's not always been my best look. So, now I just have a new motto: 'Just let it be.'"
On her 12-year-old daughter, Coco: "There are certain parts about getting older that are fantastic. Just watching my daughter go through, you know, the game of life . . . I see so much of myself in her, and I'm glad that . . . I've been through it, and learned enough now to actually help her go through things that are hard . . . I just have a great time with her. She's funny. She's sweet. She's very sensitive. She's really a combination between me and [David], for sure."
On the death of her father, Richard Cox: "He died in 2001 before I had Coco . . . He died of this really rare cancer called Merkel cell carcinoma . . . He just didn't want to go. So, it wasn't like a surrender. I'm one of these people that if you say, 'Courteney, get me well'— which is kind of what he said — I will find every . . . I mean, I sent the guy to Switzerland to do some radioactive treatment that no one had ever heard of. It kind of put me on a mission. He was supposed to live six months, and he ended up living a year and a half. Throughout that year and a half, even though he was doing chemo and all this stuff, he really had a great time."
Image Source: Getty / Gilbert Carrasquillo