Freida Pinto on Dev Patel Breakup
Freida Pinto Talks Tabletop Dancing, Breakups, and Considering TV
Freida Pinto would like two poached eggs, but the trouble is, only one arrived with her avocado toast and salad. Protein, she says, is essential on a day like today.
With impeccable manners, 30-year-old Pinto asks for her order to be corrected. I feel for the woman. She's working through lunch and talking with me at the restaurant in New York's Crosby Street Hotel during what's an already long press day for her new film, Desert Dancer.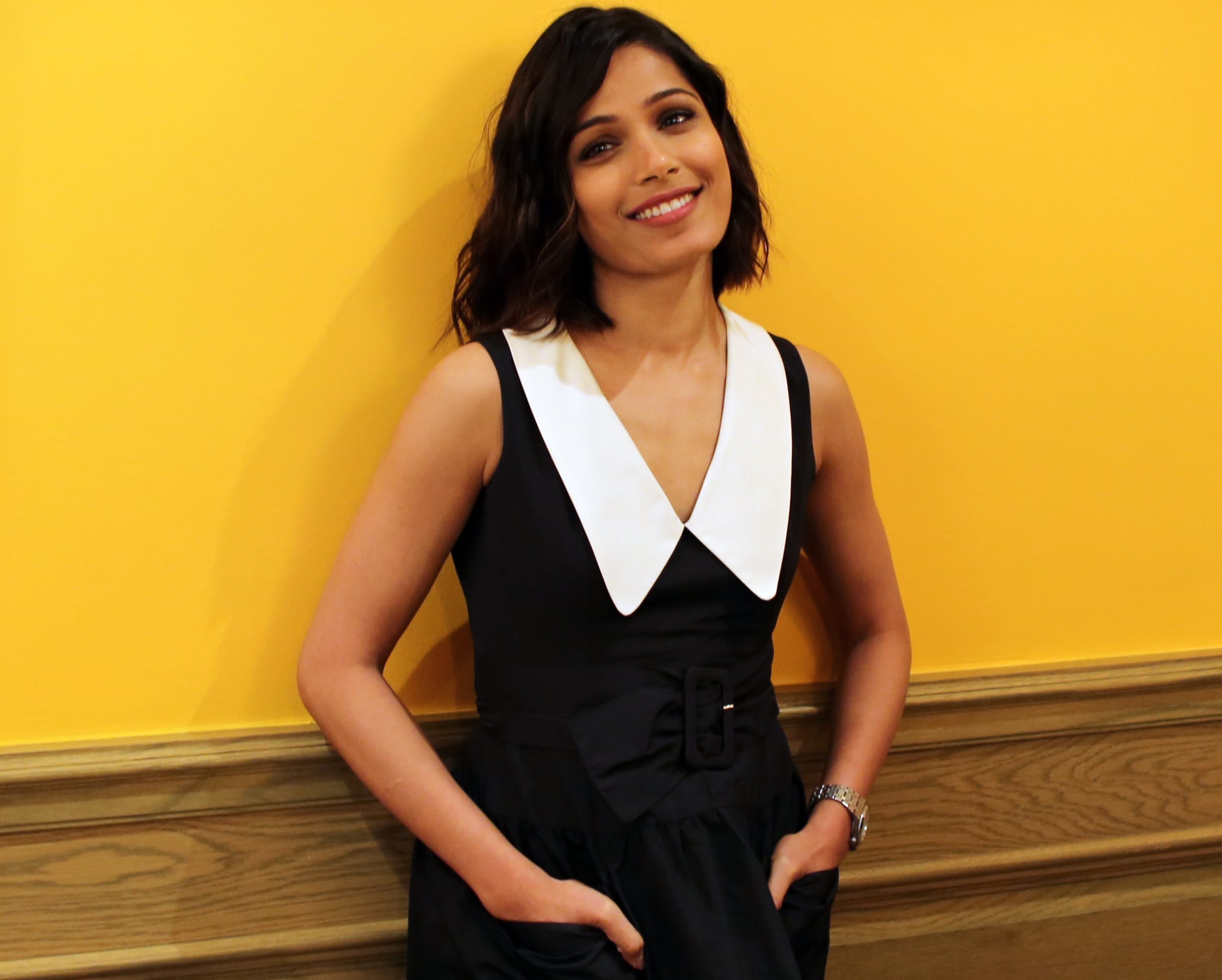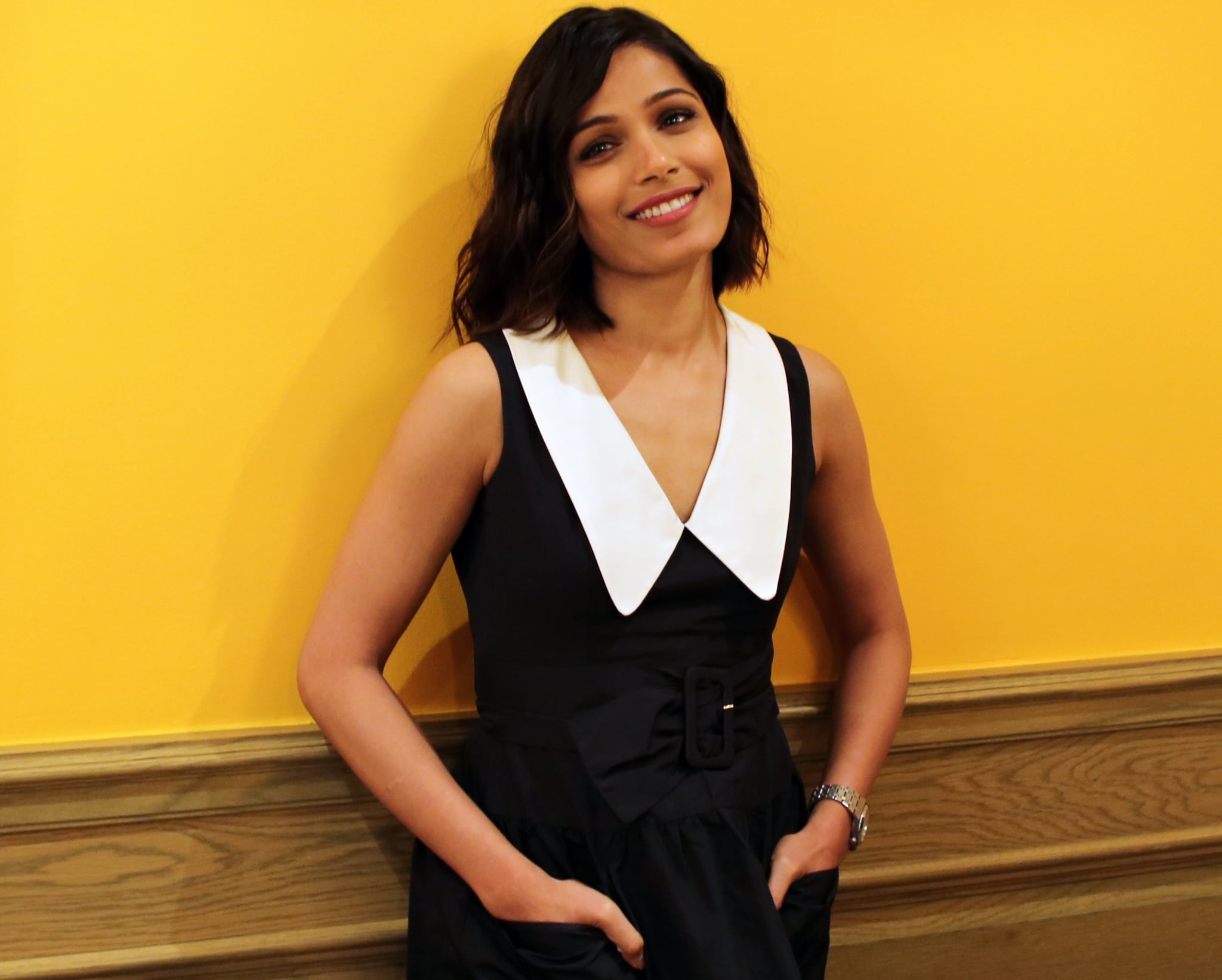 Source: POPSUGAR Photography / Allie Merriam
Without further ado, another egg arrives. All is well.
Getting Desert Dancer to theaters has taken some time. The movie, which began filming almost three years ago, is about a group of friends in Iran whose shared passion for dance leads to trouble. It's loosely based on the true story of the performer Afshin Ghaffarian.
The film became something of a passion project for Pinto, who undertook a year of rigorous dance study, which she describes as "physical, emotional, mental, endurance training." Prior to Desert Dancer, Pinto says, "the only dancing I've done is clubs, on bar tops, and at home in front of my mirror." But Pinto, who grew up in Mumbai, India, thinking she was an "ace Michael Jackson dancer and impersonator," was up to the challenge, and she looks like a complete natural in the film.
These days, dance serves primarily as a mode of fitness for Pinto. "It's a great way to stay in shape," she explains, adding that she alternates dance with yoga and hiking.
"A healthy mix," I affirm.
"One thing would just bore me."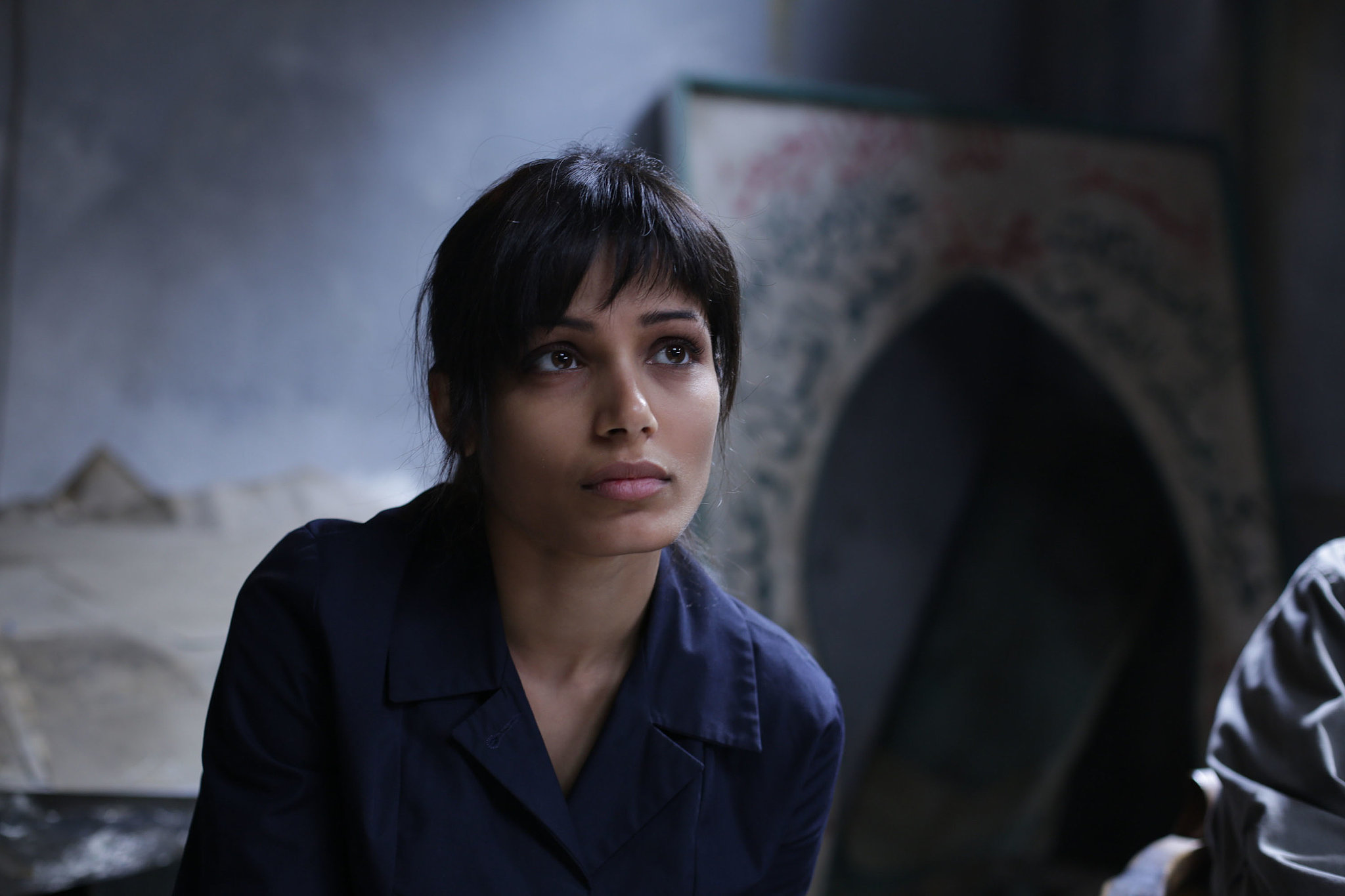 Source: Relativity Studios
Boredom isn't a concept with which one would expect Pinto to be familiar. Her life famously changed thanks to her role in Slumdog Millionaire, which won the Oscar for best picture in 2009. The last six years have seen Pinto land a major beauty contract with L'Oréal, travel the world for film and modeling work, and grace innumerable red carpets as a global style icon.
Slumdog also introduced Pinto to actor Dev Patel, now 24. The two fell in love, and their romance became tabloid fodder around the globe.
Pinto and Patel parted ways last year but are still clearly quite close. They are, according to Pinto, "forever friends." She adds, "You never know what the future holds for you. But all I can say is that, some bonds — for whatever reason — they're made to not be broken. This is definitely one of them."
Patel echoes the sentiment. He recently told The Guardian that he and Pinto are "incredibly close." And Patel, who seems to be a delightfully open book, shed further light onto what it's like dating an internationally celebrated beauty. In the same interview, Patel told the story of how he was once insulted by photographer Mario Testino at a long-ago Burberry fashion show. Mario, according to Patel, asked, "Why? How? Why is she dating you? She's so beautiful . . . But you're so, ugh, so normal-looking."
I bring this up with Pinto.
"It is a crazy story," Pinto agrees. "I wasn't actually there, at that show, but [Patel] did come home and tell me about it. And I go, 'Did you misunderstand what [Mario] was saying, or did he really [say that]?' And [Patel's] like, 'No, that's what he said.'"
When meeting new people, I allow, sometimes one says silly things.
"[Mario] probably didn't even mean it that way. I don't know," Pinto says. "I wasn't there to witness it, but if that's how someone felt, if they wanted to air it, then they should be allowed to."
It was an answer full of diplomacy, a skill I admire and am sure will serve Pinto well as she embarks on the next phase of her career: producing films. Now, Pinto says, any acting role has to be important enough to take her away from her production work.
One project that made the cut was director Terrence Malick's long-awaited December movie Knight of Cups, which costars Natalie Portman and Christian Bale. And in the future, Pinto, like many actresses, is open to television. "I think the timing will be right," Pinto says. "The right project will come. I think I'll definitely do something on TV. It's what every actor should be allowed to do."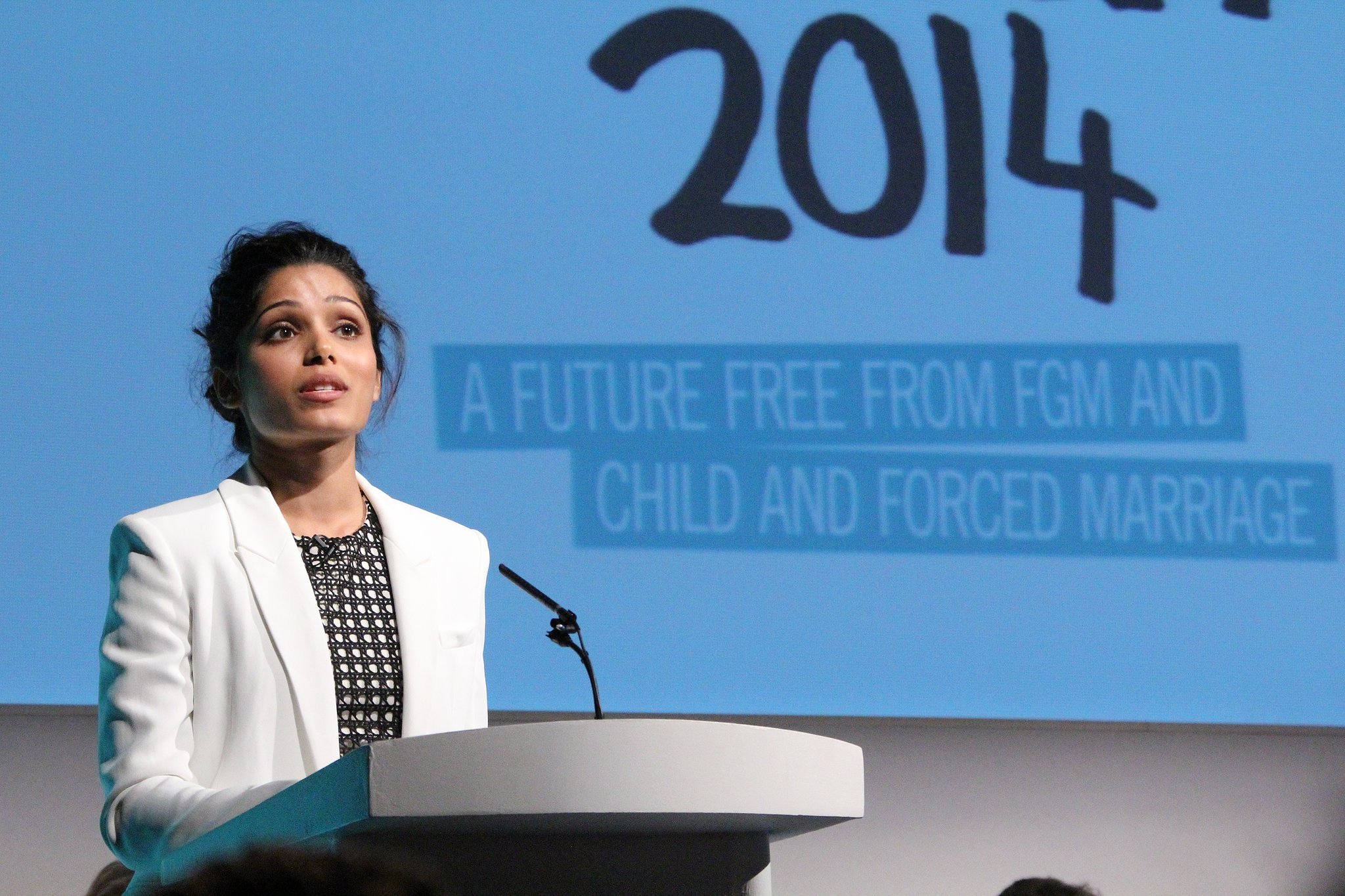 Source: Flickr user dfid
Pinto has also emerged in recent years as a champion of women's issues, dating back to 2012 when she joined forces with the organization Plan International on its Because I am a Girl campaign. Lately, Pinto's focused on a pair of important documentaries: India's Daughter, a film about the 2012 rape and murder of a young medical student in Delhi, India, and Girl Rising, which centers around the obstacles faced by young women in developing countries.
As Pinto sees it, her film and philanthropy work go hand in hand and actually augment each other. "I'm so lucky to have this voice that I have," she reasons. "I'm so lucky to be a part of films that people watch and recognize — so why not?"
Why not mix philanthropy, producing, and acting on both the big and small screens? After all, one thing would just be boring.
Desert Dancer is in theaters now.