Gabrielle Giffords Op-Ed "The Lessons of Physical Therapy"
The Fearless Way Gabrielle Giffords Marked Her Shooting Anniversary
Wednesday marked three years since former US Rep. Gabrielle Giffords survived her Tucson, AZ, shooting, and she confronted the anniversary by jumping out of an airplane. Ahead of her sky-diving adventure, the inspiring Giffords tweeted her thanks to Joe Biden for his good-luck phone call with her husband, former astronaut Mark Kelly, by her side.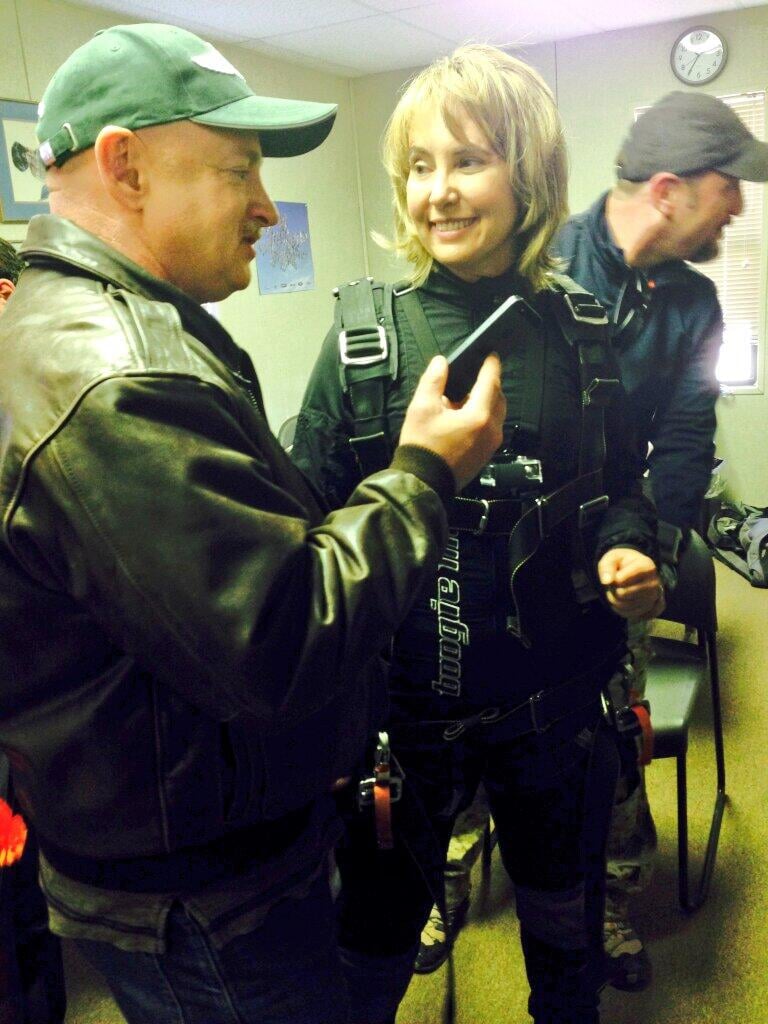 Along with her big jump, Giffords also marked the third anniversary by sharing some thoughtful lessons in a a New York Times op-ed. On Jan. 8, 2011, the Arizona Democrat was critically injured when she was shot in the head, and she left Congress just over a year later with a letter of resignation to Speaker John Boehner, writing, "I will recover and will return, and we will work together again, for Arizona and for all Americans." Since resigning from her position, Giffords has remained vocal on issues related to gun control, and this week's op-ed isn't her first. In April 2013, Giffords wrote about gun regulations in an op-ed titled "A Senate in the Gun Lobby's Grip," blaming hesitant lawmakers for the blocking of gun-control laws. This time around, Giffords's op-ed takes a more personal turn — see what she had to say about physical therapy, gun regulations, and Washington's responsibility.
On how the Sandy Hook shooting affected her: "It shocked me, it motivated me, and frankly, it showed me a path. After that day, my husband and I pledged to make it our mission to change laws and reduce gun violence in a way that was consistent with our moderate beliefs and our identities as proud gun owners."
On pushing for progress despite lawmakers' hesitation: "We're not daunted. We know that the gun lobby, which makes money by preventing sensible change, relies on dramatic disappointments to wound us, reduce our power, push us back on our heels."
On how physical therapy inspires her outlook: "I've seen grit overcome paralysis. My resolution today is that Congress achieve the same."
On the steps she sees as a solution: "Enhance enforcement by passing a law making gun trafficking a serious crime with stiff penalties. Make it illegal for all stalkers and all domestic abusers to buy guns. Extend mental health resources into schools and communities, so the dangerously mentally ill find it easier to receive treatment than to buy firearms."
On her annual resolution: "My resolution, standing with the vast majority of Americans who know we can and must be safer, is to cede no ground to those who would convince us the path is too steep, or we too weak."