Are Joe Jonas and Sophie Turner Dating?
Joe Jonas and Sophie Turner Ignite Dating Rumors by Cuddling at the MTV EMAs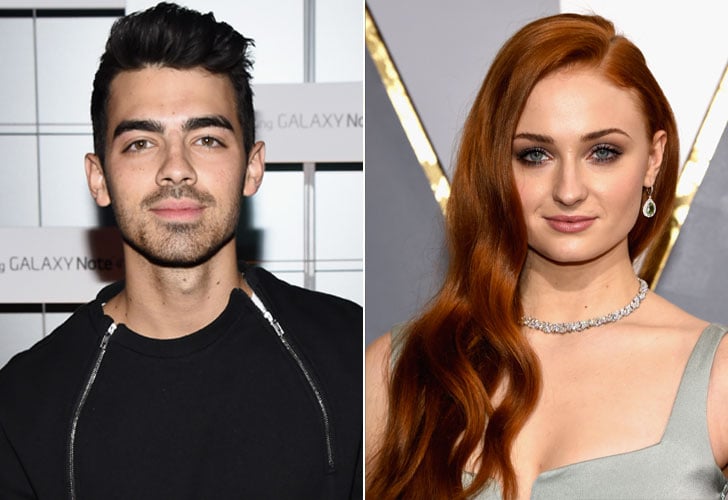 In a move more surprising than Bran Stark getting pushed out a window, it looks like Game of Thrones star Sophie Turner might be dating Joe Jonas. Sophie celebrated Halloween with the DNCE frontman and his bandmates last week, and ever since, they've been spotted all over London together by fans. Although that definitely isn't conclusive evidence of a new romance, an audience member at the MTV EMAs noticed the two looking like way more than friends on Sunday night while they watched Kings of Leon perform at the award show. In the first photo, Joe has his arm around Sophie, and in the second, they look seconds away from locking lips. "Oh and they were kissing too @joejonas @SophieT #mtv #sorrynotsorry," the Twitter user captioned the snap. Now who wants to place bets on how long it will take for DNCE to do a cover of the Game of Thrones theme song?
Joe Jonas @KingsOfLeon in Rotterdam! #sophietuner #MTVEMAs #MTVMusicWeekNL #mtv #GameofThrones #dnce pic.twitter.com/PWpQldcjW2

— Anne (@CharlotteA3333) November 5, 2016
Oh and they were kissing too @joejonas @SophieT #mtv #sorrynotsorry #rotterdam #MTVEMAs #netherlands @KingsOfLeon pic.twitter.com/aGaJDAWga5

— Anne (@CharlotteA3333) November 5, 2016