Kim Kardashian Snapchats Kanye West and Taylor Swift Talking
Kim Kardashian Just Posted Video Proof That Taylor Swift Knew About Kanye's "Famous" Line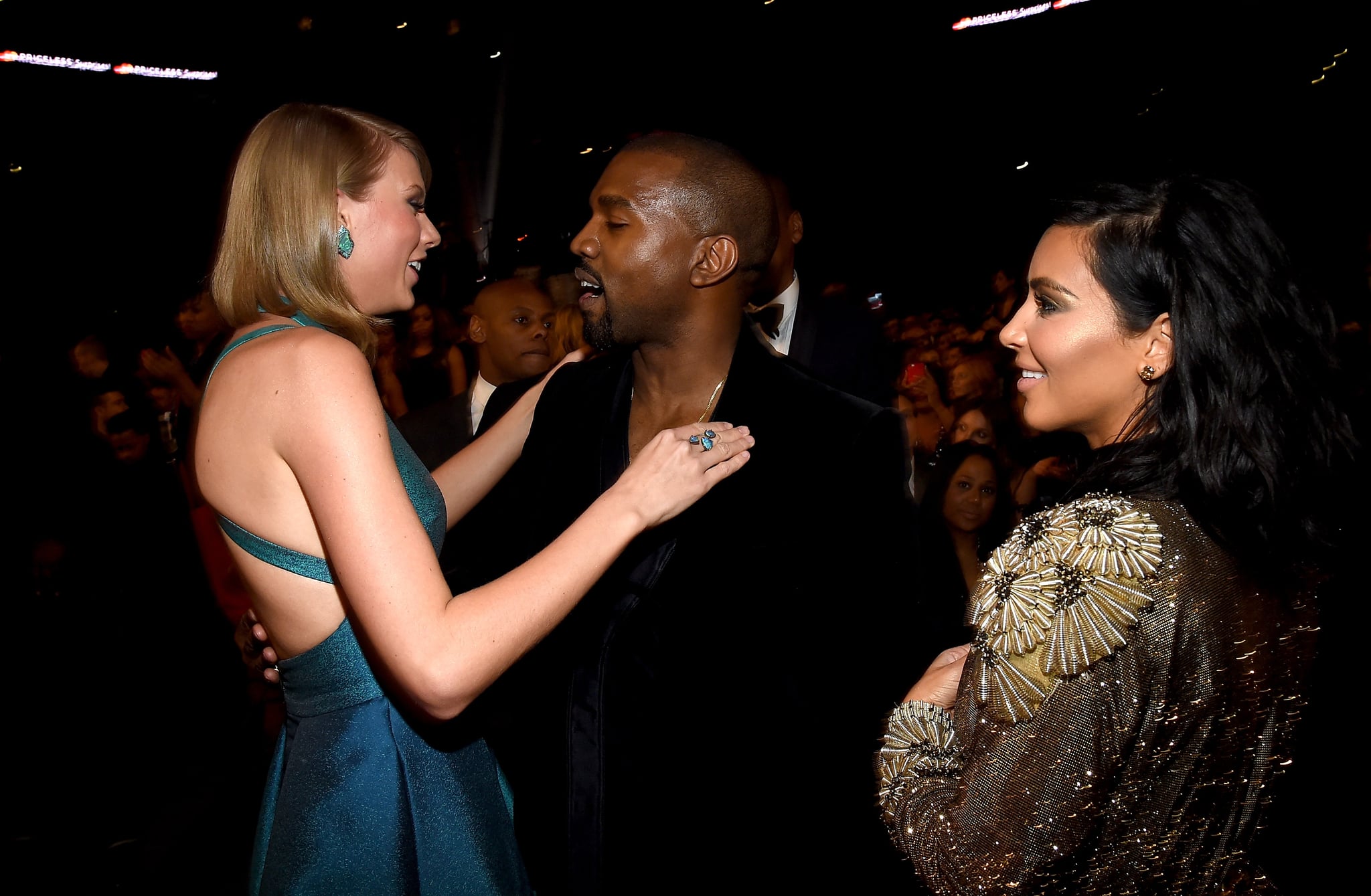 When Kim Kardashian said she had "had it" with people treating Kanye West badly, she wasn't kidding. On Sunday, the reality TV star shared a series of videos on Snapchat showing her husband talking to Taylor Swift on the phone about the lyric about her in his song "Famous." In the song, Kanye says, "I feel like me and Taylor might still have sex . . . I made that b*tch famous." In the clips (which you can watch below), Kanye has Taylor on speaker phone, explaining the idea to her and even asking for her input. At first, she worries about "being this close to overexposure" before calling the lyric "like a compliment" and thanking Kanye multiple times for giving her a heads-up about the line, saying, "Go with whatever line you think is better. It's obviously very tongue in cheek either way. And I really appreciate you telling me about it, that's really nice!" She adds: "I'm really glad you had the respect to call me that and tell me that as a friend, about the song."
After the song's release back in February, Taylor's rep issued a statement saying that the "Bad Blood" singer never received a call from Kanye and that she was "never made aware" of the controversial line, adding, "She declined and cautioned him about releasing a song with such a strong misogynistic message." In the days following her statement, Taylor's brother, Austin, and a few of her famous friends came to her defense via social media — and at the Grammys that month, Taylor gave a very pointed acceptance speech, saying, "I want to say to all the young women out there . . . there will be people along the way who will try to undercut your success."
In her GQ profile last month, Kim revealed that Taylor "approved" the line about her in the song but that she "flipped all of a sudden," adding, "it was funny because [on the call with Kanye, Taylor] said, 'When I get on the Grammy red carpet, all the media is going to think that I'm so against this, and I'll just laugh and say, 'The joke's on you, guys. I was in on it the whole time.' And I'm like, 'wait, but [in] your Grammy speech, you completely dissed my husband just to play the victim again.'"
The timing of Kim's snaps is no coincidence, as Sunday night's episode of Keeping Up With the Kardashians showed her sitting down with sister Kourtney and criticizing Taylor for lying and "playing the victim again." On Sunday evening, Kim sent the following tweets:
Wait it's legit National Snake Day?!?!?They have holidays for everybody, I mean everything these days! 🐍🐍🐍🐍🐍🐍🐍🐍🐍🐍🐍🐍🐍🐍🐍🐍🐍🐍🐍🐍🐍🐍🐍🐍🐍🐍🐍🐍🐍🐍🐍🐍🐍🐍🐍🐍🐍

— Kim Kardashian (@KimKardashian) July 17, 2016
do u guys follow me on snap chat? u really should ;-)

— Kim Kardashian (@KimKardashian) July 18, 2016
And a couple of hours after the videos went viral, Taylor issued the following response via Instagram: