Nicole Richie Tweets About Beyonce's "Drunk in Love"
The Funniest Celebrity Tweets of the Week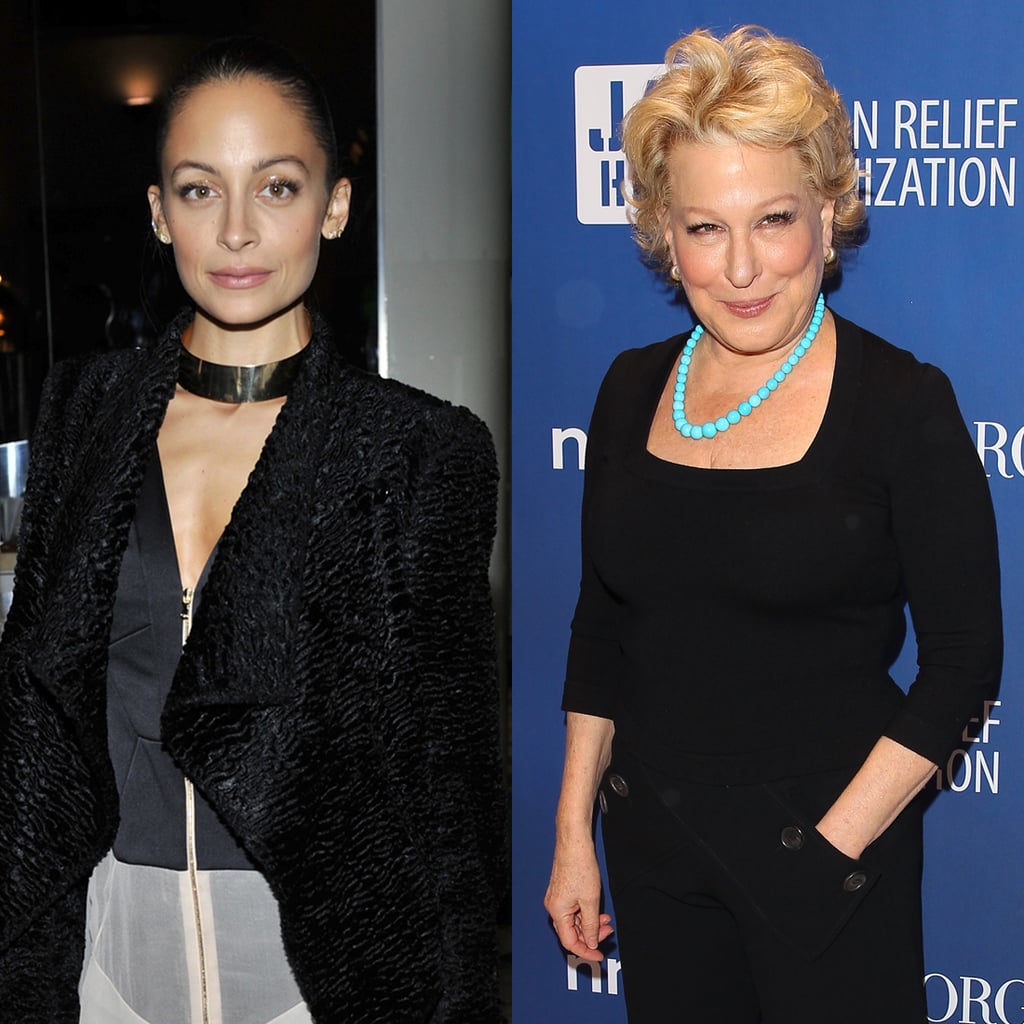 "I get filthy when that liquor get into me. . . . Why can't I keep my fingers off it, baby?" These are the lyrics of Beyoncé's "Drunk in Love," and the words that just might start Nicole Richie's next lawsuit. This week, the fashion designer expressed her appreciation for how Bey has broadened her lexicon, making it even dirtier. In other hilarious tweets, Bette Midler is not impressed with the Golden Globes, and Elizabeth Banks reminded us why she should be in the high-heel Olympics. Check out all that and more in this week's best funny tweets!
Drunk In Love gave me an entire new vocabulary to sexually harass people with #QueenBey

— Nicole Richie (@nicolerichie) December 16, 2013
Put some sample vids up on Instagram, Nicole.
Boy, those Golden Globes. I hadn't seen that many men congratulate themselves since Congress got their health insurance to cover Viagra.

— Bette Midler (@BetteMidler) January 14, 2014
Zinger!
I make running in heels look SO EASY in this new trailer for Walk of Shame. http://t.co/uLuMnkGNWm

— Elizabeth Banks (@ElizabethBanks) January 16, 2014
Elizabeth, you make a hangover look SO GOOD.
coughing naked = bad naked. coughing phlegm naked = extremely bad naked

— christine teigen (@chrissyteigen) January 17, 2014
Um, get well soon?
Alert the fans of One Direction pic.twitter.com/wmV6yZnk2Q

— Chelsea Handler (@chelseahandler) January 16, 2014
Chelsea has it out for Kendall Jenner.
Small talk makes me sick

— Whitney Cummings (@WhitneyCummings) January 17, 2014
Sure you belong in Hollywood?
Are you emotionally on the edge? Fragile/made of glass? Let us watch you break into pieces!! #TheBachelor

— Sarah Silverman (@SarahKSilverman) January 14, 2014
For Sarah, The Bachelor is like The Hunger Games.
I'm a little behind on the globes but HOLY SHIT! Christopher Plummer won for Beginners!

— Seth Rogen (@Sethrogen) January 13, 2014
Yeah, in like 2012.
Gosh, boys get so mad when you use words they don't know

— Lena Dunham (@lenadunham) January 17, 2014
#Truth.
Madonna's new boyfriend is 26!?! That's the same age as her pacemaker.

— Joan Rivers (@Joan_Rivers) January 16, 2014
Now Joan, let's not be ageist.
Happy #ThrowbackThursday! pic.twitter.com/cBRehWaZqu

— Ellen DeGeneres (@TheEllenShow) January 16, 2014
That time Ellen vacuumed in front of the A-list.
I have never thought of a supposedly awesome idea for a tattoo that I didn't completely think was insane 90 minutes later

— christine teigen (@chrissyteigen) January 16, 2014
Um, get a temp?
Odd choice of cover model when they've got access to such #beef #majesty: pic.twitter.com/9BEEKIMMpF

— rob delaney (@robdelaney) January 16, 2014
Don't sell yourself short, Rob.
Someone sprinkled some moustache seeds on all the upper lips of young hipster men in Atlanta

— Margaret Cho (@margaretcho) January 16, 2014
Margaret is a trend-spotter.
For those who think the superlative @oprah was mad at me last night, I refer you to this. #manufacturedcontroversy pic.twitter.com/KV0CO8ctMc

— Aisha Tyler (@aishatyler) January 17, 2014
Aisha needs to set the Critics' Choice Awards record straight.