Prince William and Prince Harry in Datchet Flood
Speed Read: William and Harry Lash Out at the Press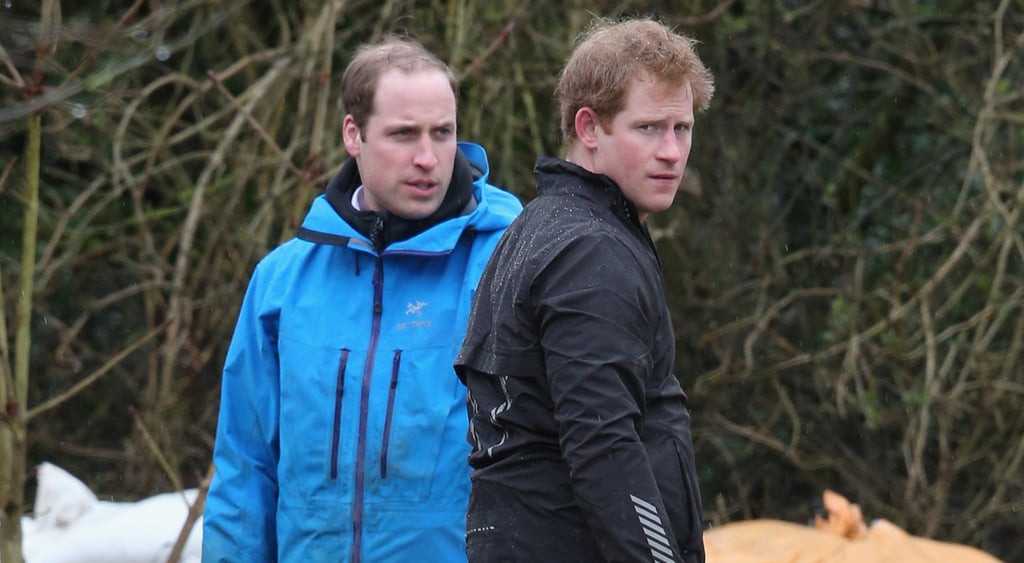 Prince William and Prince Harry complained about the media attention they were receiving when they visited Datchet, England, to help with flood relief efforts. When asked by reporters if he was having a good time, Harry replied, "Not really with you guys around." Meanwhile, William told members of the media to put down their cameras and "come help."
While William is helping with sandbags, Kate Middleton did royal work of her own by opening a new art therapy center at a school in London.
If you're single on Valentine's Day we have good news for you: James Franco has volunteered to be your valentine.
In addition to it being the day of love, it's also the day that House of Cards season two returns to Netflix. Yes, it's available now! The whole season!
Chrissy Teigen, Lily Aldridge, and Nina Agdal all landed on the coveted cover of Sports Illustrated's annual Swimsuit Issue!
The Waltons star Ralph Waite has passed away. He was 85.
US figure skater Jeremy Abbott fell hard during the men's short program at the Winter Olympics, but he got up and finished his routine to a standing ovation.
Meanwhile, US skater Jason Brown is eyeing the bronze medal after finishing strong in the free skate.
Guys, you have to watch this hilarious blooper reel for The Lego Movie.
In odd news: NYPD have identified Tyson Beckford's nephew as the man who stole a truck and caused a fatal crash in NYC earlier this week.
Al Roker was the talk of the town after he slammed NYC Mayor Bill de Blasio on Twitter for not closing city schools on Thursday during a massive snow storm. On Today on Friday, Al stood by his comments but said that he regretted calling de Blasio a "one-term mayor."
A federal judge in Virginia has ruled that the state's same-sex marriage ban is illegal. However, same-sex couples cannot get married just yet as she has ordered that her decision be stayed pending an expected appeal.
Your daily dose of cute: this puppy wants to wish you a happy Valentine's Day!