Will Smith at the 2016 Palm Springs Film Festival | Photos
"Football Dad" Will Smith Explains Why He Decided to Star in Concussion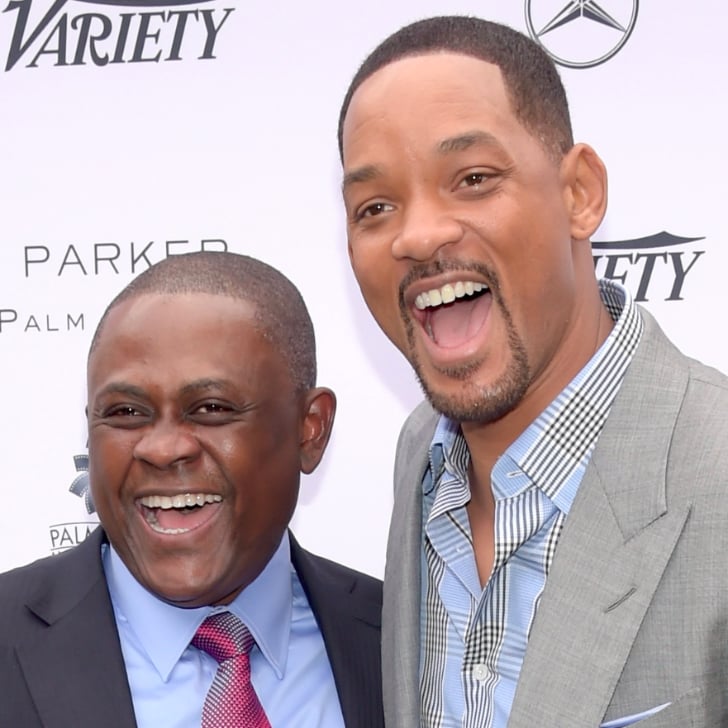 0
"Football Dad" Will Smith Explains Why He Decided to Star in Concussion
Will Smith had two very special people by his side at the Palm Springs International Film Festival today: his wife, Jada Pinkett Smith, and Dr. Bennet Omalu, whom he plays in Concussion. Will earned the Variety Creative Impact acting award at a brunch hosted by the publication and Mercedes-Benz for his portrayal of the doctor, whose pioneering and controversial work on brain damage and the National Football League made waves in and beyond the world of sports. The movie itself has also been subject to some criticism over how it portrays some of the key people and events in the real-life story, which the filmmakers have defended. Today, Will himself talked about another dilemma: that of being a self-proclaimed football-lover starring in a movie that's highly critical of the game and league.
"I'm a football dad. My son [Trey] played at Oaks Christian for four years, and it was some of the most fun I've ever had as a parent, watching that boy play football. So when I got the screenplay, I was, let's say, concerned about being the guy that delivered this truth," he admitted. "And then I sat with Dr. Omalu and that joy, that energy, that light . . . he told me the story of what he had suffered and what he experienced just to tell the truth. That's really all he wanted to do: tell the truth. And I thought about what I do and what we do and to be able to deliver the truth is at the heart of what we do at our best. That we take a truth that may be buried, or may be covered, or may be in the dark, and we can bring it to the light with the work we do. So, for me, it is the deepest honor and pleasure to have delivered Dr. Bennet Omalu's story to the world in
Concussion."
Concussion isn't the first movie in which Will has played a real-life person: he's also portrayed Muhammad Ali in Ali and Chris Gardner in The Pursuit of Happyness. Today, he said, while he usually loves the opportunity to ask questions and get to know the person behind the story that the situation can present, he sometimes forgets the part where he'll have to actually watch the movie alongside that person — which can be nerve-racking. "I sat behind Bennet watching the movie for the first time . . . I was sitting behind Bennet, and he was giving me nothing for about 45 minutes, and I thought, oh no. I'm dying. I'm dying!' And 45 minutes into the movie, he's sitting, and he turns around and goes . . . " Will flashed a big thumbs up.
The Variety 10 Directors to Watch Brunch at the Parker Palm Springs also honored up-and-coming directors and screenwriter-director Charlie Kaufman, whose latest film is Anomalisa.