Taraji P. Henson Mixes Up Maroon 5 and Coldplay
Taraji P. Henson Thought She Was Watching Maroon 5 at the Super Bowl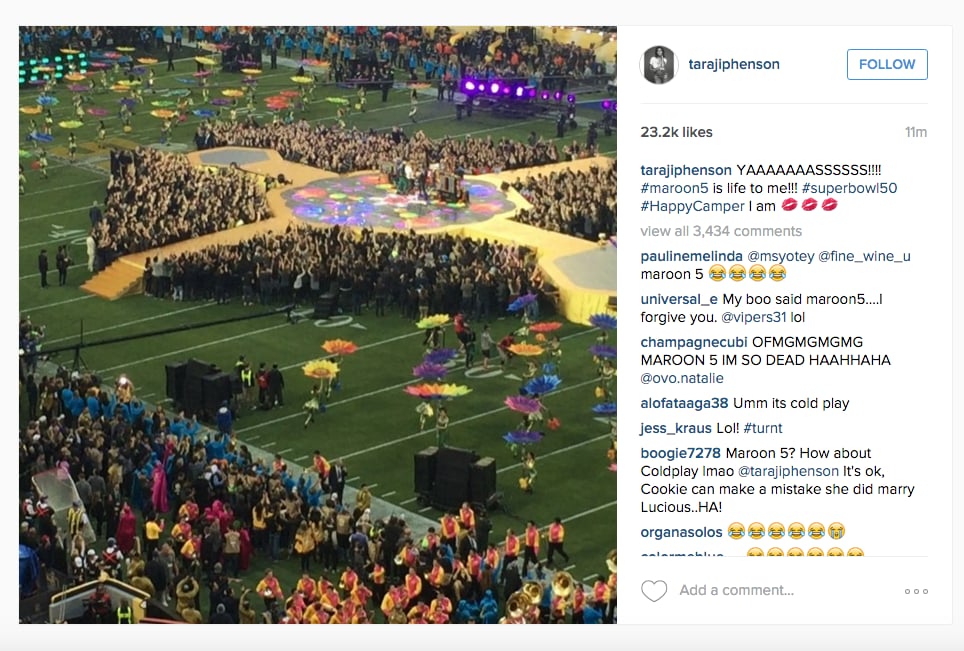 Taraji P. Henson was one of the lucky stars to attend the Super Bowl on Sunday, and during the halftime show, the Empire actress shared an Instagram video of Coldplay's halftime show performance. Nothing wrong with that, right? The only issue is her caption, which read, "YAAAAAAASSSSSS!!!! #maroon5 is life to me!!! #superbowl50 #HappyCamper I am." It wasn't long before her followers replied with lots of crying-laughing face emoji — as one commenter put it, "Somebody call Steve Harvey" — and amazingly, Maroon 5 frontman Adam Levine screenshotted the snap with a caption of his own, writing, "THIS," then on Monday, the band tweeted out to Taraji, "Thanks for loving our performance. We think we sounded pretty good!"
Taraji later got wind of her mistake and tweeted out, "Oooooooopppps. Lmao! #Superbowl50." T-Mobile, who aired a commercial with Steve Harvey poking fun at his Miss Universe snafu, responded to her tweet with a hilarious meme of the host.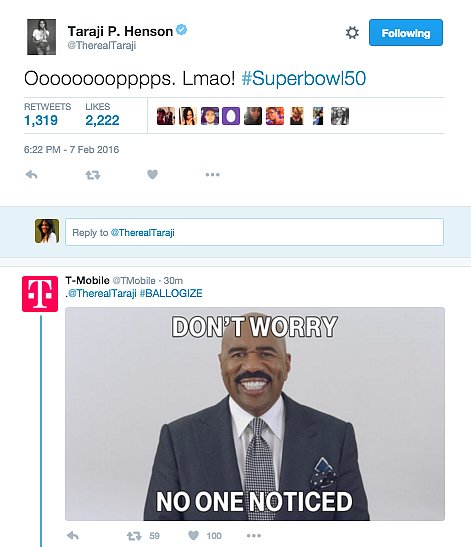 Check out Coldplay, Beyoncé, and Bruno Mars performing at the Super Bowl.