What It's Like to Wait in Line For Saturday Night Live
I Waited in Line For 60 Hours to See Harry Styles on SNL — and I Regret Nothing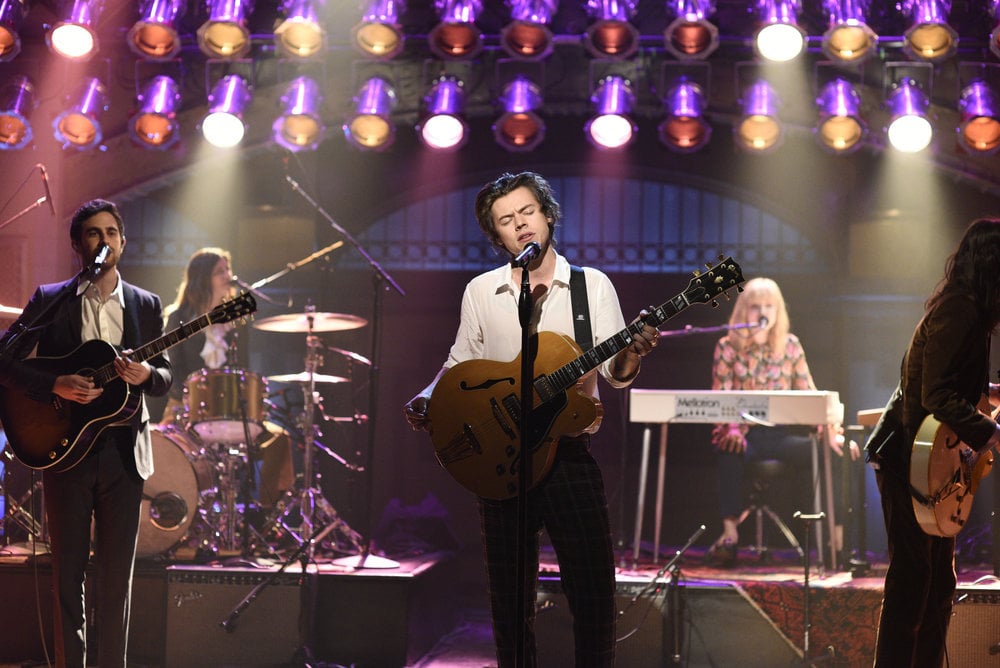 If I had a dollar for every person who asked me what I was waiting in line for last week, I would have had enough money to hire Harry Styles for a private show and avoid the Saturday Night Live standby line altogether. Alas, no one who asked about the line offered me any money in return for my answer, so instead I waited . . . and waited . . . and waited some more for my chance to be in Studio 8H on April 15 for Harry Styles's debut as a solo artist.
I have never been quiet about my love of One Direction (exhibit A, exhibit B, exhibit C, etc.), and I don't foresee my love dying down any time soon. I took the news really hard when the boys decided to go on hiatus (aka when they broke up), but I am so here for their solo projects. Niall Horan was out of the gate first with his solo work, followed soon after by Louis Tomlinson. Liam Payne went off and had a baby, and then there's Harry. Oh, Harry.
Harry's debut single, "Sign of the Times," just came out this month and it set the tone for the kind of career he wants to have and the kind of music he wants to make. I am wholeheartedly on board with all of it, so it was an easy decision to take my chances at getting into SNL to see his very, very first performance as a solo artist.
But here's the problem. SNL tickets are really f*cking hard to get.
The studio only holds roughly 300 people. VIPs (like friends, family, industry people, people more important than me) have first dibs on seats. Then ticket holders get the next batch of seats. Why didn't I just get a ticket, you ask? Because it's a lottery that takes place in August every year, and if you get picked for tickets, it's completely at random, so that option was out. The rest of the space goes to the lovely standby line, which was where I lived for 60 hours leading up to Harry's episode of SNL.
I say I lived there because once you get in that line, you can't leave for more than about an hour at a time. So once I sat down on the sidewalk by Rockefeller Plaza on Wednesday evening, I was there pretty much until I was handed my standby ticket on Saturday morning. To answer your questions: yes, I was allowed to leave to get food and to pee; yes, that is a very long time to wait for something; yes, I do love Harry a lot, thanks; no, I did not take time off work for this, because the plaza has free WiFi, which meant I could work from the sidewalk; yes, I did actually Amazon Prime Now a chair and some blankets to be delivered to me on the sidewalk; yes, I was aware that I could have potentially waited all that time and still not gotten in.
That last part was the worst. There's absolutely no guarantee that you'll get in, even if you have standby ticket #1. But I took my chances and slept on the sidewalk Wednesday night and watched the line grow on Thursday. (Normally you can get in the standby line in the wee hours of the morning on Saturday and have no problems getting a ticket with a low number. However, with shows that have a high-profile host or musical guest, you have to obviously line up earlier.) I was the 25th person in line, and I had no idea if that was going to be low enough, because I knew this show would be popular because of Harry. But I stayed. I made it through Thursday, aided by some line-cutting drama that kept us all on our toes. I made it through a very cold Thursday night. (Though surprisingly restful? IDK, once you've accepted you're sleeping on a sidewalk, you get over it, I guess.)
Once we made it to Friday, we felt like we were in the home stretch, but we all felt a little tired, a lot stinky, and pretty bored. For the record, by Friday afternoon, there were probably 150+ people in line. I was making my way back trying to get a view of how big the crowd was when I bumped into an NBC employee carrying pizzas. Just as I was about to ask what was going on, another NBC employee pushing a cart full of pizzas showed up in front of me and said, "Harry sent these out for you guys."
I'm sorry, what?
Yes, Harry Styles, lovely young man, sent pizza, fruit, coffee, tea, and water out for the standby line because we were so dedicated. He also specifically sent out a platter of sliced kiwi because one of the songs on his upcoming self-titled album is "Kiwi." Clever.
April 14, 2017
We were woken up at 5:30 a.m. Saturday to get into an organized line to receive our standby tickets. The other hiccup with this is that you have to decide on the spot if you want try for a ticket to dress rehearsal or to the live show. There are a few things to factor into your decision. If you care more about just being able to see the show, you take the lower number. If you care more about the fact that it's Saturday Night Live, then take the ticket for the live show. Three things factored into my decision. The first was that it's slightly easier to get into the dress rehearsal because fewer VIPs typically come to that one, leaving more space for standby. The second was that the dress rehearsal would actually be Harry's very first performance for the public. And third, dress rehearsal is always longer, so we would definitely be seeing more sketches.
I ended up with dress rehearsal ticket #21 and spent all day Saturday stressing about whether or not I would get into the show and telling myself there was no f*cking way I would ever, ever do this again.
The hour between showing up for dress rehearsal until putting my butt in a seat (according to NBC pages, this is when your seat is guaranteed: when your butt is in it) was probably the longest of my life, but y'all, I got in that studio and had the most surreal experience of my life. I got to witness a very nervous Harry sing his little heart out with a brand-new band on a stage while not surrounded by the 1D boys and completely kill it. The show went by in a flash, and before I knew it, it was over. I raced out of the studio to turn my phone back on to tell everyone about my magical experience, and my phone actually froze because I was trying to make it work too hard.
My last text was to my mom, who texted me on Thursday, simply saying, "Ur nuts" (she wasn't wrong). I told her I got into the show and it was amazing and she told me how excited she was for me and asked if it was all worth it. And despite 60 hours on a sidewalk and three nights sleeping outside, having to wear the same clothes for the whole time, jetting home at the ass crack of dawn Friday to feed my cats while everyone was asleep so they wouldn't know I left the line, and answering the same questions from passersby throughout the whole ordeal, it was easy.
It was so, so, so worth it.