Alexandra Shipp on the Last Thing She Did For Love and the 1 Thing She Always Takes From Set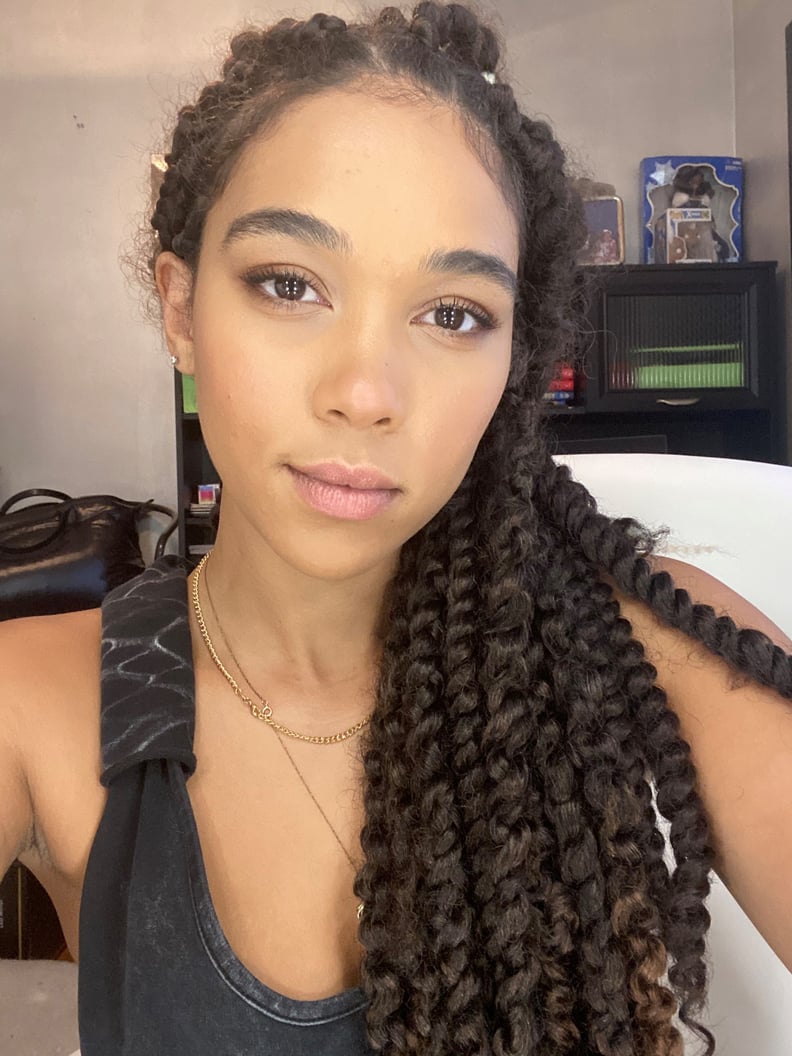 Alexandra Shipp
Alexandra Shipp
In our Q&A series Last Call, we get down to the bottom of every last thing with some of our favorite celebs — from the last thing they texted to the last thing they do before bed. This week, actress Alexandra Shipp takes our call.
From X-Men to Love, Simon, Alexandra Shipp has been mesmerizing us on screen for years. Now she's back again with the new YA love story Endless — a story about two high school sweethearts who are separated by a tragic accident but find a way to connect and share a love that transcends both life and death. Read on to hear more from Alexandra about Endless, the moving piece of advice that changed her life, and more!
PS: What was the last day of filming Endless like?
It was really hard to say goodbye to this cast and crew! Our last day, we were filming in a school, and when they called picture wrap, it felt like everyone was leaving for the summer! We all worked so hard on this movie and there couldn't have been enough hugs or well-wishes going around. I really hope I get to work with everyone again!
PS: What's the last thing you binge-watched?
Star Trek, the first original series! It's on Netflix! I've always been a fan of the show, but watching the 1966 original has been incredible. We forget about the craftsmanship that went into building these big sets without the use of green screen or [motion capture]. The show flipped many societal norms of that time on its head, much like Hamilton and Brandy's Cinderella did. The cast was diverse, the characters were well-rounded, and almost everyone has a fabulous smoky eye! I appreciate it now in a way that I wouldn't have when I was younger, that's for sure!
PS: What's the last thing you texted?
I texted my mom, "On my way!"
PS: What's the last thing you ordered online?
Since I can't eat at a restaurant right now, I ordered sushi! I love sashimi. I could eat it every day and not get tired of it!
PS: What's the last photo on your camera roll?
A selfie of me and my pups on the couch! I love them so much and they are always doing the cutest things! They cuddle like humans, so I'm always sneaking a photo.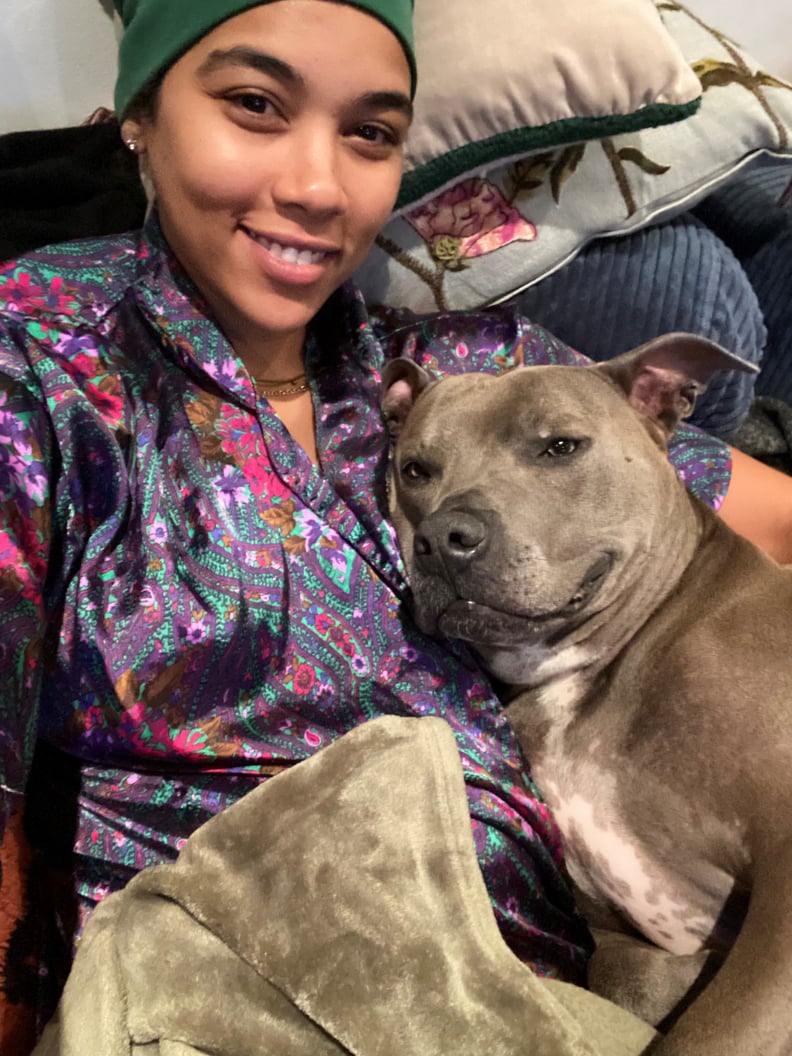 PS: What's the last thing you do before going to bed?
Brush my teeth! Dental hygiene is a real thing for me because I had braces for almost eight years growing up. I guess I'm still triggered that they'll put them back on!
PS: What was the last gift you received?
A book of poetry from a dear friend. I love poetry, and it's always the perfect gift in my opinion!
PS: What's the last thing you took home from a set?
I always like to take my chair backs to hang in my office! I've got a decent collection now! It's a nice reminder of the work that I've done and inspiration for wanting to do more.
PS: What was the last song you sang in the shower?
Mariah Carey's "Love Takes Time" has been my go-to for the last few weeks. The acoustics in the shower are unmatched!
PS: What's the last thing you did for love?
I make some bomb enchiladas! Growing up, my family taught me that food was the best way to show your love. So, one of my really good friends came over and I showed them how I make it and we made them together. It was really fun, and we got to not only cook with love but enjoy the fruits of our labor together!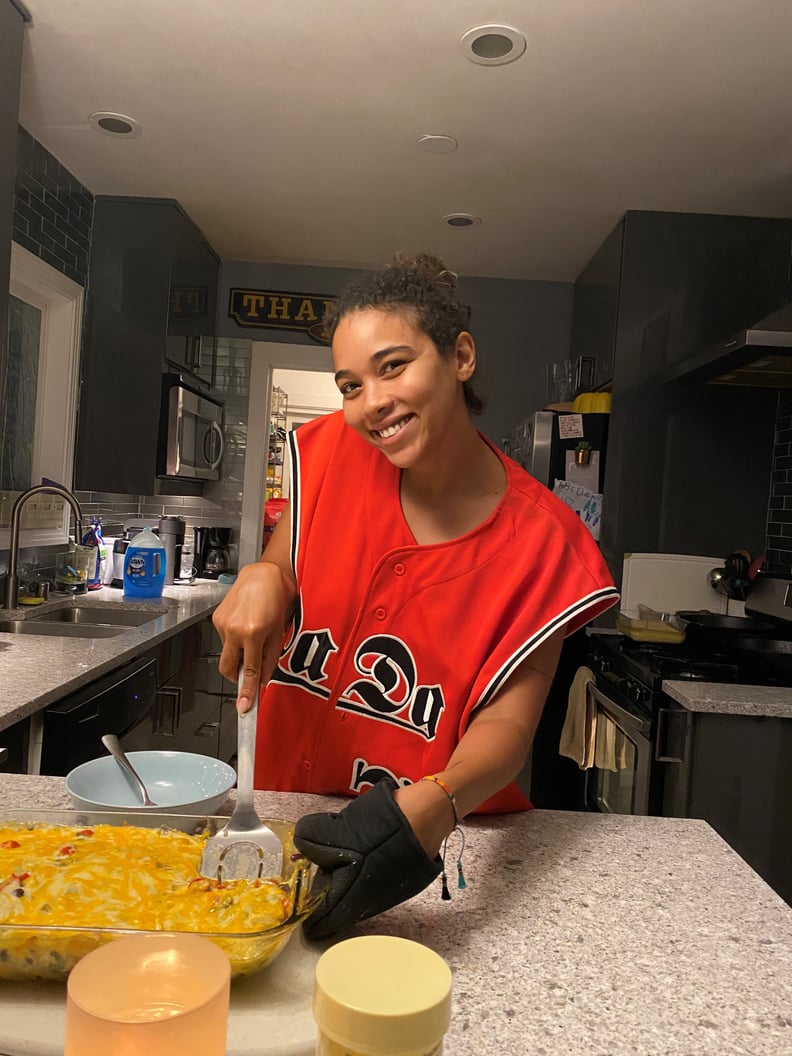 PS: What's the last piece of advice you received that changed your life?
Treat people how you want to be treated no matter who they are or what they've done to you! I believe that we have a choice in how we want to show up on this Earth, and to be a kind and loving human being is what I strive for all day every day. This world has enough going on in it, I only want to be a source of light and "safe space" for its inhabitants. We were put on this planet to love, I believe this with my whole heart.
PS: What was your last workout?
I went for a run with my pup, Layla! She's a Blue Nose Pit, so you'd think she's a natural born athlete, but she hates to run! She just wants to lay in neighbors' yards and take in the world around her. She's more of a natural-born dreamer, just like her mama!
PS: What's the last book you read?
The Alchemist by Paulo Coelho.
PS: What's the last album you listened to?
I've been listening to more French pop lately! Angèle is my favorite right now. She's got such a great voice, and her songs make me want to MOVE! Great to work out to, too!
PS: What's the last thing you searched for on Google?
I love finding different vintage shops online! My favorite thing to do before the pandemic was to go into different vintage shops and find classic pieces. It hasn't been the same, of course, but I've been keeping that love going remotely!
PS: What's the last spontaneous thing you've done?
It's hard to be spontaneous during a pandemic, but I try to get out and just drive! I love cruising the canyons with my top down and stopping to look at the city lights. It's humbling and puts a lot into perspective humanity wise. There are so many of us and so much capacity to love! We're lucky to be alive during this time, even if it feels like the world is ending.
Watch Alexandra in Endless when it's released in theaters and on demand Friday, Aug. 14.