Ambulance's Eiza González on Jake Gyllenhaal Interview Video
Eiza González Reveals How Jake Gyllenhaal Would Handle an Emergency
At the center of a nonstop-action thrill ride, helmed by none other than explosion virtuoso Michael Bay, Eiza González maintains her poise. González plays Cam, a seriously badass EMT in "Ambulance," who does not hesitate when it comes to life-or-death decisions. That's a bit more than González can say for her costar Jake Gyllenhaal, as she does a hilarious impression of the actor's frenetic energy under pressure. Yahya Abdul-Mateen II, meanwhile? Apparently chill as a cucumber.
These revelations are all part of POPSUGAR's interview with González, who not only shared what was it was like to dive into the Michael Bay cinematic universe, but also described the hardest scene she has ever filmed. It involved weight training, glue, and two machine guns as well as this arm movement: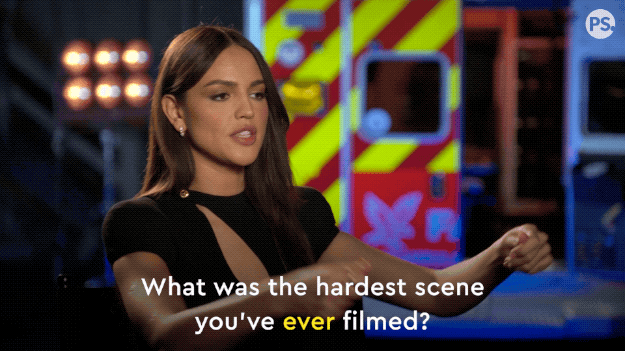 For the incredibly entertaining story, and more from the delightful González, check out the full video above. Don't miss "Ambulance," in theaters April 8!